Lara Smith
Chief of Staff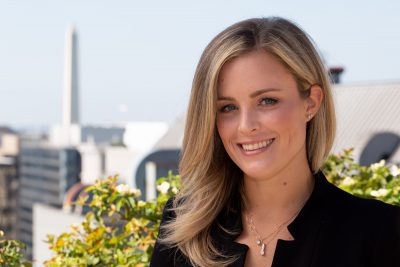 Lara Smith serves as the Chief of Staff at the Millennium Challenge Corporation. In this position, Ms. Smith is a strategic advisor to the Chief Executive Officer, providing guidance and leadership on strategy and policy matters; and overseeing daily operation of the agency.
Prior to her current role, Ms. Smith served as MCC's Public Affairs Advisor where she helped oversee and implement the agency's communications, media, and digital strategy. She also led agency efforts to promote the Women's Global Development and Prosperity initiative.
Before joining the Public Affairs team, Ms. Smith served as Special Advisor to the Chief Executive Officer of MCC. She worked with teams across the agency to ensure organized, cross-departmental coordination and directed the assessment and planning of internal and external CEO engagements. Working closely with the Congressional Affairs team, she also advised on the Senate confirmation process for MCC's CEO nominee.
Previously, Ms. Smith served in the White House Office of the Chief of Staff as Assistant to the Senior Advisor. Before joining the White House, she was the Deputy Communications and Digital Director for the California Republican Party where she oversaw the implementation of the party's digital strategy. Prior to these roles, Ms. Smith also held positions with both the non-profit HealthCorps and the National Republican Senatorial Committee.
A California native, Ms. Smith holds a B.A. from the University of California Santa Barbara. She lives in Washington, D.C., with her husband and their black lab, Brenner.