A Conversation with Congress
April 15, 2010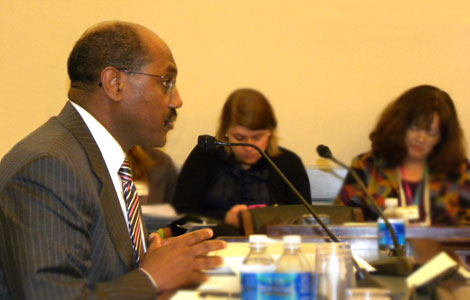 Yesterday, I testified before the House Appropriations Subcommittee on State, Foreign Operations to ask them to support President Obama's fiscal year 2011 budget request of $1.28 billion for MCC.  This support will help MCC deliver meaningful impact in the fight against global poverty.
I appreciated this insightful exchange with the Members of the subcommittee.  As partners in development, they understand that what is at stake here is not only improving the lives of the world's poor, but also investing in global prosperity to help make all Americans more secure.  In my opening statement, I told the Members that I welcomed the opportunity to work with them to bring a new level of innovation to MCC's financing and operations, including through the use of concurrent and longer compacts.
Greater innovation means working with partner countries to deliver lasting results and deeper impact from MCC-funded programs.  Chairwoman Nita Lowey—like other subcommittee Members—highlighted this priority when she emphasized the need to show how the MCC model is producing results.
I was pleased to share with her and the subcommittee the breadth of our results-to-impact framework, where MCC's work today to train farmers, build roads, and construct schools and health centers is creating a solid foundation for an increase in incomes among the world's poor. 
I welcomed and agreed with Ranking Member Kay Granger's strong support for an expanded private sector role in development.  At MCC, we are exploring more ways to leverage our development dollars as a catalyst for private sector-led growth. 
I also appreciated the very constructive conversation we had about fighting corruption in partner countries.  MCC has taken and will continue to take proactive measures to address any allegations of fraud and corruption that might surface.
MCC is up to the challenge of delivering measurable impact, especially with a focus on results, greater private sector engagement, and a firm stand against corruption.  Through our performance-based, transparent, and country-driven model for awarding development assistance, we can—and we will—show sustainable returns from the resources Congress provides us.