A Reason to Celebrate in Honduras
September 29, 2010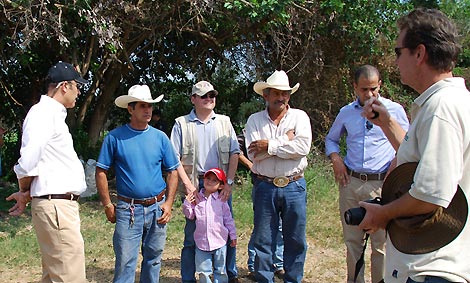 Hispanic Heritage Month offers a unique opportunity to reflect on the culture and contributions of Hispanic-Americans.  As a Cuban-American serving as U.S. Ambassador to Honduras, I can appreciate not only the drive of Hispanic-Americans to create a better life for themselves and their families in the United States, but also the determination of Hondurans who are optimizing U.S. assistance to pull themselves out of crushing poverty once and for all.  If we need one more milestone to celebrate during Hispanic Heritage Month, we can celebrate the achievements in Honduras through the U.S. Government's Millennium Challenge Corporation (MCC) grant of $205 million dollars.
This September, Honduras became the very first country in the world to complete a five-year partnership with MCC.  This partnership was designed to reduce poverty in Honduras through sustainable economic growth.  This is no small accomplishment, given MCC's performance-based model for economic development that provides the financial resources but also expects, in return, that the recipient country own the process of designing and implementing its own projects.  This partnership has been a true commitment to empowerment and accountability—through MCC, Honduras has built local capacity, strengthened institutions, and proved to Hondurans that they themselves can meet challenges they never did before.  Honduras effectively addressed their constraints to growth—even in the face of political transitions.
This can-do mentality unleashed by the MCC model has brought about real change and new opportunities for the poor in Honduras.  Training programs and access to credit have triggered a new spirit of entrepreneurship, helping farmers transition from the traditional production of beans and maize to the modern production of higher-value crops that generate more income.  With more income, Honduras farmers are investing in their land and in their families—homes, schools, healthcare.  By taking on projects as their own, Honduras developed new standards in transparent procurement processes, responsible resettlement, and effective gender integration.  By including civil society and private sector members alongside government officials on the Honduran-based board of the local entity responsible for managing the implementation of the MCC grant, the Honduran people learned best practices in local decision-making.  And, by improving roads with MCC funds, Hondurans have created new opportunities for greater trade and for easier and faster ways to reach markets, schools, and health clinics.
I have seen, first-hand, that farmers along the improved road are getting their fruit to the markets quicker and without the damage often caused by big potholes. These roads are attracting tourists and tourism revenue—improved areas host attractions such as the Lenca Trail (the Lencas form the largest indigenous group in Honduras).  A new bus route now exists between San Sebastian and Tomala thanks to the road improvements, which have made it safer for bigger buses to transit frequently.  Now, this new route will open access even as far to El Salvador, cutting travel time from three to two hours.
Americans can be proud that their investment in Honduras delivered results and established a platform for growth that Honduras can harness for even greater poverty reduction.  This is an efficient use of American tax dollars, creating a more prosperous neighbor in the hemisphere.  Having seen the work of MCC, I can say with certainty that there is no more effective way to sustainably reduce poverty and promote economic growth than by empowering countries and their citizens through partnerships that deliver tangible results.  Such is the Millennium Challenge Corporation model. 
A native of New York, Ambassador Llorens has been serving as U.S. Ambassador to Honduras since 2008.