An American Investment By and For Hondurans: Firsthand account from Honduras
September 20, 2010
On Friday, September 17, I joined Honduran President Porfirio Lobo to celebrate the end of the MCC compact in Honduras.  MCC's press release tells the story of this event, but what the press release can't convey is the instructive story of country ownership that led to successful program completion.  From the poorest farmers to the highest levels of government, there has been an incredible commitment by Hondurans themselves to achieving and sustaining results, embracing transparency, and applying lessons learned throughout implementation. 
Hondurans designed the program with an integrated approach to maximizing project impact and sustainability.  They knew that farmers trained in new techniques also needed linkages to buyers, access to credit, and improved roads to get their goods to markets while still fresh.  MCA-Honduras, the team of dedicated and passionate Hondurans, implemented the projects on a daily basis for five years, with transparency and technical effectiveness.  The national congress passed laws in the financial sector, road maintenance, and resettlement to increase the impacts and sustainability of the compact investments.  Honduran civil society helped anchor the program with support through three government administrations.  Such collective effort means that they all have pride in the accomplishments and a personal investment in continued success.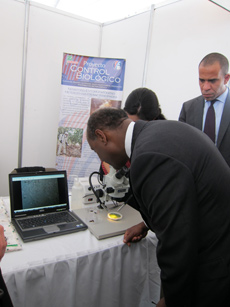 Azucena Urquia, one of the herb growers I met Thursday, shared her story with us at the compact closeout ceremony.  She said she never imagined she would be a farmer, know how to plow a field, or how to sell her goods to big grocery stores.  She is very proud of her accomplishments and her community in Cantoral, Honduras. 
I also had an opportunity to learn more about the 15 grants that promoted innovation in agricultural technologies; these technologies are now reaching farmers all over Honduras.  For instance, three biological pest controls were developed to help farmers fight some of the most critical pests plaguing crops without chemicals.  MCC will conduct impact evaluations to understand how these innovations translate into increased incomes and into real learning.  I also tasted berry wine that is now being sold in markets.  Like the berry wine producers, over 15 other entrepreneurs received intensive training on product development to increase their competitiveness.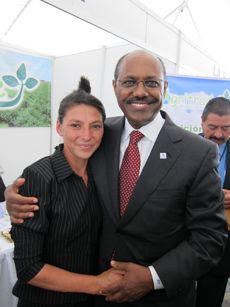 As I walked by the stands of the agriculture fair at the closeout event, beneficiaries, private sector, government, and civil society alike greeted me with warm smiles and words of deep gratitude to the people and government of the United States.  In addition to their gratitude for the generosity of the American people, they too deserve to feel pride in what they have done with this American investment, and how they have ensured that this poverty reduction grant from the United States will produce real results in the lives of Hondurans.