A top-to-bottom transformation for Morocco's artisanal fishers
January 17, 2014
Charlotte de Fontaubert
Peter Zara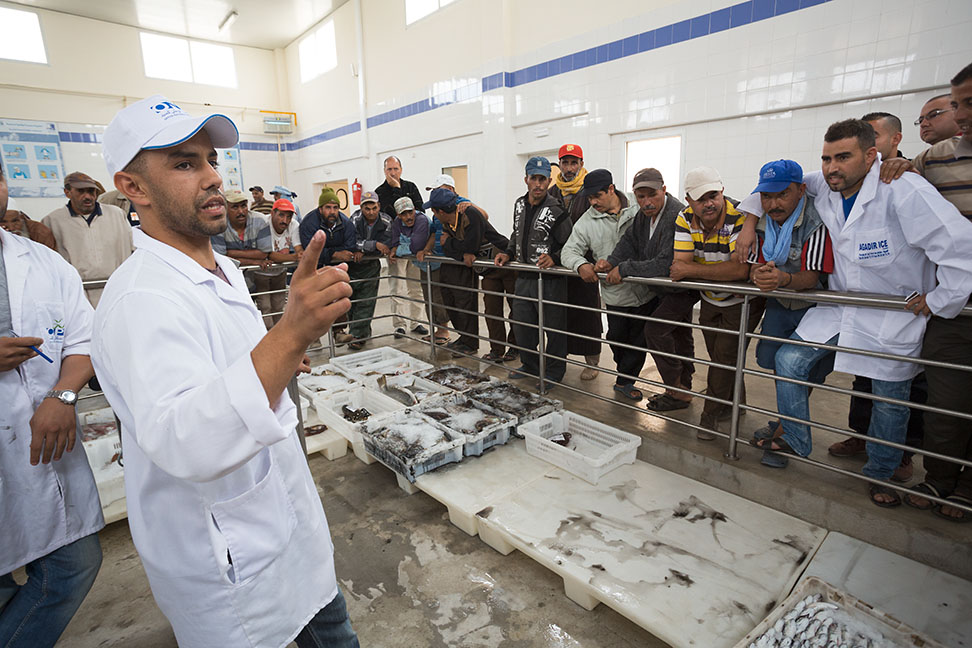 (This post is part of an ongoing series on food security and is adapted from the Winter/Spring 2012-13 issue of Knowledge and Innovation Network Journal, a technical publication featuring lessons, innovations, ideas, and thinking behind MCC's poverty reduction investments around the world.)
Is it possible to modernize an entire artisanal fishing industry in a way that ensures that benefits will reach the poorest fishers and not be captured entirely by middlemen and traders? And how does one motivate all small-scale fishers to fish sustainably and responsibly, ensuring the lasting health of fish stocks?
MCC's five-year, $698 million compact with Morocco—which successfully completed in September 2013—grappled with these issues and succeeded in transforming the country's artisanal fishing industry. Before the compact, many fishers in beneficiary communities operated in a difficult atmosphere. After returning from the sea, they sold their catch to whatever seller happened to be nearby at that time. Some would choose to wait for more sellers, but they often lacked ice or paid a high price for it, leading to spoilage. And many sellers were often middlemen who would advance the money for nets and fuel to the fishermen in exchange for an agreement to purchase the catch at a below-market price.
MCC approached this challenge by tackling inefficiencies throughout the value chain, from landing sites for small fishing boats, to vending and storage facilities on the coast, to wholesale markets in major cities throughout Morocco, and finally to mobile fish vendors who sell fresh fish in remote villages from their refrigerator-equipped motorcycles. Investments in updated infrastructure and training for all those involved in the fish industry will ensure that Moroccans have access to a healthy supply of fish for their diets while dramatically reducing spoilage between the catch and the sale.
Preserving fish stocks that fishers depend on for their livelihood is a challenge around the globe, and marine protected areas are notoriously difficult to enforce. In Morocco's compact, fishers were involved in discussions from the beginning and were able to see the data collected through underwater surveys, so they understood the logic of the boundaries of the protected areas and felt a strong ownership of the endeavor. Over the course of the project, the fishers committed to voluntary compliance and self-policing.
With the compact completed, it is now up to the Moroccan government to continue to operate and maintain the MCC-funded infrastructure and programs. It also remains to be seen whether middlemen and traders will adapt to the new circumstances where fishers—who previously sold their fish to them at a low price—can directly compete as well.
Join the conversation! What practices have worked in your experiences in setting up marine protected areas, or in formalizing an informal trade in perishable goods?
Click here to read the full article.