Celebrating partnerships
May 1, 2013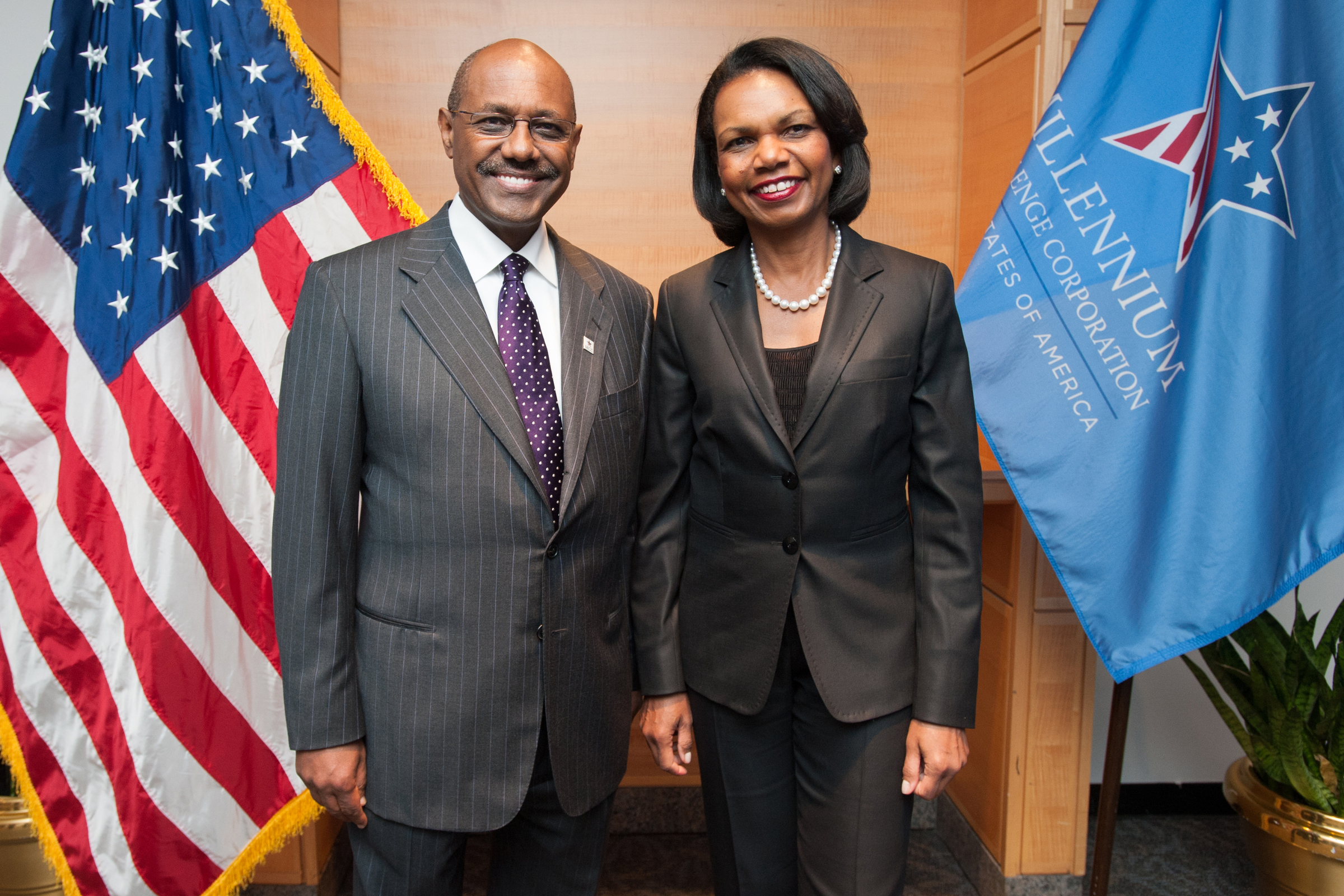 Former U.S. Secretary of State Condoleezza Rice participated in MCC's 2013 Forum on Global Development this past Monday and engaged in a lively discussion with Frank Sesno, the Director of the School of Media and Public Affairs at The George Washington University. Dr. Rice described the MCC model as the best combination of American interests and values. She sees this in the U.S. Government's willingness to partner with the developing world through MCC to help countries determined to help themselves. She sees this in how MCC partners within countries, engaging directly with citizens, businesses, government ministries, and nongovernmental organizations and encouraging them to map out their own, homegrown path to development. And, she also sees MCC's strength in catalyzing partnerships between developing countries, who motivate each other to reform their policies in order to compete and qualify for MCC funding, in what she—and so many others—aptly call the MCC Effect. 
We share Secretary's Rice affirmation of the power of partnerships. Results-focused partnerships that leverage our limited resources, amplify our intended impact and sustain the benefits of our investments have been—and will continue to be—a priority for MCC. With support from both Chevron and the United Nations Foundation, Monday's Forum created the perfect opportunity to discuss how partnerships advance effective development and make a lasting difference in the lives of the world's poor. More than 200 people attended as we  celebrated such partnerships by recognizing the achievements of this year's recipients of MCC's Country Commitment Award, Corporate Award and Next Generation Award.
Mrs. Sophia Mohapi of MCA-Lesotho received MCC's Country Commitment Award, recognizing her efforts to partner with Lesotho's government to secure additional funding to sustain the MCC-funded investments made in health and water. Green Mountain Coffee Roasters, Inc. won MCC's Corporate Award, recognizing this Vermont company's strong partnerships with fair trade coffee growers in MCC partner countries that help promote food security and long-term prosperity. Jessica Matthews and Julia Silverman of Uncharted Play were presented the Next Generation Award by DC United star player Dwayne De Rosario for their SOCCKET, a clever soccer ball invention that doubles as an eco-friendly portable generator. By forging partnerships with sponsors and local implementation partners around the world, the SOCCKET creators have ensured that minutes of play can lead to hours of electricity for those families struggling off the electrical grid. These honorees demonstrate what is possible through partnering. I invite you to learn more about their stories and be inspired by their compassion and creativity to uplift the poor and vulnerable.
We were also pleased that Senator Patrick Leahy of Vermont and Deputy National Security Advisor Michael Froman could join us.  Senator Leahy concluded the Forum by presenting MCC's Corporate Award and reaffirming that partnerships are key to delivering development assistance effectively. Mr. Froman highlighted the importance of integrated and coordinated strategies, including input from MCC as well as private companies, to the Administration's global development strategy.
What continues to resonate with me from this week's Forum is the sheer determination and commitment by government, civil society and the private sector to do more by partnering more. This is what has made—and will continue to make—a tangible difference in the lives of the world's poor.