MCC Works to Improve Sustainability at Headquarters
October 28, 2011
MCC promotes environmental sustainability as a core principle of economic growth in its partner countries. At our headquarters in Washington, DC, we've embraced environmental sustainability in our policies and operations as a key component of responsible stewardship of taxpayer dollars.
MCC is a relatively small government agency. We have fewer than 300 federal employees in Washington, DC, and our commitment to country ownership translates to a minimal presence in partner countries abroad. Nonetheless, we're committed to creating a sustainability-conscious operating environment for all of our employees and continuously improving policies and practices to enhance our environmental performance.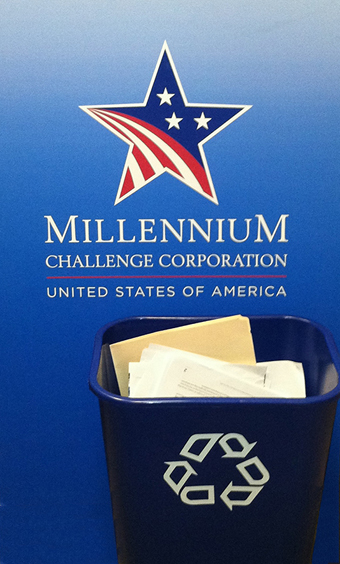 In October 2009, President Obama signed an executive order requiring federal agencies to develop, implement and annually update a formal Strategic Sustainability Performance Plan. Every agency's plan prioritizes actions based on a positive return on investment for the American taxpayer and meets energy, water, and waste reduction targets.
MCC developed its Strategic Sustainability Performance Plan in 2010 in response to President Obama's executive order. This year, in our Fiscal Year 2011 Strategic Sustainability Performance Plan [PDF], we assess what we've achieved as an agency and determine how we can build on those achievements for increased sustainability and cost-effectiveness.
This week, the Office of Management and Budget formally approved the FY 2011 Performance Plan.
This year's plan highlights MCC's new flexible work policy, expected to contribute to reduced greenhouse gas emissions; environmentally conscious procurement activities; electricity conservation efforts; a space consolidation analysis; new policies favoring bicycle commuters; money-saving paper reduction procedures; and an internal communications plan that builds on previous years' substantial "greening" initiatives.
We're proud of our sustainability record, and will continue to assess and improve our policies in the coming year.
Learn more about Federal Agency Strategic Sustainability Performance Plans.