Participating in the U.S. Delegation to HLF4: A First for Partnership for Growth
December 1, 2011
Dr. Rajiv Shah, Administrator
This post first appeared on DipNote, the official blog of the U.S. Department of State, on November 30, 2011.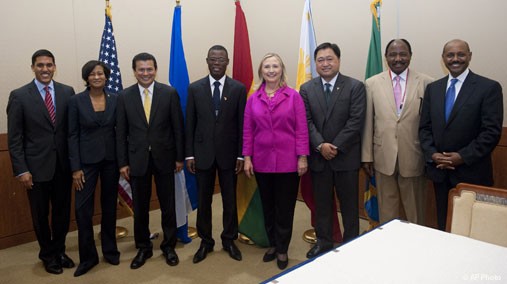 Under an initiative called Partnership for Growth, the United States, El Salvador, Ghana, Philippines and Tanzania are pioneering a new approach to long-term, sustainable development.
PFG is designed to transform the character and conduct of our bilateral relationships with a select group of high-performing lower-income countries poised to be this generation's emerging markets. The initiative aims to improve coordination, leverage private investment, and focus political commitment to accelerate and sustain broad-based economic growth. With mechanisms in place to hold us accountable for more effective, efficient development results, PFG puts President Obama's Presidential Policy Directive on Global Development into action.
Today marked the first time we have convened a meeting with the United States and all four PFG partners. The setting is especially significant: we are all gathered in Busan, South Korea for the Fourth High Level Forum on Aid Effectiveness. Throughout our meetings, we have focused extensively on ways to deliver meaningful results, ensure mutual accountability and empower country ownership.
State Department Counselor and Chief of Staff Cheryl Mills led the meeting with El Salvador Foreign Minister Hugo Martinez, Ghanaian Deputy Minister of Finance and Economic Planning Fiifi Kwetey, Philippine Minister of Finance Cesar Purisima, and Tanzanian Minister of Finance Mustafa Haidi Mkulo. After addressing the High Level Forum, Secretary Clinton was also able to join us.
We partnered with these countries based on their demonstrated commitment to democratic principles and good governance, their sound policy performance, their potential for continued economic growth, and their track record of cooperation with the United States.
The PFG is an attempt to approach development differently than we have done in the past. PFG is not about more aid; rather it is about fostering a mature economic partnership to unlock a country's growth potential. Together, we analyze the binding constraints to growth, prioritize a set of clear, measurable actions, and work to overcome those barriers through five-year action plans. Along the way, we review our progress through a formal evaluation process or in more informal meetings, as we did today.
Our PFG partners are all at different stages of this process and have unique insights to share. We had frank discussions about the challenges each country faces, and how the U.S. government can improve coordination to assist these countries in strengthening long-term economic growth. We applaud El Salvador, Ghana, Philippines, and Tanzania for their commitment to taking the difficult steps required through the PFG, and look forward to continuing our close collaboration in the months ahead.
The session represented exactly why we have come to Busan this week: to take a hard look at our efforts, identify areas for strengthened coordination, and — ultimately — improve our ability to deliver effective development assistance.
Dr. Rajiv Shah serves as Administrator of the U.S. Agency for International Development (USAID), and Daniel W. Yohannes is the Chief Executive Officer of the Millennium Challenge Corporation (MCC).