Announcing MCC's KIN Journal
May 22, 2013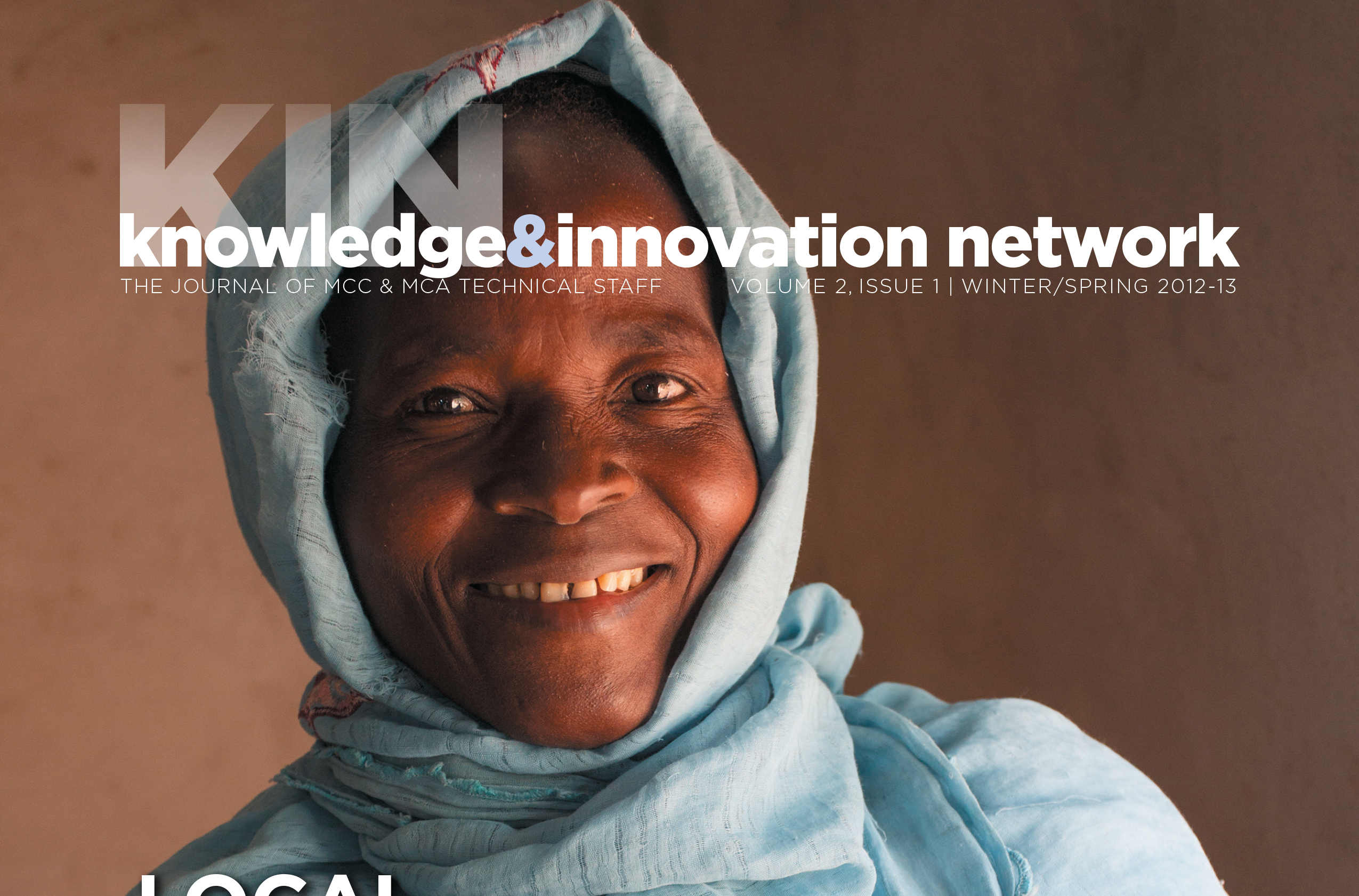 I am pleased to unveil MCC's Knowledge and Innovation Network (KIN) Journal, a technical publication featuring lessons, innovations, ideas, and thinking behind MCC's poverty reduction investments around the world.
With over $8.2 billion invested in 21 countries, MCC's portfolio contains a wealth of learning in the fields of transportation, water supply and sanitation, agriculture, land tenure, education, health, energy, natural resource management, social and gender performance, and private sector engagement. The KIN Journal is prepared twice a year by MCC's technical staff and implementing partners. Each issue focuses on a particular theme linking MCC's current implementation experiences with trends in international development.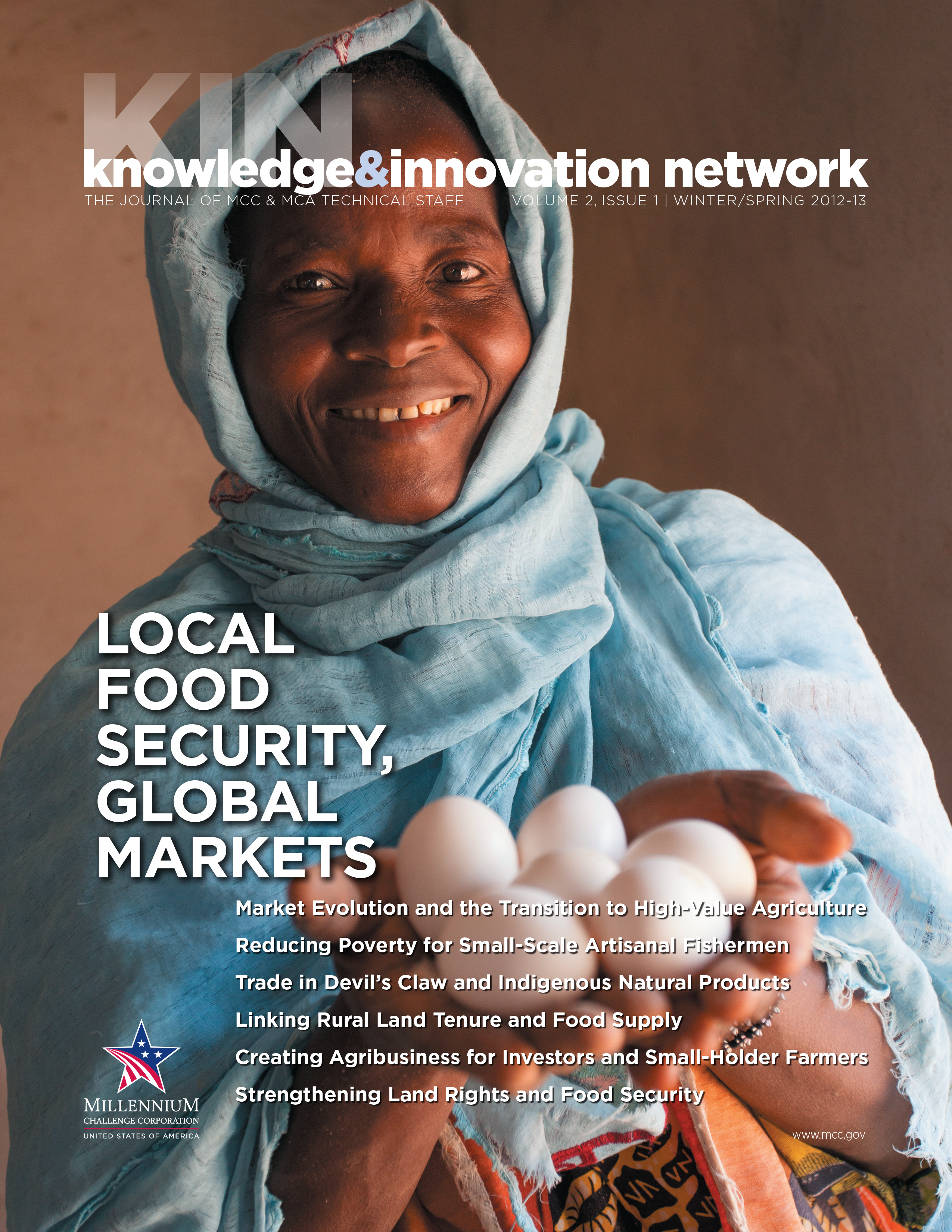 Through peer-reviewed case studies, lessons learned, technical notes, graphics, and photographs, the KIN Journal helps foster knowledge sharing, where best practices, state-of-the-art techniques, challenges, and opportunities are communicated among MCC staff, implementing partners and the broader development community. Together with MCC's rigorous independent impact evaluations and monitoring and evaluation procedures, the KIN Journal positions MCC to actively learn within and across the projects it finances. This improves its own and others' ability to deliver development approaches that work.
The current issue focuses on Local Food Security, Global Markets. Growth in the agriculture sector is   recognized as one of the most powerful drivers of poverty reduction. Since 2005, MCC has invested over $4.3 billion across 21 countries to address food insecurity and to strengthen agricultural and rural economies. MCC's portfolio also represents a significant contribution to Feed the Future, President Obama's Global Food Security Initiative, which aligns U.S. Government resources around a common strategy to sustainably reduce global poverty and hunger.
MCC's food security investments in Benin, Ghana, Mali, Moldova, Morocco, and Namibia, for example, are designed to sustain expanded market access for agricultural and rural stakeholders to reduce poverty and hunger. During the Fall of 2012, MCC released impact evaluations of farmer training activities in five countries with completed agricultural projects. These evaluations revealed successes and challenges, providing a lot of learning about farmer training programs and how best to evaluate them. The latest KIN Journal, with its focus on food security, helps MCC staff continue down this critical learning path by identifying innovations in MCC projects and how they matter.
As the articles describe, small-holder farmers, fisher folk and natural product harvesters often face the challenge of uncertain resources, scarce support services, inadequate access to markets, insecure land tenure, impacts on private investments, and limited finance opportunities. MCC investments tackle these market development concerns and boost sector growth by reducing transaction costs and linking farmers more closely with consumers. However, outstanding questions remain as to how to most effectively and sustainably create market access that leads to inclusive sector growth and improves local food security. 
The authors who wrote this edition of the KIN Journal shed light on these challenges by sharing their implementation experiences to advance learning in food security for us all.