Book by Book: Namibia's MCC Compact Begins to Show Results
April 27, 2010
Oliver E. Pierson, Resident Country Director, Malawi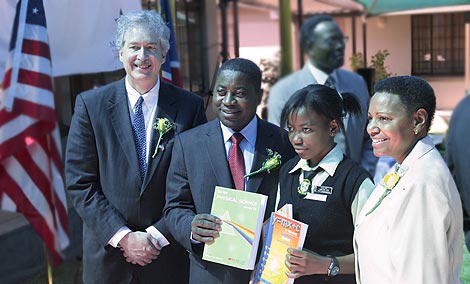 Namibia's MCC compact, signed in July 2008, includes MCC's largest education project, which is designed to improve the quality of Namibia's education system.  One of the substantial challenges Namibia is trying to address is a lack of textbooks for many of its students, particularly those in rural areas, where as many as five students share one textbook.  It was with much pleasure and pride that the first textbooks were transferred to the Namibian Ministry of Education this past Saturday, April 24th.  The event was even more significant as the U.S. Undersecretary of State for Political Affairs William Burns was present to hand the books over on behalf of the U.S. Government.
In a ceremony marked by a great turnout from the Namibian government and people, Undersecretary Burns described how the books will improve the textbook ratio for Namibian students in grades 5 to 12 to one book per student in English, Math, and Science.  To make this possible, MCC funds were used to conduct a textbook inventory of elementary schools and to identify all the gaps.  This tranche of textbooks will fill the identified gaps, and in the later years of the compact, an entire new set of textbooks will be purchased with MCC funds for all students in Namibia in grades 5 to 12.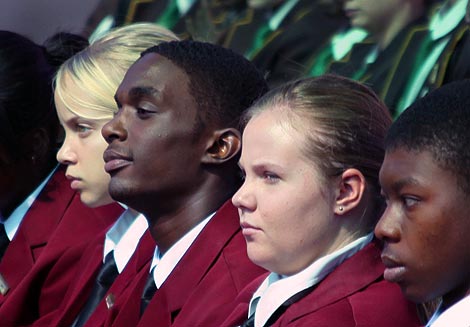 The delivery of textbooks is just one small aspect of the MCC-funded Education Project in Namibia.  The delivery of these books is part of a much broader project that also includes expanding and renovating 47 schools, constructing regional libraries and vocational training centers, and training teachers.  Undersecretary Burns referred to some of the upcoming challenges in his remarks, "Now comes the hard part. It will be up to teachers and students to make good use of these materials."  MCC will help address those challenges as well by providing training for teachers on how to use the textbooks to improve the quality of their lesson plans.  They will also be trained on ways to improve the textbook ordering and distribution systems. 
On that sunny Saturday morning in Windhoek, MCC, MCA-Namibia, the local entity in change of implementing the MCC compact, and Namibian government officials were pleased to recognize that an initial milestone had been reached and that the compact was beginning to show tangible results.  But no one was happier than the 30 to 40 students present, who got a first glimpse of what students across Namibia will be seeing in their classroom on a daily basis.  Almost 700,000 textbooks will be delivered to 1,000 Namibian elementary schools starting in May, and by the end of June, all these books should be in the hands of Namibia's next generation.
Namibia's Minister of Education Abraham Iyambo best described the impact of the MCC Education Project when he said, "In the long-term, this support will contribute to the aspiration of our country's national development plans for productive and competitive human resources and institutions."  While he is setting the bar very high, the MCA Namibia team and our partners are ready to meet the challenge.  Already, we are eagerly awaiting the next milestone in the Education Project, which will be the start of renovation, expansion, and construction work at some elementary schools with the greatest need.