Boosting tourism, increasing incomes in rural Namibia
February 28, 2012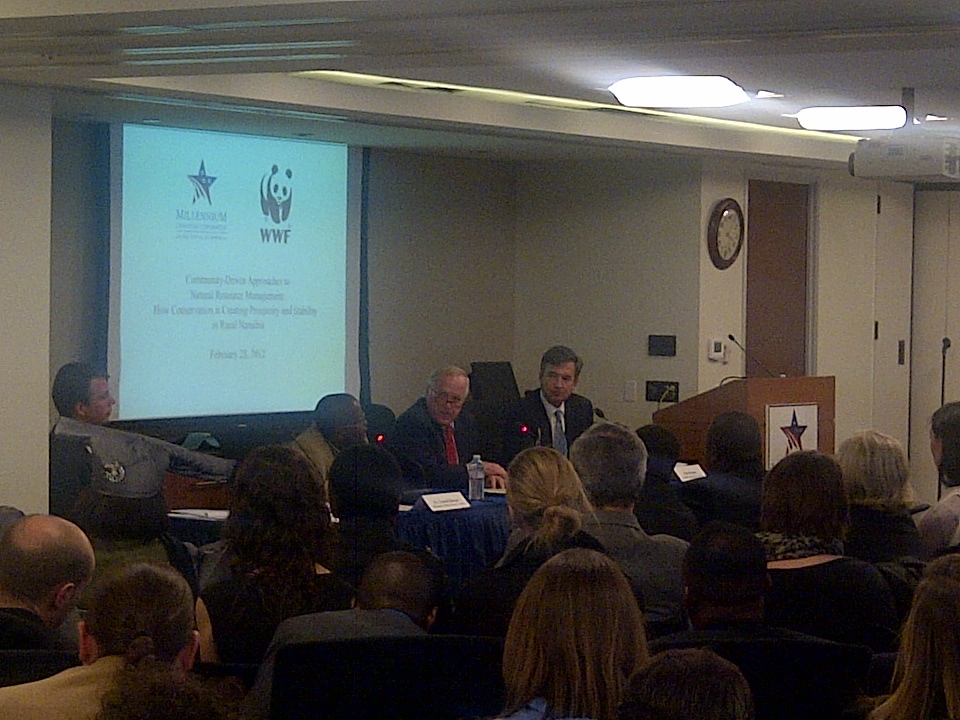 I served as a panelist today at an event MCC co-hosted with the World Wildlife Fund that focused on strategies, implementation and lessons learned from promoting community-driven approaches to natural resource management and eco-tourism in Namibia. We discussed the ways the Government of Namibia is involving the community in a wide-ranging approach to attract tourists while safeguarding the environment.
MCC hosted this event because of its compact with Namibia: a five-year, $305 million investment that is creating business opportunities and jobs in rural Namibia. Our focus today was the compact's Tourism Project, which seeks to grow the tourism industry in northern communal areas and increase the income of households living in these communal areas.
To do this, MCC is working closely with Namibia's Ministry of Environment and Tourism (MET), conservancies and the private sector to improve the management and infrastructure of Etosha National Park, enhance the marketing of Namibian tourism and develop conservancies' capacity to sustainably manage their natural resources, attract investments in ecotourism and develop tourism skills.
Three examples illustrate our efforts:
Etosha Management and Infrastructure: MCC and MCA-Namibia are working with the Ministry of Environment and Tourism on reforms that will offer tourists a better product, encouraging longer stays and boosting revenues to the ministry and conservancies. MCC is also working with the Government of Namibia to open the western half of Etosha to tourism, which should also help attract additional tourists and revenue.
Conservancy Ecotourism Development: MCC and MCA-Namibia are helping conservancies increase their roles and benefits from tourism, generally through joint ventures with the private sector. MCA-Namibia has contracted with the World Wildlife Fund to provide technical assistance and training to 31 conservancies with high tourism potential. MCC funds are also being used for grants to leverage private sector investment in new tourism businesses. Through these partnerships, conservancies and the private sector develop agreements that lead to increased revenue and employment for the conservancies.
Two community joint venture lodges have already received partial grants, and we hope the compact will lead to as many as seven new lodges.
Marketing Namibian Tourism: To promote Namibia as an attractive tourism destination and to increase the number of tourists to the country, the Namibia Tourism Board has launched a redesigned website. 
The Namibian delegation that attended today's event are in Washington as part of the marketing campaign focused on increasing the number of American businesses that market vacations to Namibia, as well as increasing the number of tourists from the United States and Canada. This effort is already showing results: More than 120 travel agencies now offer trips to Namibia, up from 106 agencies at the beginning of the compact.
If you visit Namibia, you can be assured that your money is contributing to community-driven approaches that help increase incomes for some of the country's poorest people.