Chasing Opportunity
January 22, 2010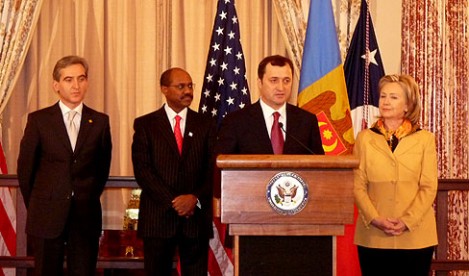 We're off to an exciting 2010 here at MCC. Secretary of State Hillary Rodham Clinton started the New Year with a groundbreaking speech on development in which she highlighted the promising role MCC is playing to help countries build their own future. The Secretary said,
"Under MCC compacts, we provide funding and technical support; the country provides the plan and leads the way toward achieving it… This approach points to the difference between aid and investment. Through aid, we supply what is needed to the people who need it… But through investment, we seek to break the cycle of dependence that aid can create by helping countries build their own institutions and their own capacity to deliver essential services. Aid chases need; investment chases opportunity."
Today, Secretary Clinton and Prime Minister Vladimir Filat of Moldova presided as Moldovan Minister of Foreign Affairs Iurie Leancă and I signed Moldova's $262 million MCC compact. This is an investment in opportunity, designed to reduce poverty and stimulate growth. Moldova's compact will rehabilitate irrigation systems, help farmers diversify into high-value agriculture, and build modern and safe roads to markets that will generate new opportunities for private sector investment, which is the engine of growth and jobs. The Moldovan people are working toward the complete realization of this compact's potential to increase their incomes and create a better future. MCC is proud to partner with Moldova.
Over recent weeks, I have been meeting with colleagues throughout the development community. Listening to stakeholders from the Center for Global Development, the U.S. Global Leadership Coalition, ONE, InterAction, and the Corporate Council on Africa, as well as ambassadors from partner countries worldwide, is proving incredibly valuable in assessing the key constraints we face at MCC and how we can effectively address them. I'm committed to deepening our dialogue by listening to and learning from those who share our determination to improve the lives of the world's poor.
At the end of the month, I'm looking forward to visiting Cape Verde and Ghana. I am going to these MCC partner countries to see the progress underway and gain perspective on the challenges of program implementation.
I'm very excited about what lies ahead for MCC, and I look forward to deepening our impact through increased innovation, private sector engagement, partnerships, and focus on results. That's how we will raise the standard of living for the world's poor in sustainable and meaningful ways.