High Notes in the Highlands
December 15, 2010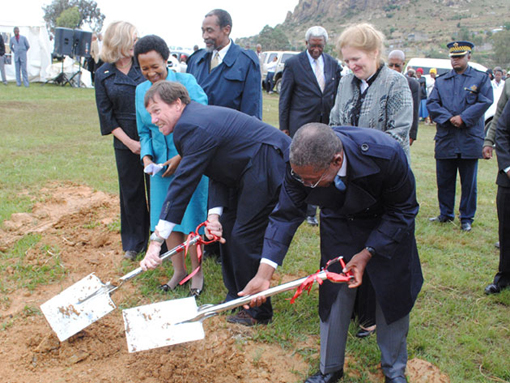 I returned to Lesotho last month for the first time since I worked on a USAID project at the National University 23 years ago.  After more than two decades, I was struck by the impressive progress that Lesotho has made in reducing poverty through a combination of private investment, foreign aid, and the country's own resources.
I was in-country to assess progress on MCC's Lesotho Compact, which focuses on improving the nation's institutional capacities: Projects range from water and sanitation systems, to healthcare facility construction, to financial-sector reform.
MCC and the Government of Lesotho are building a large water system to serve five cities (Maseru, Roma, Teyateyaneng, Masenod and Morija); the new system will supply hundreds of thousands of liters of water and alleviate the need for women to haul water long distances. Improved healthcare delivery projects include the reconstruction of 138 health clinics, outpatient departments in the country's 14 district hospitals, and a state-of-the-art reference laboratory, blood collection and processing center, and a dormitory at a local health training college. The Compact also funds a number of initiatives to improve the policy environment to extend financial services and formalize land tenure.
I've noticed significant changes since I lived in Lesotho during the mid-1980s.  The road network is significantly expanded and seemed to be in better repair.  In the capital, I got disoriented by a new four-lane bypass road that allowed us to zoom across town in a fraction of the time it used to take.  New office buildings, residential areas and businesses have transformed Maseru, and instead of people routinely trekking across the border to South Africa for supplies (border passes that allowed one to skip the passport queues used to be a status symbol), South Africans along the border now come to Maseru to do their shopping. 
Perhaps nowhere is Lesotho's transformation more evident than in the health sector, where MCC is playing a large part in development efforts.  Under the dynamic leadership of Minister Dr. Mphu Ramatlapeng, the Government of Lesotho is developing one of Maseru's close suburbs, Botsebelo, into a health enclave with a spectacular new public national referral hospital that is being financed and will be run by an innovative public-private partnership with South Africa's largest private health provider, NetCare. 
Also in Botsebelo, the old leprosy camp has been converted into a hospital to treat patients suffering from multi-drug-resistant tuberculosis (MDR TB).  There is also a new pediatric clinic, and MCC is financing a state of the art medical lab.  This will without a doubt be the most advanced medical hub for hundreds of kilometers and, like Maseru's growing business district, is likely to attract South Africans from across the border. 
Along with upgrades to 138 clinics and 14 district hospitals, the Government of Lesotho is implementing independent projects to transform its health sector.  In addition to the new national referral hospital, I visited a prototype clinic in Maseru that provides a level of care—including primary services such as antenatal consultations and HIV/AIDS outreach, testing, counseling, and treatment—that was previously not available.  As a result, daily patient rates have more than tripled since clinic reconstruction and a second doctor has been added to handle the load.
My visit to the Metalong dam site, and my travel along one of the water distribution routes, provided a good "before" snapshot of the project.  The Government of Lesotho (GOL) has completed a number of advance infrastructure projects, extending and tarring the road, installing an electrical substation and compensating (and, where necessary, resettling) affected residents in accordance with MCC's strict environmental and social assessment guidelines.
It was exciting to see project development finished after years of MCC and MCA-Lesotho's hard work.  All feasibility studies are now complete, the GOL has its independent engineers and project management team on site, contracts have been awarded and the contractors are expected to begin construction of the water treatment plant in December.  One feature of this project is a testament to the GOL's sophistication in planning ambitious projects:  The entire Metolong dam project is jointly supported by 10 financing partners, including the GOL, the Kuwait Fund, OPEC Fund, Saudi Fund, BADEA Fund, the European Union, the World Bank and the Development Bank of South Africa.  Involvement of multiple funding partners makes the project more sustainable and more likely to succeed in the long run.
Many times during my visit, my Lesotho counterparts commented on the ambitious nature of the Lesotho Compact.  The many policy initiatives—including laws to regularize land tenure, to give women full economic rights under the law, and operational regulations to ensure maintenance of new facilities—make this not only ambitious but an example of the Government of Lesotho's genuine commitment to building both the infrastructure and the policy environment necessary to attract investment, stimulate enterprise formation, and drive sustainable development to reduce poverty. 
I came away from this visit optimistic about the long-term prospects for MCC's investments in Lesotho.  Project targeting and development appear to be far enough along to be accomplished within MCC's five-year time frame, and the GOL has appointed a top notch team to work with MCA-Lesotho to implement the Compact.  Finance Minister Thahane, Health Minister Ramatlapeng, and Natural Resources Minister Moleleki are all three development MVPs with international reputations for competence and delivering results. 
Mrs. Mohapi, the CEO of MCA-Lesotho, is one of those indomitable leaders whose experience and wisdom inspire confidence.  Finally, Prime Minister Mosisili was unequivocal about the Government of Lesotho's commitment not just to financing new facilities, but to instituting the policies necessary to ensure they become and remain productive assets that support broad based economic growth.
On the front lines of development, where we deal with day-to-day challenges, frustrations, and setbacks, it can be easy to lose sight of the broader sweep of progress.  My visit to Lesotho showed me how far the country has come in the last 20 years.  This progress is living proof that foreign assistance, when combined with a genuine commitment to good policies, really can change lives.