Maximizing MCC's Partnerships in Africa
April 30, 2010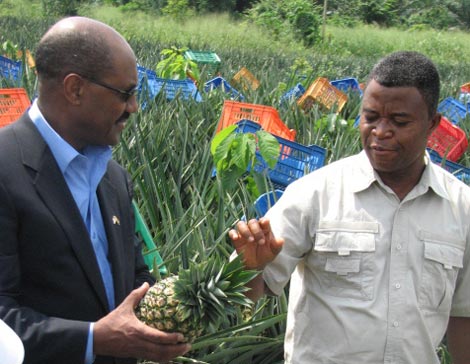 "Africa's future is up to Africans," said President Barack Obama during his historic first visit to sub-Saharan Africa.  By partnering effectively with African countries on their homegrown antipoverty strategies, MCC puts this powerful truth into practice. With over 70 percent of MCC's portfolio benefiting the people of Africa, we are investing in solutions for long-term prosperity that Africans themselves are designing.  These include building transportation networks, increasing agricultural productivity throughout the entire value chain, improving water supply and sanitation, expanding health, education, and community services, and broadening access to finance for greater enterprise development. 
On Tuesday, I met on Capitol Hill with members of the Congressional Black Caucus (CBC).  Congressman Donald Payne and Congresswoman Barbara Lee hosted the gathering, which focused primarily on MCC's work in Africa.  I shared with them how we are currently working with Malawi and Zambia to develop initial compacts and with Cape Verde to pursue a second compact.  MCC's Board of Directors will also be considering a threshold program proposal from Liberia.  CBC's support will help MCC broaden our investments in Africa and forge new partnerships.
My meeting on Wednesday with the African Diplomatic Corps provided a forum to emphasize the importance of sound policy performance to long-term development.  MCC seeks partners committed to good governance, the rule of law, fighting corruption, economic freedoms, and the health and education of their citizens.  We welcome the difficult steps so many African partners are taking to reform their policies and embrace the policy changes necessary for sustainability.
And, yesterday, I joined OPIC, the U.S. Commerce Department, EXIM Bank, and the U.S. Trade and Development Agency at the Corporate Council on Africa's infrastructure conference for a discussion on trade and development.  MCC helps to create strong, stable, growing markets in the developing world, which, in turn, helps to create jobs here at home. By working with African partner countries to remove internal barriers to trade, enhance institutional capacity in areas such as customs and national standards, develop trade-related skills, and build the infrastructure needed to enable trade, MCC is deepening Africa's capacity to trade and attract private sector investment.
With ongoing guidance from congressional supporters, with countries willing to do their part to practice good policies, and with the private sector's growing role in fostering trade and development, Africa is poised to fully maximize its partnerships with MCC.  This will deliver meaningful and sustainable change in the lives of the continent's poor.