MCC Living and Learning
October 22, 2009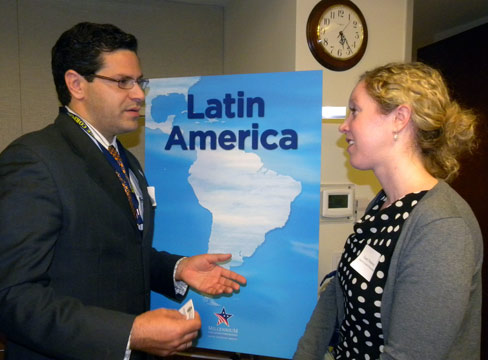 This week, MCC has been hosting all 19 compact country field personnel in Washington, D.C. for our annual Resident/Deputy Resident Country Directors Conference. As we turn the corner into another fiscal year, preparations are well underway for setting priorities and objectives for the next year and for a 10 year horizon. This years conference is an essential part of this process, as it not only provides our Resident Country Directors (RCDs) and Deputy Resident Country Directors (DRCD) with the opportunity to offer input into the process, but also provides them a chance for face-to-face exchanges with their DC colleagues, the Hill, the donor community, and the traditional and innovative media. (For example, we just completed an interesting bloggers breakfast.
Who are these people?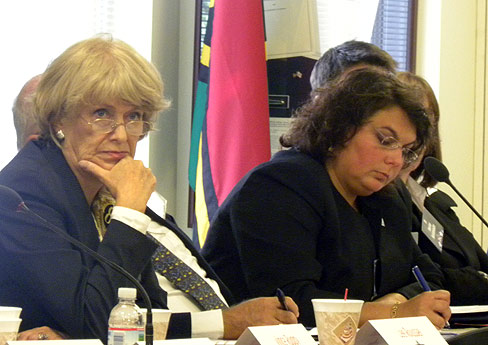 What we have seen underlined, commended and replicated by others is our country-led approach. It is for this reason that our field presence is small, but efficient—usually just the RCD, DRCD and a couple of locally employed staff. Though limited in size, the duties of the resident country missions are substantial and diverse. And this is what distinguishes our field staff. They are, in one, finance and procurement directors, agricultural, education, health and infrastructure managers, PR and communications specialists, policy developers, investment promotion programmers, economists and auditors—all wrapped up in one diplomatic package. This list is not exhaustive, but gives a sense of the myriad issues that our frontline faces confront at any given moment of their day.
Learning is not a spectator sport
What I have appreciated, as both a participant in previous years and now as the conferences organizer, is the emphasis on MCC as a learning and living unit. Coming back to Washington after three years in the field representing MCC, I appreciate the fact that a majority of the messages being sent from the field are truly acknowledged and implemented so as to make field operations more efficient. Taking such action to feedback is an integral reason why MCC has successfully met its targets for disbursements, commitments and performance during this past fiscal year. This is how MCC continues to refine operations to deliver on our mission to reduce poverty through economic growth. But, learning this is not enough.
What is this conference doing about it?
This years conference has been 100 percent field driven. The agenda was prioritized by the field and includes such main programmatic topics, among others, as second compacts, compact closure, compact development, procurement, contract management, the fraud and corruption policy, managing targets and milestones, and improving internal sector efficiencies. It also includes in-depth discussions into other subjects, such as innovation in investment promotion, impact evaluation, donor coordination, and private sector partnerships.
But there's room for more.
Interestingly, the agenda also incorporates small group working sessions on how to improve some commonly repeated concerns from the field over the last two to three years and ideas on how we can improve our effectiveness. By assessing what has been proposed before, learning from it and combining that with current realities and a pinch of creativity, each group will propose executable recommendations to MCC's management for prioritization.
Trendy conference?
In reflecting on the conference, some interesting trends are emerging. Besides providing the traditional outlet for aligning multiple field issues and holding frank exchanges about program realities, this years conference has facilitated, via its iterative process, true mentorship among field staff, especially across countries just starting implementation and new employees. We are also seeing a diversity in those who are taking leadership roles within the conference—more junior and senior staff, new employees and older ones, countries from all over the globe. We are seeing increased participation by key MCC host country mission staff members as more mature compacts transition toward closeout. And, we are seeing a more anticipatory, collaborative and open-minded approach in combined presentations and problem solving between the field and DC staff members.
These trends are a result of our learning.
I truly hope that this years meeting serves as a benchmark for future evolutions of the RCD/DRCD conference as we continue to develop newer ways to learn and better accomplish our mission to reduce poverty through growth.
Gautam Ramnath served as the Deputy Resident Country Director in Mali for three years and is currently Associate Director for Business Development in Compact Development.