Paving the Road to Opportunity and Growth
April 22, 2010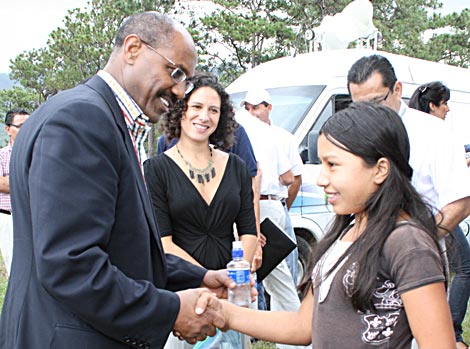 This trip to El Salvador has been tremendous.  Without a doubt, one of the most moving moments was witnessing the laying of the first kilometers of asphalt on the Northern Transnational Highway, parts of which are being constructed with MCC compact funds. Salvadorans have heard promises of the road surface being laid for about 50 years.  And, now, through the MCC-El Salvador compact, they can see the road with their own eyes. As the Salvadoran Minister of Public Works said, the work on the compact's Northern Transnational Highway project proves that "el sueño es posible" – the dream is possible.  It is truly wonderful for MCC to be part of such a historic advancement for this country, especially one that was brought about by the vision and hard work of Salvadorans themselves and through the generosity of the American people.
 
We also met with members of FOMILENIO's Board of Directors, whose commitment to the program is evident and has been critical to the compact's progress.  We then proceeded to Chalatenango for the groundbreaking on the community college that will be constructed as part of the compact program.  After the celebration at the school site, I had the pleasure of meeting with civil society representatives and 20 mayors from the Northern Zone, many of whom serve on FOMILENIO's advisory council, which provides local oversight of the compact projects and meets regularly with FOMILENIO's board and senior management.  Such model civil society and local engagement goes a long way to promote the accountability and transparency essential for the compact's success. 
The teamwork and dedication I have seen over these past few days have been incredible, and certainly have been the driving force behind the great progress being made on El Salvador's MCC compact.
The Government of El Salvador is committed to the compact and to performing well on MCC's policy indicators.  Of course, in the final two and one-half years of the compact, there remains much work to be done.  The government must continue to focus on policy performance and on effective project implementation.  I look forward to returning to El Salvador in the future to see the road and other unfinished projects when they are completed.
I am confident that the fine team at FOMILENIO, led by Technical Secretary and Board Chairman Alexander Segovia and by Executive Director José Ángel Quirós, will deliver results on MCC's investments.  As I shared with those gathered at the Northern Transnational Highway ceremony, the people here are laying a strong foundation for El Salvador's future by creating an environment for opportunity and sustainable growth.