'Sopa de Gallina'
September 17, 2010
It's not every day that a bowl of soup for lunch is an inspiration.  But the "sopa de gallina" that we enjoyed with farmers in Ocotal, Honduras was tremendously inspiring. 
I arrived in Honduras yesterday to see the early results of the MCC compact and to participate in the closeout commemoration.  On my first day here, I had the opportunity to meet farmers, see their crops, hear about their experiences with MCC-funded technical assistance, and then enjoy a soup made out of the vegetables and herbs (yucca, squash, coriander, basil, garlic, tomatoes, and onions) harvested from the fields we had just walked through.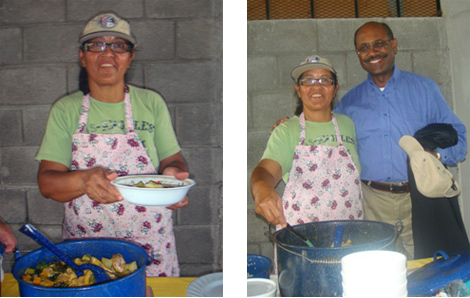 Mrs. Consuelo, the Honduran woman in the accompanying pictures, prepared the soup using all local ingredients that she and fellow farmers produced.  She is part of a group of women who received MCC technical assistance and now grows aromatic herbs, such as basil, coriander, and lemongrass, that are in high demand in supermarkets.  The group's inspiring story shows the power that training and collaboration can have in the daily life of citizens, especially women.
One of the farmers I spoke with, Juan Carlos Urquia, is a successful young farmer in his 20s who is now harvesting six times a year, compared to only twice annually before receiving compact assistance.  He told me of Ocotal, "MCC's investments have revolutionized this area."  He says he never imagined growing crops based on market demand and learning techniques like the use of drip irrigation systems.  Some of the farmers also have learned how to use the internet to research markets, new seeds, and methods for protecting crops from infestation. 
The stories that Mrs. Consuelo and Juan Carlos shared with me are just samples of early compact results here in Honduras.  As project work ends, the results phase is just beginning.  And so, we embrace the hope and inspiration of these celebratory days, of the delicious "sopa de gallina" and the success it symbolizes.  We move forward committed to carefully monitoring and assessing the results of our MCC investment in Honduras and to sustaining the advancements for years to come.