The Fine Print: Impressions from the Field
June 23, 2010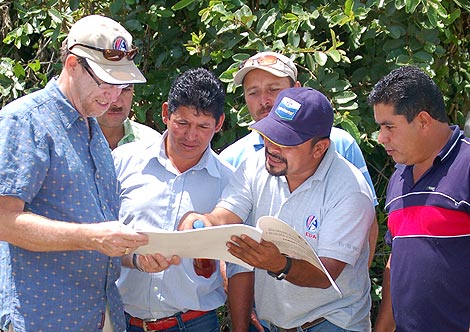 Earlier this month, I spent three days getting a firsthand look at MCC's investments in Honduras.  The MCC-funded program there will end in September, so most activities are almost finished.  In fact, Honduras will be the first country to complete its five-year MCC compact.  I was impressed by what I saw both in terms of the development impact and in terms of how the program has been managed toward a successful conclusion. 
The program has two principal components: (1) a transport project that is widening and repaving 105 kilometers of the main highway through the country; 68 kilometers of paved secondary roads; and about 500 kilometers of dirt feeder roads; and (2) a rural development project that includes a training program to move small farmers from traditional methods into greater commercial activity by selling high-value horticultural crops.
I particularly liked seeing the direct link between the compact's investments and increased income.  The program works with approximately 7,400 farmers who previously were earning $350-$400 per hectare growing maize and beans using traditional methods.  6,000 of these farmers are now earning at least $2,000 and, on average, $4,000 per hectare per year growing vegetables using modern methods that include drip irrigation. Not only is there a clear and large boost in the income of program participants, but they, in turn, have created new jobs, most part-time, in their communities. 
Many participants have used the increased income to improve their farms and homes and buy motorcycles or cars and, in some cases, trucks to haul their produce.  Signs of increased prosperity were visible in the communities I visited.  These two projects are clearly linked together. Roads are being built in productive areas where many of the farmers are being trained, to facilitate getting their produce to market.
In addition to seeing how the MCC compact program has helped to increase incomes in rural Honduras, I also saw the potential of the program's CA-5 road project bring lasting and positive improvements to Honduras' transport sector. The CA-5 highway runs through mountains and the construction is making cuts and fills to create a broad, safe and modern road bed.  The new road beds will have a lasting improvement. The paved secondary roads also looked like they would bring long-term improvements to local communities.
A final part of this program worth commenting on is capacity building.  Because this tends to be intangible, it is one of the more difficult benefits to convey. From conversations, it was clear to me that the MCA-Honduras staff feel like the program is building on their expertise and institutions.  Small grants to local institutions have resulted in impressive work on biological pest control and on developing new strains of coffee (programs also tightly linked to raising rural incomes), and have introduced renewable technology, such as some innovative water wheels used to supply irrigation systems.
Many Hondurans I met noted that the program's resettlement policies set a new standard in Honduras, and some saw this as "game changing" with respect to future resettlement.  It is clear that the processes and safeguards enforced by the program benefited affected communities and provide an example of best practices.  Whether this example drives future practice remains to be seen, but authorities seemed impressed by the MCC experience. 
Good management underlies most successful programs, and the MCC experience in Honduras is no exception.  MCC's Honduras team and MCA-Honduras enjoy a strong, professional relationship that provides a basis for problem identification and solving. Based on my visit, I am proud of what has been accomplished, and I would describe the program as a success.