Trip Log: MCC Partnerships for Economic Growth in Moldova and Georgia
November 4, 2010
Late last month, I surveyed progress in two MCC partner countries: Moldova, which is just beginning the implementation of its compact, and Georgia, which is on track to bring its compact to a successful close in the next six months.
In Moldova, I was impressed with the farmers I met in Slobozia-Dusca, a village not far from the capital of Chisinau.  These farmers will benefit from MCC-funded irrigation projects and are already talking about the impact a centralized irrigation system will have on their livelihoods, as it will lower operating costs and allow them to diversify into high-value crop production and increase their yields.  I was particularly moved by my conversation with Iurie Stahi.  He told me he was grateful for America's assistance from the bottom of his heart, and he explained that, as a result of MCC's planned investments in the agriculture sector, he intends to plant apple orchards and sell his apples during the winter when they command a higher price, as well as during the summer and autumn seasons.  I'm looking forward to following Iurie's progress as the Moldova compact ramps up implementation.
In Georgia, I was deeply impressed with the transformative power of a road.  I traveled the Samtske-Javakheti road, which Georgia is rehabilitating with MCC compact funds, from Tbilisi to where it nears Georgia's border with Turkey and Armenia.  What I saw and whom I met along the way showed me exactly how paving a reliable road is essential for generating economic opportunities. 
I first witnessed this when I met Valodia Mestvirishvili at his trout farm in Algeti, just off the Samtske-Javakheti road.  The agricultural development activity of Georgia's compact supplied hatchery equipment, oxygen tanks, a transportation vehicle, and veterinary supplies to his farm to raise the trout, and the road rehabilitation funded by the compact provides him much-needed access to markets to sell his product to Georgian retailers and consumers.  Valodia shared with me that his annual trout yield has skyrocketed from 5 to 12 tons.  I am proud of the fact that MCC funding has provided this hardworking entrepreneur the tools he needs to succeed. 
From Left to Right: MCG CEO George Abdushelishvili, MCC CEO Daniel W. Yohannes, MCC Resident Country Director Jim McNicholas, US Ambassador to Georgia John Bass
My road trip took me past Georgia's Lake Sagamo, a place of serene natural beauty.  Against a mountainous backdrop, as the sun was setting and the moon was rising, I planted trees along the Samtske-Javakheti road.  These trees are critical; they provide proper landscaping and better wind protection and they help advance the sustainability of the MCC-funded road.  Tree planting also reaffirms that sound environmental stewardship protecting natural resources goes hand-in-hand with economic development.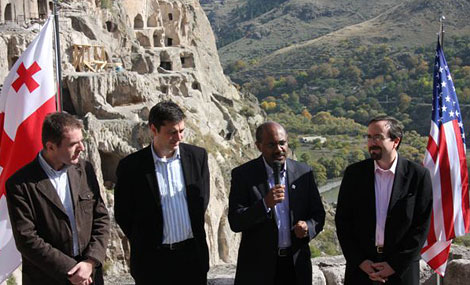 I was particularly pleased to see that MCC's funding of the Samtske-Javakheti road has enhanced the Georgian people's accessibility of Vardzia.  Vardzia is home to a cave monastery, an unforgettable historic treasure of great cultural and religious significance dating back to the 12th century.  I learned that, for too long, this part of Georgia was lost to outsiders; the trip to reach Vardzia was treacherous and the roads were literally impassible in some sections.  Buses risked overturning on the dangerously unpaved roads.  Now, the rehabilitated Samtske-Javakheti road is reconnecting Georgians with Vardzia and their heritage, and opening up this area to tourists.  Boosting tourism in this otherwise underdeveloped area is generating economic development and growth vital to the prosperity of Georgians. 
The MCC-funded Samtske-Javakheti road also nears Georgia's border with Armenia and Turkey in the town of Akhalkalaki.  This once quiet outpost is now bustling with activity, which will increase as a bridge, currently under construction, is completed.  New shops are already opening, and the prospects for increased trade and commerce create further opportunities for Georgians to prosper.
In all these ways, Georgia proves that the MCC model is working well.  Our partnership is creating conditions for sustainable economic growth that are increasing incomes.  As the compact moves toward completion, I am looking forward to the independent evaluations that will assess the impact of our investment.  True to President Obama's new vision for U.S. global development, what I saw in both Georgia and Moldova already reaffirms for me that MCC practices the principles essential for long-term impact: investing in economic growth, promoting country-led development, demanding accountability and transparency, and delivering sustainable results that matter in the lives of the poor.