'Who says oil and water don't mix'
October 23, 2011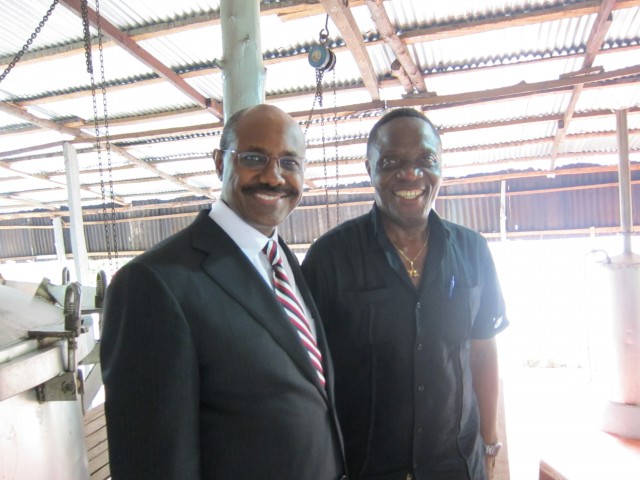 My travels as MCC CEO bring me to many memorable places, but it's the people who inspire me the most. Nicolas Kinsou Ahouandjiinou is one such person who I met in the Beninese village of Djeregbe.
Nicolas was born in Djeregbe and his father was a traditional healer in the village. Nicolas earned degrees from the University of Benin and the Institute of Tropical Agriculture in Nigeria, and had been travelling the world as an agronomist. One day, more than 20 years ago, Nicolas's father called him home with a request: use your degrees to adapt the use of native medicinal plants to the modern world.  
During their conversation, Nicholas's father gave him a 200-page notebook that contained his acquired knowledge of the medicinal properties of West African plants, including eucalyptus, lemongrass, laurel, chayote, and ginger. Paging through the notebook, Nicolas knew that he had to return to Djeregbe to realize his father's dream.
After years of research and trial and error, Nicholas invented a process — which he believes to be the first of its kind — to mix the essential oils of traditional African medicinal plants with water to produce a flavored, bottled water. Having successfully mixed oil and water, and devised a way to modernize his father's age-old practices, Nicholas then faced one more challenge: inadequate access to capital to grow his business, DETAREN SARL.
That's where MCC came in. With grant support from our Access to Financial Services Project, DETAREN SARL purchased new machinery to produce and bottle the water. According to Nicolas, production has already increased from 1,200 to 8,000 bottles a day. The flavored water, which Nicolas named "Eau Noble," is now sold in Benin and limited quantities are exported to Nigeria, Burkina Faso, Niger, and Togo. With his new capacity, Nicolas plans to double his staff to 15, and increase sales by expanding his distribution network to all of West Africa.
MCC has provided DETAREN SARL, and other members of the GATID consortium it has joined, with the assets and credibility they need to gain the attention of financial institutions like Bank of Africa and Oikocredit, which are working with the consortium to provide credit. Nicolas knows that access to credit is essential to growing his business and realizing his dreams — and the dreams of his father. 
Nicolas's story shows that the entrepreneurial spirit is alive and well in Benin. DETAREN SARL exemplifies the transformation that is happening all over Africa as old traditions give rise to new ways of thinking and new ways of doing business. MCC is proud to be working with entrepreneurs and innovators like Nicolas who are trailblazing Africa's path to prosperity in the 21st century.
Learn more about the GATID consortium and how MCC is improving Benin's investment climate