In Zambia, MCC's newest compact brings clean water and improved sanitation and drainage services
to more than one million residents
March 26, 2012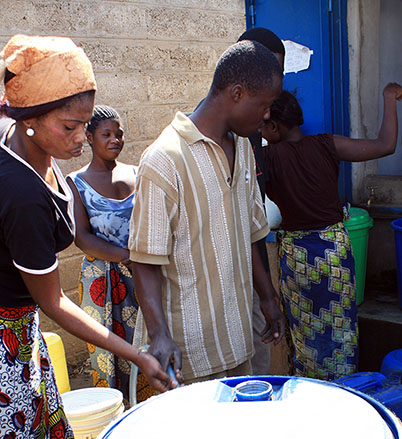 Last Thursday, the MCC Board of Directors approved a $355 million compact with Zambia that focuses on the water sector in Lusaka. MCC investments are expected to have a significant impact on the lives of more than one million Lusaka residents by improving their health and economic productivity and helping the country reduce poverty on a sustainable basis. Fittingly, the Board's decision fell on the annual UN-designated World Water Day.
This single-sector compact aims to address one of the Zambia's most binding constraints to economic growth through infrastructure investment in the rapidly urbanizing capital city of Lusaka. It is designed to reduce the incidence and prevalence of water-related disease, decrease the number of productive days lost due to disease and time to collect water, lower costs of water and new sanitation, and reduce flood losses for businesses and residential homes.
In addition to investments in water supply, sanitation and drainage infrastructure, MCC's integrated investment will also support the government's ongoing water sector reform efforts by strengthening responsible institutions. The investment is expected to significantly benefit Lusaka's poor, as 73 percent of the more than one million Zambian beneficiaries currently have incomes below $2 per day. 
The Zambia compact will promote key MCC corporate priorities, including gender and social integration, environmental and social impact assessments, and private sector development. In the Zambia compact, social and gender integration is prioritized, and activities are designed to extend project benefits to women and vulnerable groups. 
Since its inception in 1993, World Water Day has served to spotlight the global challenge to provide safe water and sanitation services to those living in poverty. So far, MCC has invested $793 million in WASH-related projects in nine partner countries, and MCC's compacts with Cape Verde, Jordan, and Mozambique, like Zambia, focus primarily on water sector development. Our growing WASH portfolio reflects our partner countries' recognition of the important role of access to clean, affordable, and reliable water in promoting economic growth.
For more information on MCC's water and sanitation projects, visit www.mcc.gov/water.