Update on MCC's work in Malawi and Zambia
Friday, March 17, 2017 from 2:00 pm to 3:00 pm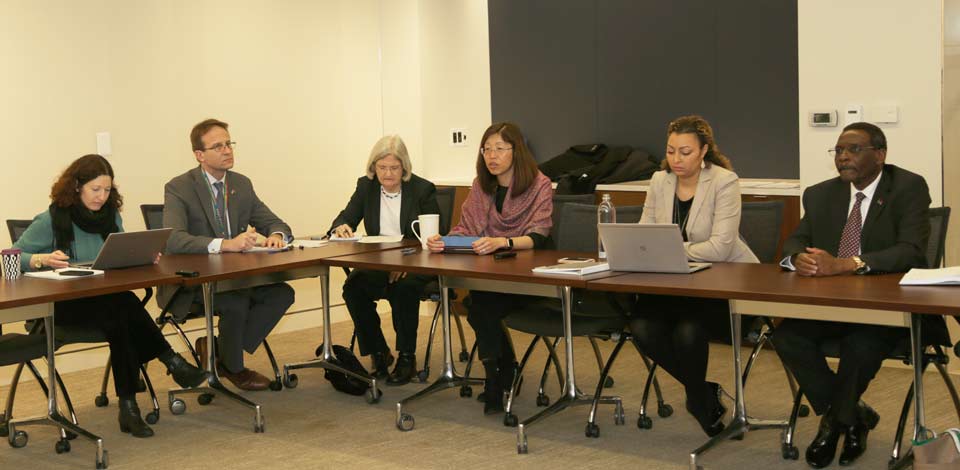 Update on MCC's work in Malawi and Zambia
On Friday, March 17, 2017, MCC hosted a roundtable with stakeholders to provide an update on MCC compacts in Malawi and Zambia. This roundtable followed MCC's Acting Vice President of Compact Operations Kyeh Kim's recent visit to both countries. The Malawi and Zambia compacts are both three and a half years into their five-year compact timeline.
The discussion opened with an overview of MCC's work in Malawi and Zambia. MCC's compact with Malawi is focused on improving the availability, reliability and quality of the power supply to increase economic growth. This visit focused on high-level discussions with government of Malawi partners, including ministries that will be central in implementation and reform efforts in the remaining months of the compact. During her trip, VP Kim toured construction of a new substation that will help to strengthen the country's energy grid.
MCC's compact with Zambia is focused on boosting economic growth by improving the water supply, sanitation and drainage infrastructure. During her visit, VP Kim spoke at the Innovation Grants Program ceremony during which nine local businesses and nonprofits were awarded $3 million for innovative solutions to improving access to drinking water, sanitation and hygiene, sanitation financing, and solid waste management services in Lusaka. VP Kim also held high level discussions with government of Zambia partners.
Both compacts are on track to be completed within the five-year timeframe.
Additional information on the compacts:
Malawi Compact
Malawi's $350.7 million Millennium Challenge Corporation compact is a single-sector program designed to increase individual and business incomes and reduce poverty by improving the availability, reliability and quality of the power supply, expanding access to power, reducing the cost of doing business, and revitalizing Malawi's power sector.
The compact is composed of three projects, including improvements to:
Malawi's power infrastructure, such as rehabilitating Nkula hydropower plant and installing transmission and distribution lines across the country;
The utilities including the unbundling of ESCOM and increasing successful financial and operational performance; and
Environmental and natural resource management, including weed and sediment management of the Shire River Basin.
Project activities will enhance future expansion opportunities by strengthening sector institutions, enhancing sector regulation and governance, and creating an attractive environment for private sector investment.
Zambia Compact
MCC's $355 million compact aims to reduce poverty and boost economic growth in Zambia by improving the water supply, sanitation and drainage infrastructure in Lusaka, the rapidly urbanizing capital, and is expected to benefit more than 1.2 million Zambians
The compact is designed to decrease:
The incidence and prevalence of water-related disease,
Productive days lost due to disease and the time required to collect water,
Business and residential flood losses.
The compact's Innovation Grants Program provides grants to community-based organizations, civil society and private sector entities to stimulate innovation and enhance compact sustainability in the water, sanitation, and solid waste management sectors.
The compact will also support the government's ongoing water sector reform efforts by strengthening partner institutions and facilitating potential private sector investment opportunities.
Stay up to date on MCC's work in Zambia, Malawi, and with our other country partners by subscribing to our email updates here.