MCC Acting CEO Nash Participates in Africa Business and Investment Forum
On January 30, 2018, Millennium Challenge Corporation (MCC) Acting Chief Executive Officer Jonathan Nash participated in Transform: The Africa Business and Investment Forum, hosted by the Corporate Council on Africa (CCA) in partnership with the United Nations Economic Commission for Africa (UNECA) in Addis Ababa, Ethiopia.
The forum, held on the margins of the African Union (AU) Summit, provided African and U.S. private sector executives an opportunity to engage with African heads of state, ministers, senior U.S. Government officials, representatives of multilateral institutions and other stakeholders to discuss strengthening private sector-led economic growth on the continent. Four high-level roundtables allowed participants to discuss policy measures and actions to support an environment conducive to increasing public-private partnership opportunities across Africa.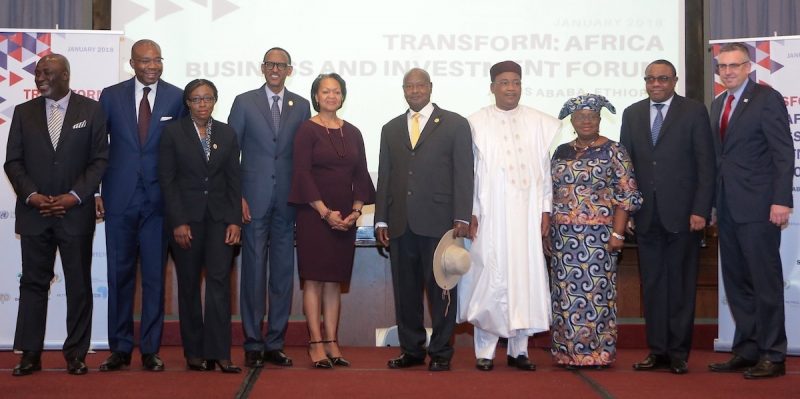 During the opening session, Acting CEO Nash highlighted how U.S. and Africa share a number of common interests, from promoting trade and economic progress to countering violent extremism. MCC investments promote economic growth and reduce poverty in partner countries. He also discussed how MCC's country-led approach empowers partner countries to set their own development priorities and design programs that create the right conditions for private investment and unlock opportunities for both U.S. and African firms.
Acting CEO Nash also emphasized how blended finance, the merging of public and private sector funding, is the future of development finance. MCC is committed to identifying and implementing innovative strategies to unlock capital flows in partner countries.
During the agribusiness roundtable session, Acting CEO Nash discussed how MCC uses public sector dollars to open up markets and invest in the building blocks that lower risk while creating incentives for the private sector to invest. He underscored that the agricultural sector in Africa is poised for growth.
Interview with Channel Africa