Media Advisory
MEDIA ALERT: MCC CEO Dana J. Hyde to Testify Before the House Committee on Foreign Affairs on 2017 Budget
For Immediate Release
March 11, 2016
WASHINGTON, D.C., March 11, 2016 – Millennium Challenge Corporation (MCC) Chief Executive Officer Dana J. Hyde will appear before the U.S. House of Representatives Committee on Foreign Affairs on Tuesday, March 15 to discuss MCC's $1 billion fiscal year 2017 budget proposal. Hyde will testify alongside USAID Administrator Gayle Smith.
 
The agency's 2017 budget request is an opportunity to continue fighting global poverty through economic growth in the coming year and expand on the success of the MCC model to:
Address key constraints to economic growth in deeply impoverished countries;
Maximize impact through regionally focused investments;
Embed the United States more deeply in the fight against poverty in Asia—an economically dynamic and geopolitically important region;
Deepen partnerships in Africa, where roughly 65 percent of the agency's compact portfolio has been invested; and
Support an accelerated compact development pace.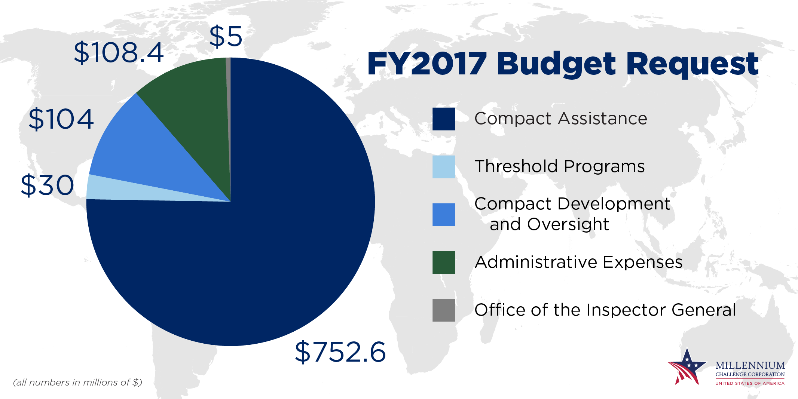 WHAT:
House Committee on Foreign Affairs Hearing: Review of the FY 2017 Foreign Assistance Budget: Aligning Interests, Ensuring Effectiveness and Transparency
 
WHO:
MCC CEO Dana J. Hyde
 
WHEN:
10 a.m., Tuesday, March 15
 
WHERE:
Rayburn House Office Building, Room 2172
Also livestreamed here.
  
MCC's fiscal year 2017 Congressional Budget Justification can be found here.
 
                                                                                  ###
The Millennium Challenge Corporation is an innovative and independent U.S. Government agency working to reduce global poverty through economic growth. Created by the U.S. Congress in January 2004, with strong bipartisan support, MCC provides time-limited grants and assistance to countries that demonstrate a commitment to good governance, investments in people and economic freedom. Learn more about MCC at www.mcc.gov.