Press Release
MCC, Kosovo Celebrate Major Milestone in $285M Energy Sector Overhaul
For Immediate Release
October 19, 2022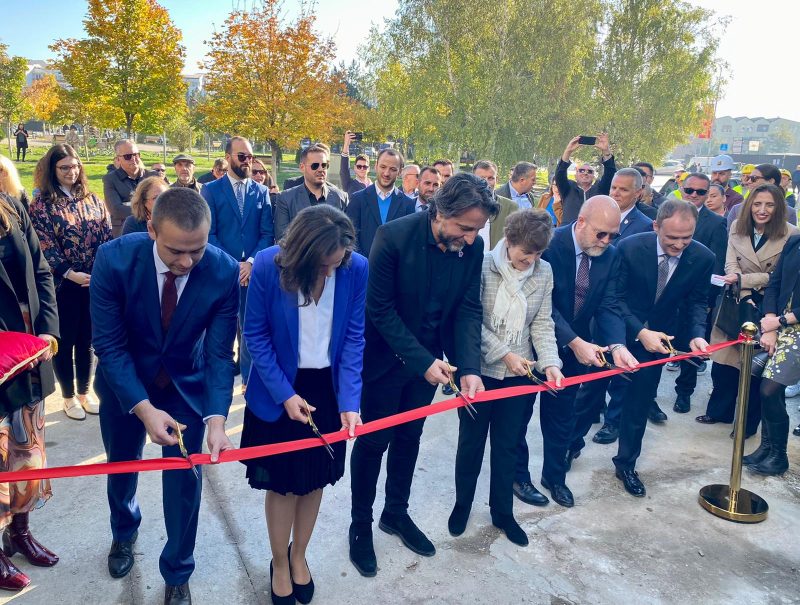 WASHINGTON (Oct. 19, 2022) — The U.S. government's Millennium Challenge Corporation (MCC) and the Government of Kosovo completed the first major milestone in their $285 million series of investments in Kosovo's energy sector — celebrating the $49 million Kosovo Threshold Program today while making progress on the recently signed MCC-Kosovo Compact, which totals $236 million.
During the ceremony, MCC Chief Executive Officer Alice Albright thanked the Kosovo government and the Millennium Foundation Kosovo (MFK) team for their leadership and support throughout the implementation of the threshold grant, emphasizing that the energy sector remains the country's most critical need for investments as competing world crises, and Russia's war in Ukraine, continue to negatively impact Kosovo's and Europe's energy markets.
"Energy efficiency is one of the most cost-effective measures countries can take to reduce greenhouse gas emissions and pollution, improve health, and support inclusive economic development while alleviating poverty." said Albright. "At a time when energy security is more fragile than ever, MCC's partnership with the Kosovo government has built a stronger, more diverse energy sector and has laid the foundation for the large-scale infrastructure development required to transition Kosovo to a more secure energy future. Through the MCC-Kosovo Compact we signed this July, we will build on this threshold program and create modern, reliable energy solutions for all Kosovans."
Albright added that MCC and the Kosovo government were able to maximize the success of the threshold program because the project prioritized creating new opportunities for women and marginalized groups.
"Development programs are more effective and attract more private-sector investments when they are inclusive," said Albright. "By investing in women's education, women-owned small businesses, and by providing opportunities for women in the energy sector, we are creating an economy that grows faster because everyone can participate — equally."
Albright was joined at the ceremony by MFK Chief Executive Officer Petrit Selimi and the former President of Kosovo Atifete Jahjaga.
"Allow me to congratulate MCC, Petrit, and MFK on this event — this Threshold agreement is a result of real partnership," said President Jahjaga. "It was partnership across the ocean, between Kosovo and the United States, but it was also a partnership that delivered across our own political divides her in Kosovo. This sense of partnership comes from the understanding that we are not alone, nor can we succeed alone…we can't fix alone the energy challenge in Kosovo.
"Saving energy, saving electricity, saving heating, is best way to save our economy and our communities," added President Jahjaga. "It's best way to save Kosovo families from entering energy poverty and real financial poverty."
Energy-Efficient Upgrades  
Kosovo's primary source of energy remains coal-fired power plants. Additionally, many households still burn firewood and coal for heating and cooking, generating air pollutants that cause respiratory and other health issues. Through the threshold program, MCC and the Kosovo government:
Provided subsidies for households to invest in energy-efficient measures such as new roofs, insulation, and energy-efficient windows. This pilot program has helped more than 17,000 families across the country make their homes more energy efficient and better manage their energy usage.
Provided training for Kosovo construction companies to become qualified installers for efficiency retrofit projects, which include conducting energy audits, upgrading to energy-efficient heating and cooling systems, roof repair, installation of solar equipment and more.
Invested in new public-facing platforms to collect and make available information about the judicial system, air quality data. MCC and the Kosovo government also leveraged civil society to hosted open-data challenges to put newly available datasets to use, increasing government accountability and transparency.
Building on the successes of the threshold program, the MCC-Kosovo Compact will reduce energy costs, facilitate renewable energy integration into the power grid, incentivize practices that promote gender equality, and establish new technical training programs to provide the skills required by energy sector employers. This includes investments in 350 megawatt-hours of energy storage systems to help cover unexpected outages during peak demand, as well as provide energy arbitrage and other reserve services.
Opportunities for Women
Development programs are more effective, create more growth, and attract more private-sector investments when they are inclusive, which is why MCC and MFK, the Kosovo-government organization implementing the threshold grant, created greater opportunities for women through the Women in Energy Program. This program provided scholarships, internships, and entrepreneurial support for Kosovan women, addressing the country's gender imbalance and labor supply in the energy industry. Through this program:
28 Kosovan women received fully-funded, two-year scholarships to earn technical degrees in the Science, Technology, Engineering, Art, and Mathematics (STEAM) fields from the Des Moines Iowa Community College.
More than 400 women-owned businesses received grants to invest in energy efficient machinery and equipment, renewable energy technology, and building-related energy saving measures.
200 young women gained six months of work experience as interns in energy sector institutions and private businesses.
With a focus on the future, MCC and the MFK also partnered with NASA, Microsoft, Intel, and GirlUp to host a camp in the Balkans for more than 200 girls from Kosovo, Albania, Montenegro, North Macedonia, Serbia and the United States to learn more about STEAM fields. The two-week camp explored innovative topics such as robotics and coding, drone technology, renewable energy sources, construction technologies and other topics relevant to education and leadership in STEAM fields.
The Millennium Challenge Corporation is an independent U.S. government agency working to reduce global poverty through economic growth. Created in 2004, MCC provides time-limited grants and assistance to countries that meet rigorous standards for good governance, fighting corruption and respecting democratic rights.
###