MCC CEO Dana J. Hyde's Remarks at the World Cocoa Foundation's 15th Anniversary Gala Dinner and Awards Ceremony
July 1, 2015, Washington, DC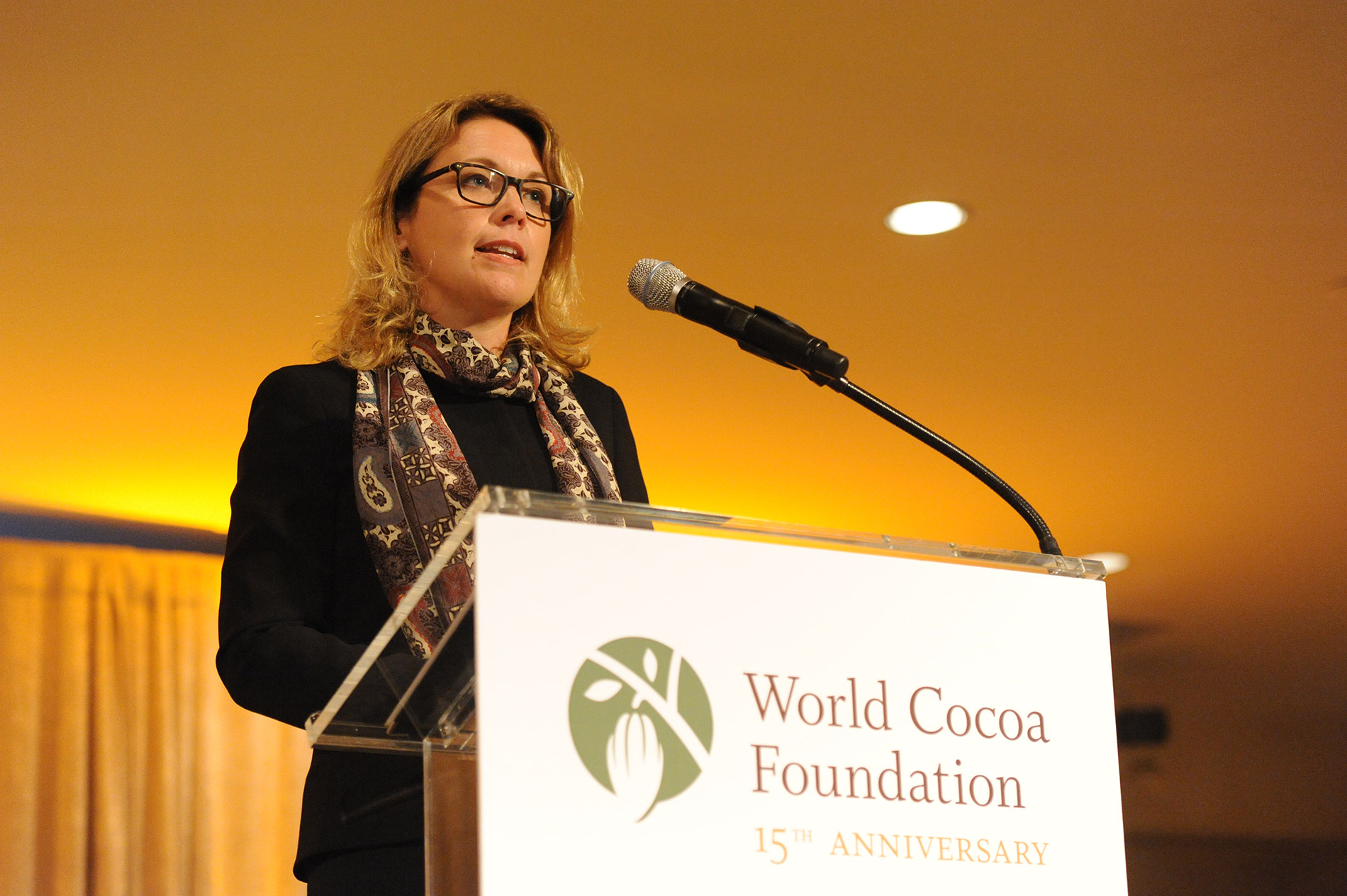 Thank you, Bill, for that kind introduction.
I am not just delighted—but thrilled—to be here this evening.
As my mother, husband, children and anyone who knows me well will tell you—I am passionate about chocolate.  Now this is not just your run-of-the-mill chocolate obsession. This is serious.
So on a personal level the stars have aligned in bringing me here this evening.
But the stars have also aligned in connecting the Millennium Challenge Corporation with the World Cocoa Foundation.  We face a rapidly changing development landscape, and the World Cocoa Foundation—and its model of engagement with industry and the private sector–represent a visionary approach to sustainable growth.
And MCC shares your vision.
Ten years ago Congress created MCC as a new and different model of development assistance—one focused solely on helping communities alleviate poverty through economic growth. We were founded on the lessons of 40 years of development, and those lessons led us to focus on good governance, country ownership and a data-driven approach to accountability for results.
So where has that taken us? Over the past ten years, MCC has partnered with 35 countries and invested over $10 billion.  Our work is expected to benefit more than 170 million people worldwide.
Sixty-five percent of the portfolio has been invested in Africa.  And over half of that—$3.6 billion—has been in West Africa.
There, MCC is in Cote d'Ivoire—just initiating our small-scale threshold program.  We are also active in Ghana, where we have already committed more than $1 billion dollars in two separate investments—including one focused on agriculture.
And in MCC's current portfolio, our largest commitment is to Indonesia—the biggest cocoa producer outside of Africa—where we've invested more than $600 million in a five-year compact.
But it's not just the geography that overlaps.  It's our objectives—our principles—and our approach.
So tonight I want to talk about three specific principles that underpin each of our efforts—and how they might lead us into the future.
First, the imperative of leveraging private and public investment.
The real shift we've seen in the development landscape over the past decade is the growing recognition that private investment has become the cornerstone of international development.
ODA—official development assistance—not too long ago represented the vast majority—70 percent—of overall capital flows to the developing world. Today, that figure is 13 percent.
So at MCC, catalyzing the private sector for development is not a complement to our work. It is our work. Everything about MCC's model and approach—from selecting countries to choosing projects to measuring results—it is all oriented around creating the right circumstances for businesses to invest.
Take, for example, our first compact in Ghana, which aimed to make the country's agriculture sector a major competitor in regional and international markets: To boost high value exports like pineapples, MCC built a Perishable Cargo Center at the airport in Accra, with day-to-day management handled by a private concessionaire. Today, the center processes exports for the likes of Delta, DHL and Lufthansa.
But as much as MCC is an investor, we are a catalyst and a convener…much like the World Cocoa Foundation.
Over the past 15 years, you have brought together a wide variety of actors to promote a sustainable cocoa economy.
So it's not surprising that we have taken a page from YOUR book. You and your partners, such as the Gates Foundation and USAID, have shown that programs like matching requirements from industry are critical to scale up efforts and reach more cocoa farmers. So in Indonesia, as part of our Green Prosperity Facility, we seized the opportunity to do just that.
Of course, you've been more than a model—you've also been a partner and a convener in our work in Indonesia.  Just last March I was in West Sulawesi for the signing of an agreement between MCC-Indonesia and the Swisscontact Consortium, made up of civil society partners like the World Cocoa Foundation, as well as 7 key cocoa industry companies: Barry Callebaut, BT Cocoa, Cargill, Guittard, Mars Inc, Mondelēz and Nestle.
Tonight, 3 months later, I'm delighted to announce a second public-private partnerships in the cocoa sector. On Friday, MCC-Indonesia signed an $8.6 million partnership agreement with a consortium led by Rainforest Alliance, with large contributions from Olam Indonesia and GrowCocoa. I'm excited to see this project move forward and I want to thank everyone involved for their hard work to get us to this point.
I also want to acknowledge and thank an MCC professional who has played a leading role in promoting these and other private sector solutions: Kathy Farley. As you know, many of your deal makers have a well-earned reputation for being tough at the negotiating table—so MCC is lucky to have Kathy on our side.  And we ALL are fortunate to benefit from her creativity and expertise.
The partnerships—which are mobilizing almost $12 million in additional resources—aim to provide the skills and reliable inputs that farmers will need to break the poverty cycle. And they include a key nutrition component—because healthy families are productive families. We expect the partnerships to reach more than 66 thousand smallholder farmers in 14 districts and double, even triple yields. All this, while supporting environmentally sustainable practices.
Which leads me to a second principle that is now fundamental to the development landscape—sustainability, and environmental sustainability in particular.  One of the key features of these cocoa partnerships—and MCC's agricultural and infrastructure work more broadly—is that we see and approach our work in climate change, in economic growth and in poverty reduction as mutually reinforcing—rather than in conflict.
And as part of this approach, we are doubling down on our commitment to climate-resilient agriculture and green growth.
As you know, if global temperatures rise even 2 degrees—and they very well may in our lifetimes—entire regions will suffer. In sub-Saharan Africa alone, many corn-producing areas will simply not be able to support corn anymore. That's a threat to economic growth that we are committed to fighting.
Thus far, MCC has invested well over $800 million in projects that adapt to climate change and reduce greenhouse gas emissions. And we're certainly not slowing down.  More widely, the President's Executive Order has required that all US government international development agencies invest in adaptation and mitigation. This is a priority for all of us.
Our cocoa partnerships in Indonesia are at the forefront of MCC's deepened commitment: they represent the first time MCC has targeted both income growth and climate change issues as compact level objectives.  And, as I understand, it is also a first of its kind for the World Cocoa Foundation.
So it is my hope that—as the projects unfold and members experiment with various approaches to tackling these objectives—the firms involved will learn from their experiences and teach each other.  And that we both take the lessons learned and apply them to other regions and to other value chains.
The World Cocoa Foundation will be vital to achieving this vision—especially given its role in contributing to and managing environment-related research.  And I commit to you that MCC will ensure that the lessons learned will be shared and applied in the development community.
In fact, that effort is already underway.  Nearly all of us are buyers or consumers of palm oil.  MCC is also targeting that value chain in Indonesia — using a partnership approach based very closely on our work in the cocoa sector.
I hope we all take this as a starting point for thinking creatively and expansively about agriculture, environmental sustainability and growth.
Now, the third shared principle that I wanted to talk about tonight revolves around sound government policies – both nationwide and in the sectors and communities where we work. 
MCC is quite selective: to receive MCC grants, countries must pass a scorecard of indicators on governance, economic freedom and investing in people.
This creates a powerful incentive for countries to improve their governance performance.  We like to call it the MCC effect—and Cote d'Ivoire is a shining example. In 2012, in an attempt to qualify for MCC assistance, the country passed a new family code giving women the same rights as men for basic activities like applying for a passport or pursuing a job. That's inherently good, and it's also a boost for the economy: equal rights and resources for women farmers, according to FAO, could reduce the number of hungry people in the world by 100-150 million people.
Today, Cote d'Ivoire now passes the gender in the economy indicator—and is a first-time partner with MCC in a threshold program.
But our focus on governance doesn't end there. We rely heavily on the policy environment to ensure that our projects are sustainable. So when we invest in agriculture, for example, we support a range of related reforms, from equal opportunities for women to fair business practices. In Honduras, we provided farmer training and built roads, but we also worked with the government to pass a law that helped give small business owners more access to credit.
Indeed, in many cases I hear from the private sector—and from countries themselves—that MCC's ability to leverage systemic reforms is as important—or more important—than the dollars we bring to the table. Because while the dollars go away after 5 years, the policy reforms will endure.
Of course, we need your help. We rely heavily on private sector input to help us identify and prioritize reforms.  And in cocoa producing countries, you have a unique opportunity to encourage sound policy.  Certainly that has been true through platforms like CocoaAction, where you have signed agreements with the governments of Cote D'Ivoire and Ghana—and agreed on key performance indicators to measure outcomes.  This work is so important—and I encourage you to continue to focus on policy frameworks and reforms as key elements of development.
But before I let you return to your dinner—and me to my chocolate goody bag—I'd like to issue a simple challenge.
Next month the world will convene in Addis for the third International Conference on Financing for Development.  MCC was born out of the first such conference in Monterey.  Our model reflects what was then an emerging—but utterly common-sense—consensus about what drives development.  We relate to countries not as recipients; but as partners.  Our funds are not aid packages; they are compacts.  Our dollars are not just grants; they are investments.
And as Addis approaches, we know—as do you—that development is not about a transfer of funds; it is about what countries themselves do to lift their people up.
Our collective challenge, then, is clear: to support and intensify the impact of the efforts our country partners make.  To help build a solid foundation for sustained—and sustainable—economic growth.  And to catalyze the sound policies and transformational investments that will help our partner countries thrive.
I know you will join me in accepting the challenge—to share what you have learned over the past 15 years and build upon these lessons to expand your partnerships across regions, across value chains and even across other areas of development.
Together, we can and we will bring the same vision and commitment that made us both development game-changers
to the next 15 years.
Thank you.