Remarks by Jeanne Hauch, Vice President, General Counsel and Corporate Secretary, at the Feed the Future Declaration of Partnership Signing Ceremony in Niger
August 16, 2018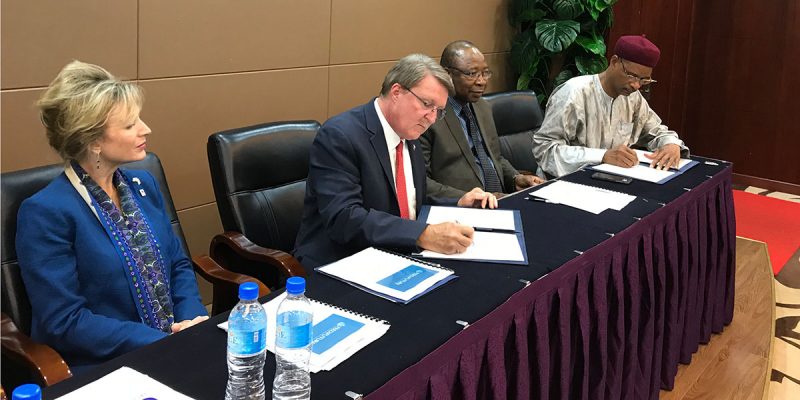 I am honored to be here from Washington representing MCC. It is a great pleasure to announce MCC's commitment to this landmark partnership declaration for Niger.
MCC has been a supporter and participant of this Presidential Feed the Future initiative from the very beginning in 2010.  Since its inception, MCC's compacts with ten countries have invested MCC resources in the agriculture sector. This has amounted to well over one billion U.S. dollars of MCC funds that have supported food security and this very important global initiative. And now with this compact in Niger, MCC funds are again being used to support economic growth in the agriculture sector – $437 million. Not only does it represent a significant contribution to the US Government's overall development effort in Niger, but also to the Government of Niger's national strategies to reduce poverty and spur economic growth.
These efforts are concentrated in the agriculture and livestock sectors, particularly for Nigeriens Nourish Nigeriens ("3N").
Sustainable development takes considerable resources and a strong commitment to follow through. The Government has prioritized investment in its people. MCC and the U.S. government are proud to contribute to those goals.
Together, the US Government and our donor partners will work closely with the Government of Niger to improve sustainable access to natural resources, to markets and to new technologies for millions of people. Positive change in the lives of the people of Niger is the goal of the partnership. This is the standard on which we will be evaluated – how many millions of Nigeriens experience improved livelihoods and a brighter future?  The potential is enormous.  MCC is committed to working side by side with our USG government partners and the Government of Niger to ensure our combined resources create real, tangible benefits for the Nigerien people.
Through this partnership, we can provide the tools for people to build a better future for themselves. We can create an environment where people feel empowered.  Where people can find the resources to pursue their hopes and dreams, for themselves and their families.
MCC is proud to be a fundamental partner in the Feed the Future initiative. We are honored to be a key supporter of the Niger Government's national strategies to improve performance of the agriculture and livestock sectors.  We will bolster food security throughout this great country.  We are in this together for the long term.  Finally, congratulations on the signing of this very important declaration.