MCC Acting CEO Jonathan Nash's Remarks at the Kosovo Threshold Program Signing
September 12, 2017, Washington, D.C.
Good afternoon,
On behalf of all of us at the Millennium Challenge Corporation, thank you for joining us to celebrate an exciting new chapter in the strong partnership between the United States and the Republic of Kosovo.
We are very honored to have President Thaçi with us today for the signing of this new threshold program between our two countries.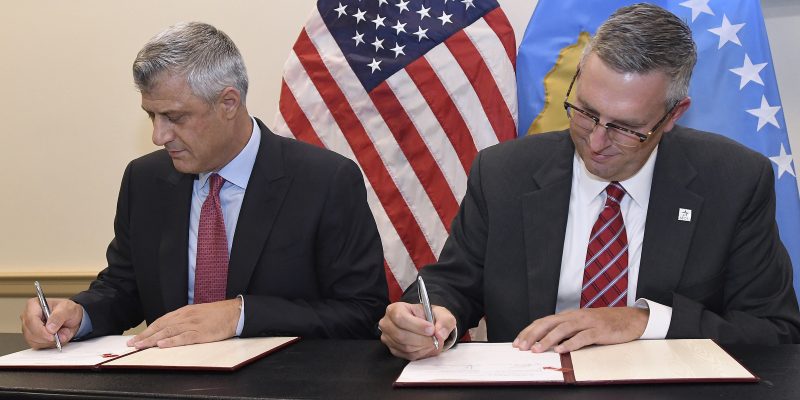 I'd like to thank Congressman Eliot Engel for hosting us today. He has done so much to grow the friendship between the people of Kosovo and the United States, and I am sincerely grateful for his support of MCC and this important investment. I'd also like to thank Congressman Ed Royce and all of our colleagues in the U.S. Congress here with us today for your strong, bipartisan support for MCC's work and this Kosovo Threshold Program.
I want to take a moment to express our deep gratitude to the many U.S. service men and women who have helped bring peace to Kosovo and the region since the 1990s.
The Kosovo Threshold Program is an investment in the people of Kosovo. It is the result of work on both sides of the Atlantic, and I would like to recognize a few of the people and institutions who have made this program possible.
President Thaçi, former Prime Minister Isa Mustafa, Kosovo Ambassador Vlora Çitaku and U.S. Ambassador Greg Delawie have all shown immense support, as well as our partners at USAID — especially Mission Director to Kosovo Jim Hope and Deputy Mission Director Mike de la Rosa.
Thanks to MCC's Board of Directors, including member Mort Halperin who is with us today. Mort has shown consistent support of this program and has dedicated much of his life's work to pursuing accountable governance.
As with all MCC investments, bilateral and multilateral donors, and our civil society and private sector partners have all made valuable contributions to this effort. It is great to see so many of you here today.
And many thanks to the Threshold Development Team in Pristina, led by Petrit Selimi, and the MCC Kosovo Country Team here in D.C., led by Sarah Olmstead, for bringing their great expertise and commitment to the development of this program.
If you'll allow, I'd like to take a minute to discuss this important investment.
Kosovo is a young country on the path to Euro-Atlantic integration. Despite progress, it still faces many challenges. At its heart, this $49 million program is about empowering the people of Kosovo to meet these challenges.
MCC will support the Government of Kosovo in its efforts to strengthen its institutions, rule of law, and governance, and create new opportunities for growth that reduce poverty and advance regional stability.
We'll focus in two areas.
First, the program will expand access to affordable and reliable electricity by fostering a market-driven approach to lowering energy costs for households and businesses. This includes encouraging investment in energy efficiency and shifting to non-electric sources of heating.
For the poorest households who spend a substantial portion of their income on basic energy needs, we'll support them to lower costs so money saved can be put toward more productive uses, like education or entrepreneurial activities.
The program will also open up new employment opportunities for women, and aim to reduce obstacles for independent power producers so they can enter this vital sector.
Second, we'll help the Government strengthen accountability and transparency by increasing the availability and use of data to guide decision-making.
By providing better access to court case information and environmental and demographic data, we will empower citizens to more effectively engage with their government.
And we will help foster collaborative, problem-solving relationships among government, civil society, and the private sector that contribute to accountable governance and propel economic growth.
We are excited to partner with the Government of Kosovo in this new effort as this young country builds the pillars of a modern economy and inclusive, transparent institutions that serve all of Kosovo's citizens.