MCC Acting CEO Jonathan Nash's Remarks at the Nepal Compact Signing
September 14, 2017, Washington D.C.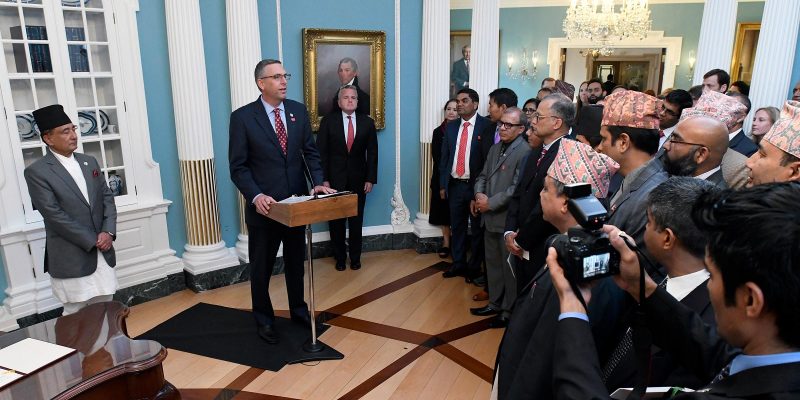 Good afternoon.
Welcome, and thank you all for joining us today to celebrate our partnership with Nepal.
I'm Jonathan Nash, Acting CEO of the Millennium Challenge Corporation, and I want to extend our sincere gratitude to Deputy Secretary of State John Sullivan for hosting us today.
We are honored to be joined by Minister of Finance Mr. Gyanendra Bahadur Karki, Nepal's Ambassador to the United States Dr. Arjun Karki, as well as a number of distinguished members of the Nepali Government. I also want to welcome U.S. Ambassador to Nepal Alaina Teplitz.
On this 70th anniversary of Nepal-U.S. relations, we are here today to celebrate a new chapter in the partnership between Nepal and the United States.
At MCC, our mission is to reduce global poverty through economic growth. We take a business-like approach, with commitments to data, accountability, and evidence-based decision making. And we focus on creating the right circumstances for private investment in our partner countries. Our time-limited grant investments promote growth and opportunity, and help create more stable, secure countries.
Today, we mark an important milestone: the signing of a $500 million MCC compact agreement between the U.S. and Nepali Governments – MCC's first compact in South Asia.
The program will tackle two of Nepal's most binding constraints to economic growth: low energy supply and high transportation costs.
This includes the construction of high voltage power lines equivalent to one-third the length of Nepal. It will also facilitate increased electricity trade with India, a strategic partner, as well as activities that will strengthen sector governance – increasing transparency, efficiency and competition in Nepal's power sector.
In the transportation sector, the compact includes investments that will strengthen the road maintenance regime, which is particularly important to the movement of goods and people in a landlocked, mountainous country like Nepal.
These projects are designed to spur private investment, increase regional connectivity, drive growth and fight poverty.
The Nepal Compact is recognition of the progress Nepal has made in establishing rule of law, democratic institutions, and investments in its people. It's an opportunity to help the country build its capacity to deliver critical services to its people to benefit the economy, regional security and the broader global community.
In support of this compact, the Nepali Government has committed to contribute an additional $130 million of its own funding—making this the single largest up-front country contribution in MCC's history, and a testament to Nepal's commitment to this partnership.
This additional investment will allow our compact to have an even greater impact on growth and poverty reduction for the people of Nepal. And we could not have made it to this point without all of the hard work of the compact development team working on this program, led by Mr. Tulasi Sitaula, as well as various Nepali Government institutions, most notably the Ministry of Finance.
And of course, I have to commend the tireless efforts of our MCC country team, led by Himesh Dhungel. Their work exemplifies the values we hold dear at MCC.
I'd also like to recognize our strong partnership with the Nepali Embassy led by Ambassador Karki and the U.S. Embassy led by Ambassador Teplitz, along with our colleagues at USAID.
Thank you all and to everyone who worked and collaborated on this program.
We're so pleased you could join us to celebrate this partnership. We are looking forward to our work together to make this compact a success.