MCC's Vice President and Chief Financial Officer Cynthia Huger's Remarks at USGLC Event
October 4, 2018, Houston, Texas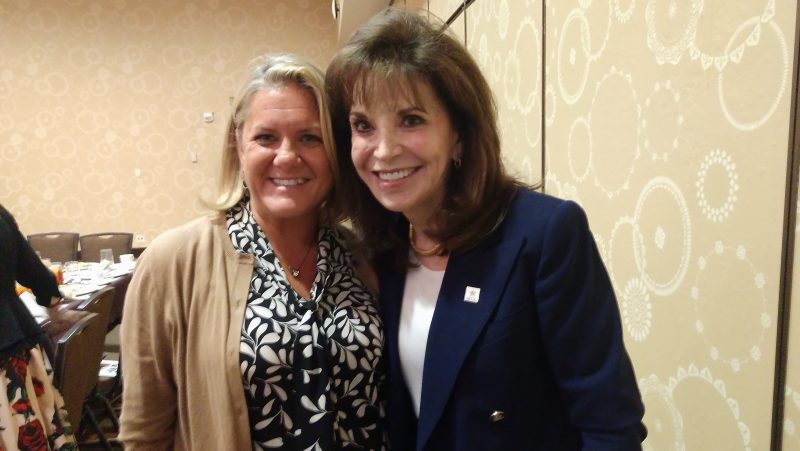 It is a privilege to be here.
As many of you know, USGLC has a solid history of working with the Millennium Challenge Corporation. We share a common vision for America's role in the world—one built on the three D's: Defense, Development and Diplomacy.
As you also know, it is critical to support and fund all three of those areas in order to keep our nation safe, our economy strong, and our position in the world secure.
But of course, when it comes to international development in the present day that is not necessarily the case. As this organization clearly recognizes, development is often underfunded and undermanned.
At the same time, the role of development in today's world has only grown more important, and the need for its services more critical. We cannot simply resign to doing less. We must find new ways to make the most of limited budgets, and create new strategies for generating funding and bolstering resources.
And that is where the Millennium Challenge Corporation comes in. While our organizations have a history of working together, and we share many common goals, USGLC is a large coalition. And some of you might want to know more about MCC.
So let's take a look at what Millennium Challenge Corporation is, and how we operate.
MCC is a different kind of development organization. The U.S. Congress created our organization in 2004 as an independent U.S. Government agency with a new approach to international economic assistance, one which seeks to reduce global poverty through economic growth.
And our approach is unique.
First, we use an evidence-based, transparent selection process to choose the countries we partner with. Then MCC works to create the right circumstances for businesses to invest in our partner countries.
We provide large-scale grants to developing, well-governed countries to fund projects we believe will lead to private-sector economic growth.
We implement two types of programs—compacts and threshold programs.
Compacts are our flagship investment programs, ranging from $60 million to about $700 million per country, with a 5-year timeline for completion. The strict time limit is important, because our programs are designed to be led by our partner countries, from development to implementation through completion.
We select countries based on three criteria: ruling justly, investing in people and spurring economic freedom.
To determine how well a country is performing in these three areas, MCC has 20 indicators that uses data from independent third-party organizations that evaluate low-income and lower-middle income countries.
The results of these 20 categories are compiled into a scorecard. To be eligible, a country must pass half of the 20 indicators, in addition to hard hurdles on indicators like "control of corruption" and "political rights". This assessment is competitive. Only about one-third of countries evaluated meet the criteria.
MCC's board then uses these scorecards to determine which countries to partner with.
Once countries are chosen, MCC works with each selected country to determine the most "binding" constraints to economic growth. The root causes of these constraints are then identified, and Compacts are created that provide solutions to those root causes.
Though MCC maintains a presence during the development and implementation of the compacts, from formulation to implementation, the compacts are always led by the country itself. This empowers the country and enables ownership of the progress, allowing sustained growth long after the compact ends.
MCC monitors and evaluates progress of our investments long after the compact ends to foster sustainability.
Accountability is important to us and MCC holds each partner country to high standards. Countries are required to continue their commitment to good economic and democratic governance through the life of the program. In cases where they have not, the Board has demonstrated a clear willingness to hold them accountable, and has suspended or even terminated country programs when necessary.
MCC's other investment program, the threshold program, is designed for countries that are close to passing the scorecard, but do not quite meet the standard.
Through this program, we provide smaller grants, on average between $10 million and $60 million, to help countries reform to meet the standards. Threshold programs last for two to three years.
Here's a quick example of how threshold programs work.
In 2014, Togo passed only five indicators. Now, in 2018 they are passing 12. Another country, Cote d'Ivoire, in three years went from passing five categories to passing 13 and are now an MCC partner country developing its compact.
The "MCC Effect" is a term that has been used to describe how MCC's focus on policy performance and use of the scorecard spur countries to undertake critical reforms, improving their governance structure and policy environment before a dollar from MCC is even spent.
So those are the mechanics of our organization.
And, as of right now, MCC is developing or implementing 19 compacts and six threshold programs worth almost $5 billion. And, over all, MCC has signed 36 compacts and 27 threshold programs with 40 countries, totaling over $13 billion. We have completed 22 compacts that have benefited about 175 million people.
Though the process to determine project investments is country-led, MCC is consistently focused on areas such as women's economic empowerment, concurrent regional compacts, private-sector engagement, and blended finance.
MCC learned early on that when women have equal access to employment and income-generating activities, economies are healthier, household incomes increase, and businesses earn higher profits. And—significantly— there is greater investment in children's health, nutrition, and education.
For these reasons, we truly believe that to fulfill our mission of reducing poverty through economic growth, we must integrate and implement gender into everything we do. In fact, since early on in our history, MCC integrates gender consideration throughout the threshold and compact cycle—from the initial country selection and assessment to the development and design of programs, project implementation, the monitoring of program results, and evaluation of program impacts.
Women's economic empowerment and working regionally are critical to MCC's continued success. And one of the main keys to success in those two areas, and to all of what MCC does, is the use of private-sector investment in blended financing, which merges public and private funds to mobilize capital for the public good.
In fact, investments from the private sector now far outweigh official development assistance. Private investment and is widely considered the most promising solution to meeting the development challenges of the 21st Century.
Today the goal of U.S. foreign economic assistance is to move away from reliance on grants and shift toward approaches that attract private capital. More simply put, the goal is to use fewer government resources and generate more resources from the private sector and partner countries.
Let's take a look at one example—an MCC compact in Ghana.
The United States is one of Ghana's principle trading partners—bilateral trade between our two countries amounted to $1.7 billion in 2017. While this country holds a lot of future business potential, its state-owned power company has been plagued for years by mismanagement and technical and commercial inefficiencies.
It has not been an easy process, but MCC's model has helped to incentivize changes amid the country's challenging political environment—and has begun to pave the way for private-sector solutions. In fact, our $498 million MCC Ghana Power Compact has already leveraged nearly $3 billion in new private investments that hold the potential to transform the nation's power sector in coming years, increase access to a dependable supply of power, and spur economic growth.
As mentioned in the beginning, MCC and USGLC share a common vision for America's role in the world—one built around the three D's: development, diplomacy and defense.
And I think we also share a belief that these are not separate initiatives—they are intricately connected and dependent on each other.
Let me quote quickly from the 2017 National Security Strategy:
"The United States will use diplomacy and assistance to encourage states to make choices that improve governance, rule of law, and sustainable development. We already do this through the Millennium Challenge Corporation, which selects countries that are committed to reform and then monitors and evaluates their projects."
As the strategy indicates, MCC's development model is one of the United States' greatest forms of diplomacy—and one of our most effective tools for ensuring national security.
It is a fact that strategic investments that spur economic growth in developing nations—especially fragile states and regions—save lives and increase stability and security around the world.
We thank the U.S. Global Leadership Coalition for helping our leaders understand how vital MCC's work is to maintaining America's role in the world, and in doing so, helping to ensure that we continue to have the resources we need to promote a more peaceful and prosperous world.