The Power of Community-Driven Development in the Philippines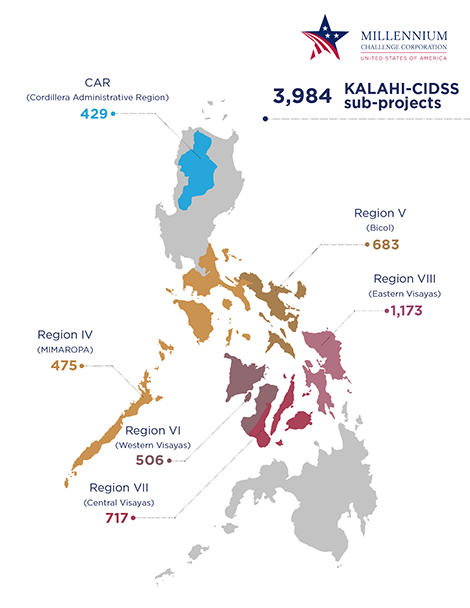 MCC champions community-led development, where program ownership and accountability are concentrated at the local level. Development investments are more effective and sustainable when they reflect countries' own priorities and strengthen governments' accountability to their citizens.
MCC's $434 million compact with the Philippines, signed in 2010, included a $132 million community-driven development project known as KALAHI-CIDSS, or Kapit-Bisig Laban sa Kahirapan (Linking Arms Against Poverty) Comprehensive and Integrated Delivery of Social Services.
KALAHI-CIDSS funded about 4,000 projects in basic infrastructure and social services in rural, high-poverty areas based on needs identified and prioritized by residents across Filipino communities. The program strengthened community participation in development and governance activities at the village and municipal levels – including women – and improved local governments' responsiveness to community needs.
Far surpassing its original target of 2,740 projects, KALAHI-CIDSS is expected to benefit nearly one million households. The Government of the Philippines has also now made KALAHI-CIDSS a national model for development plan­ning and implementation.
Read about the impact of KALAHI-CIDSS in stories from each of the project's six regions below.
A Short Walk to Clean Water Makes a World of Difference
Region CAR: Barangay Malucsad, Pasil, Kalinga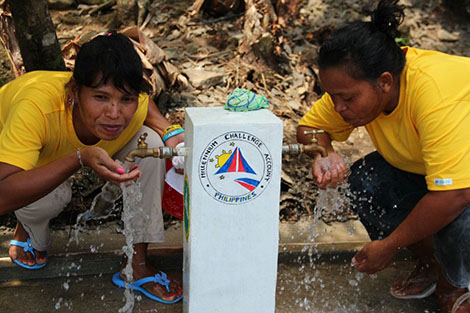 The residents of the growing Barangay Malucsad have struggled with water scarcity. They've typically had to travel more than half an hour to get clean water for drinking, bathing, laundry and agriculture. But with funding through Kalahi-CIDSS, a network of community tap stands now delivers clean water just a short walk away.  
The three-to-five minute walk to the new tap stands is not only saving residents travel time. Residents and municipal authorities credit the new water system with a marked decrease in the incidence of diarrhea, cholera and other water-borne diseases. Students now miss fewer days of schools due to illness, and steady access to water means improved hygiene because residents are able to bathe and do their laundry more frequently. Easier access to water is also improving crop and livestock output and residents' incomes.
Residents of Barangay Malucsad ­– who felt that most government projects were concentrated in urban areas – commended Kalahi-CIDSS for its focus and commitment to rural areas. Residents also noted that community ownership helped to eliminate corruption in project implementation, which has been an issue in previous projects. "With national projects, 100 pesos becomes 1 peso once the funding finally arrives at the barangay level," said community elder Jaime Tongdo. "With Kalahi-CIDSS, 100 pesos arrives at face value."
Solar Power Brings a Brighter Future
Region IV MIMAROPA: Barangay Banuang Daan, Coron, Palawan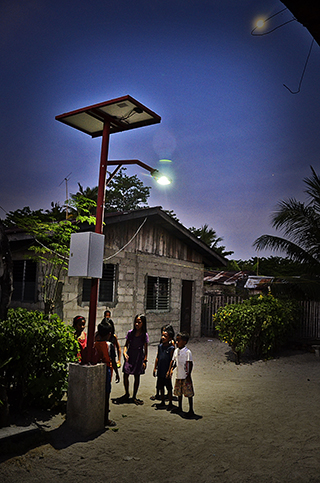 With access to solar panel electricity, the difference for the people of Barangay Banuang Daan has been night and day.
Before the installation of solar panels, the barangay's residents relied on gas lamps for lighting, and poorer households that couldn't afford gas used tree resin to keep their lamps lit. But the lamps were smoky, and on windy days, they were also impractical and dangerous. Bad weather meant that the barangay would plunge into darkness come nightfall.
But today, with solar panel electricity funded by the Kalahi-CIDSS program, residents no longer need to get all of their work, cooking and other tasks done before the sun sets. As Jaide, a resident of Barangay Banuang Daan said, "The children can now continue their studying in the evenings. We turn the light on at 6 p.m. We have three bulbs for every house. The battery can be used through the night, if needed, from 6 p.m. to 6 a.m."
With greater access to reliable light, Bernand, the barangay's treasurer, can work in the evenings and no longer misses deadlines. "Before, I would sometimes be late on my barangay reports. But now, I am not late on the reports anymore," he said. "My wife can do chores in the evening. So the light is a big help to my family and me."
New Concrete Path Leads to Economic Security
Region V Bicol: Barangay Dahilig, Gainza, Camarines Sur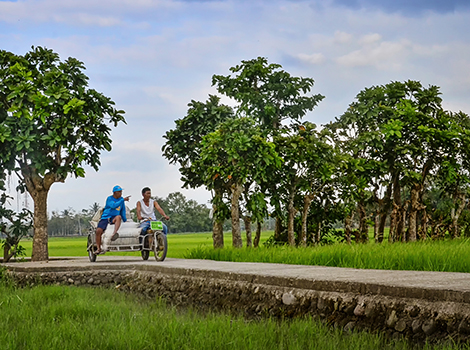 You may never know the relief that a mere 370 meters of solid, concrete path can bring if you haven't experienced transporting a sack of rice on your head through muddy patches of earth in the scorching heat of the sun, or on a soggy, humid day.
"We always had a hard time transporting palay (unmilled rice) and equipment," said Reynaldo Razonable, project management committee chairman for the concrete pathway recently built in Barangay Dahilig in Gainza, Camarines Sur under the Kalahi-CIDSS program.
Before the pathway was laid, it took farmers up to two days to transport their harvest to the market. Sometimes, the trail itself would be washed away by the rain. Valuable time, money and energy were wasted. Each rice sack weighs up to 40 or 50 kilograms, and while the more hardy and penny-pinching farmers would carry them on their heads, others would pay farmhands to help them.
The new pathway has made the trip to market much easier and is wide enough to accommodate a bicycle with a sidecar – known as a padyak. "Now it just takes a couple of hours," Reynaldo said. "The farmer takes his rice to the pathway, loads them on the padyak, and he's back home in time for lunch. He has time to attend to other matters, and there is less risk of theft."
The project has not only eased transport, but also reinforced a sense of economic security among the residents of Dahilig.
"We never knew that we could work like this with the government," Reynaldo's wife, Visitacion, said. "We now realize all we had to do was ask."
Steel Bridge Connects a Community
Region VI Western Visayas: Barangay Pang-itan, Madalag, Aklan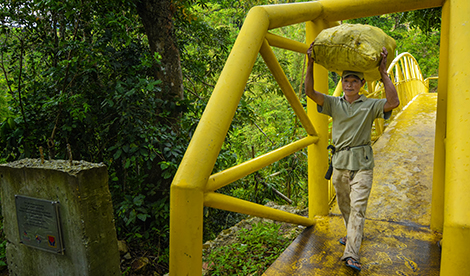 Wilma Castro, principal of three schools in the municipality of Madalag, used to dread crossing a dilapidated footbridge to get to Pang-itan Elementary School.
"I have a fear of heights, so I didn't usually take the foot bridge but would step on big rocks to cross the creek," she said. "But when the creek overflows, I would have no choice but to crawl the footbridge from the main road to the other side going to our school. But that's history now. We have this new and strong steel bridge. I'm no longer afraid to cross it." Post navigation
Funded by the Kalahi-CIDSS program, a new 21-meter steel bridge has made travel to schools, the daycare center and health center much easier and safer for the 160 households of Barangay Pang-itan.
The bridge is also supporting the village's economic growth. Products like copra, abaca and rice are easier to get to the local market, which means residents are bringing in more income to support their families.
MCC's Jonathan Brooks, managing director for Europe, Asia, the Pacific, and Latin America, visited the new bridge during the summer of 2014. "The dedication and broad participation of the community to complete these projects with high standards are really impressive," he said. "It is clear that enabling the community to identify and build these projects in a transparent way has given them a strong sense of ownership. I was particularly pleased to see the active role of women in construction."
Under MCC's Gender Incentive Grant, which promoted and encouraged women's participation in all community activities, six female welders were trained during the bridge's construction. In total, 55 Gender Incentive Grant sub-projects, amounting to $1.27 million, were funded by MCC, benefitting more than 113,000 people.
Rainwater Reservoir Ends Dry Season Struggle 
Region VII Central Visayas: Barangay Nocnocan, Talibon, Bohol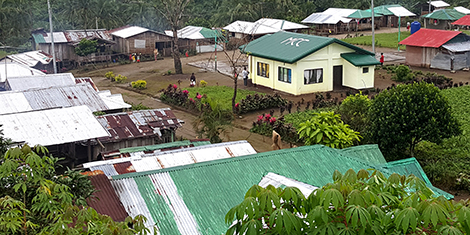 Barangay Nocnocan relies on rainwater as its source of clean water, but seasonal dry spells mean clean water can be hard to come by. And without clean water, sanitation-related health issues – and even widespread illness and hospitalization – plagued the community.
To purchase water from neighboring island barangays, residents of Barangay Nocnocan had to travel at least seven kilometers by boat. The trip led to boats capsizing during severe weather. Distributors knew their customers had few alternatives, and the residents of Barangay Nocnocan were forced to endure their unreasonably high prices – even if the water wasn't always safe.
Now, thanks to a new rainwater reservoir funded through the Kalahi-CIDSS program, the community is able to store three months' supply of water for its 2,056 residents. When it rains, the reservoir collects the run-off rain water, filters it through filtration tanks and stores it for use during the dry season.
The village's cost of water has been cut fivefold, and residents no longer have to make the risky journey to neighboring islands or rely on distributors for a safe and steady supply of water.
Health and Hope
Region VIII Eastern Visayas: Barangay Kagbana, Burauen, Leyte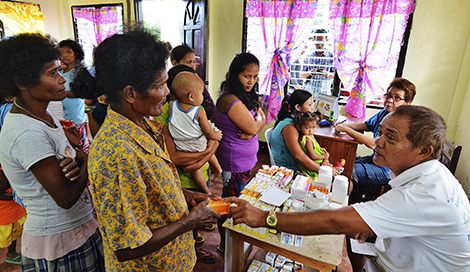 Though it is five hours from Tacloban, Leyte, which was hit hardest by Typhoon Haiyan in 2013, Barangay Kagbana in the municipality of Burauen wasn't spared.
"Things were already hard, especially for pregnant women, what they had to go through just for a routine check-up," said barangay chairman Rovelio Gloria. "But we only realized how much we needed a health center when Yolanda struck."
The village's new health center funded by the Kalahi-CIDSS program is the first in the history of Kagbana. Residents hunt wild boar for food, weave baskets as a livelihood and plant rootcrops as an alternative to rice. Kamote, or sweet potato, is their main source of starch – rice is a luxury – and electricity only came to the village in 2014.
Having a health center in Kagbana saves residents time, energy and money. Jaime Banagbanag, a father of six, said the health center brings many solutions at once. "Before, the sick got even sicker just because of the trip. We even had to take out loans just to pay the motorcycle drivers so that people could get to the hospital in time. We don't have to do that anymore."
Now, children and expectant mothers can get their immunizations and check-ups without having to hike for hours and cross three streams and a river. People can get their blood sugar and blood pressure tested. And there are regular trainings on health and visits by health workers and non-governmental organizations.
"We will take care of this health center," Jaime said. "This isn't just for the good and health of our children, but for us old timers as well."