Linking Moldova to international markets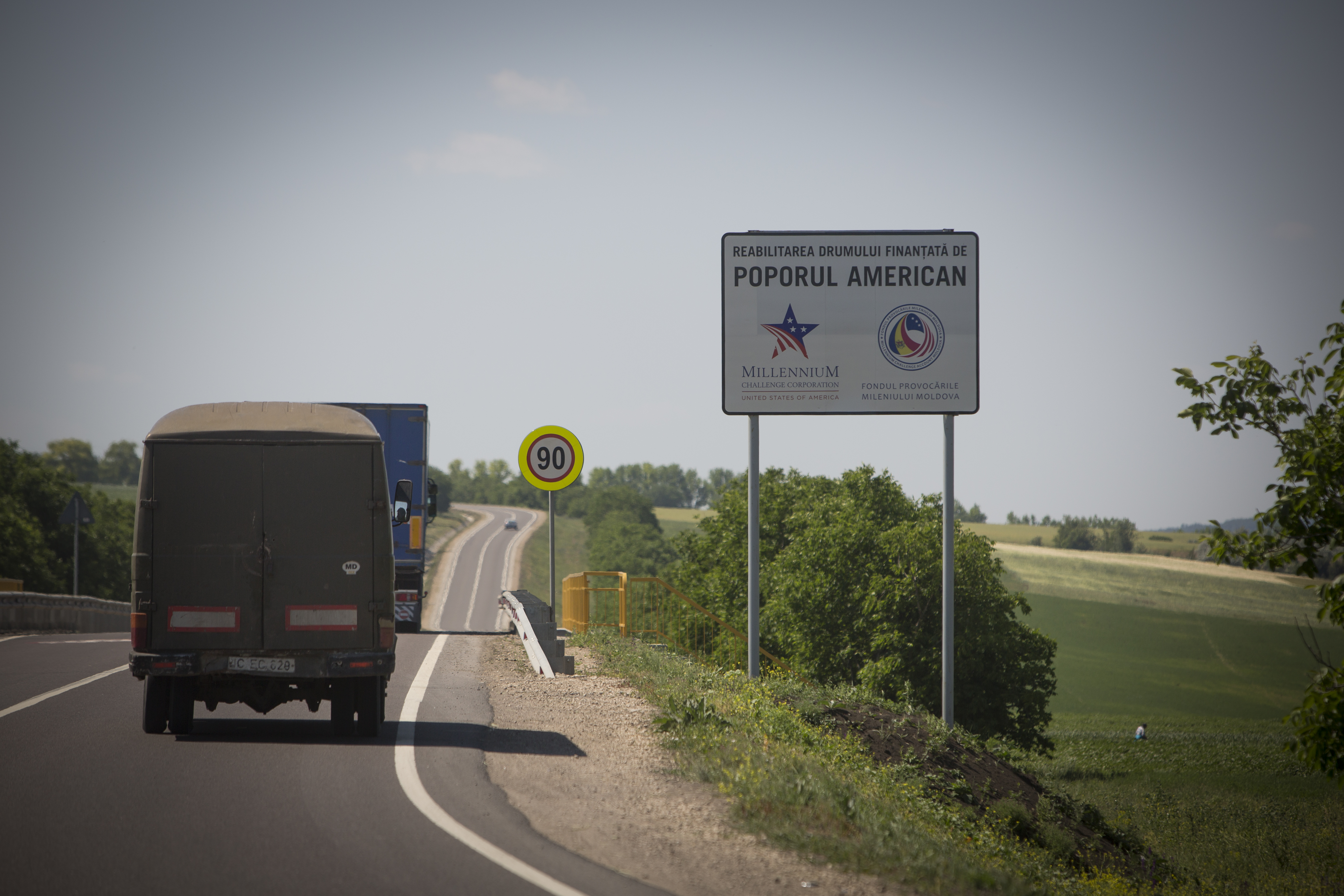 Moldova is well-positioned for international trade. It borders expanding markets in the European Union, provides a gateway to growing consumer demand in Ukraine, Belarus and Russia, and it sits less than 100 miles from major trade ports on the Black Sea.
Until now, though, there was one problem: the road network in Moldova was so bad that cars and trucks would avoid the country altogether to avoid potholes and crumbling highways.
The Millennium Challenge Corporation's five-year, $262 million compact with Moldova is changing that. By rebuilding 59.7 miles of a major north-south highway in Europe's poorest country, MCC linked important trade markets and helped Moldova build a national road network worthy of a modern European nation.
The compact's $111 million Road Rehabilitation Project also funded small community infrastructure improvements, such as schools and access roads in towns and villages along the main highway.
"By building this road, we are creating opportunity for more than 300,000 people living in that region and using that road," said Valentina Badrajan, executive director of Millennium Challenge Account-Moldova, the local organization that implemented the compact. "This is a big step in Moldova's economic development, and it will have an impact for years to come."
A boon for businesses old and new
Dumitru Condrea owns a car wash and cafe in Ghindești village along the north-south highway, and business is booming. New customers come in each day, he says. Some customers are those who used to avoid the highway, and some are drivers who take a detour just to drive along the improved roadway.
"Many drivers I talk to prefer to travel a longer path or even to go on a route different than the one established, just to enjoy a good road and avoid damaging their vehicles," Condrea said.
His shop regularly receives customers from across Moldova, as well as Romania, the Netherlands, Germany, Italy, Spain and Ukraine.
The difference, he said, is "cosmic."
"The drivers were always worried about the condition of their cars, which worsened from one day to another because of the bad roads," he said. "Now the roads have been repaired and the situation has changed radically."
Other early indicators of increased development are popping up. Ghindesti mayor Mihai Bulat said his office has received applications from villagers who want to purchase land and open a business along the rebuilt road.
The highway, Bulat said, is poised to make a big difference.
"This is definitely a European road," he said.
A safer road for all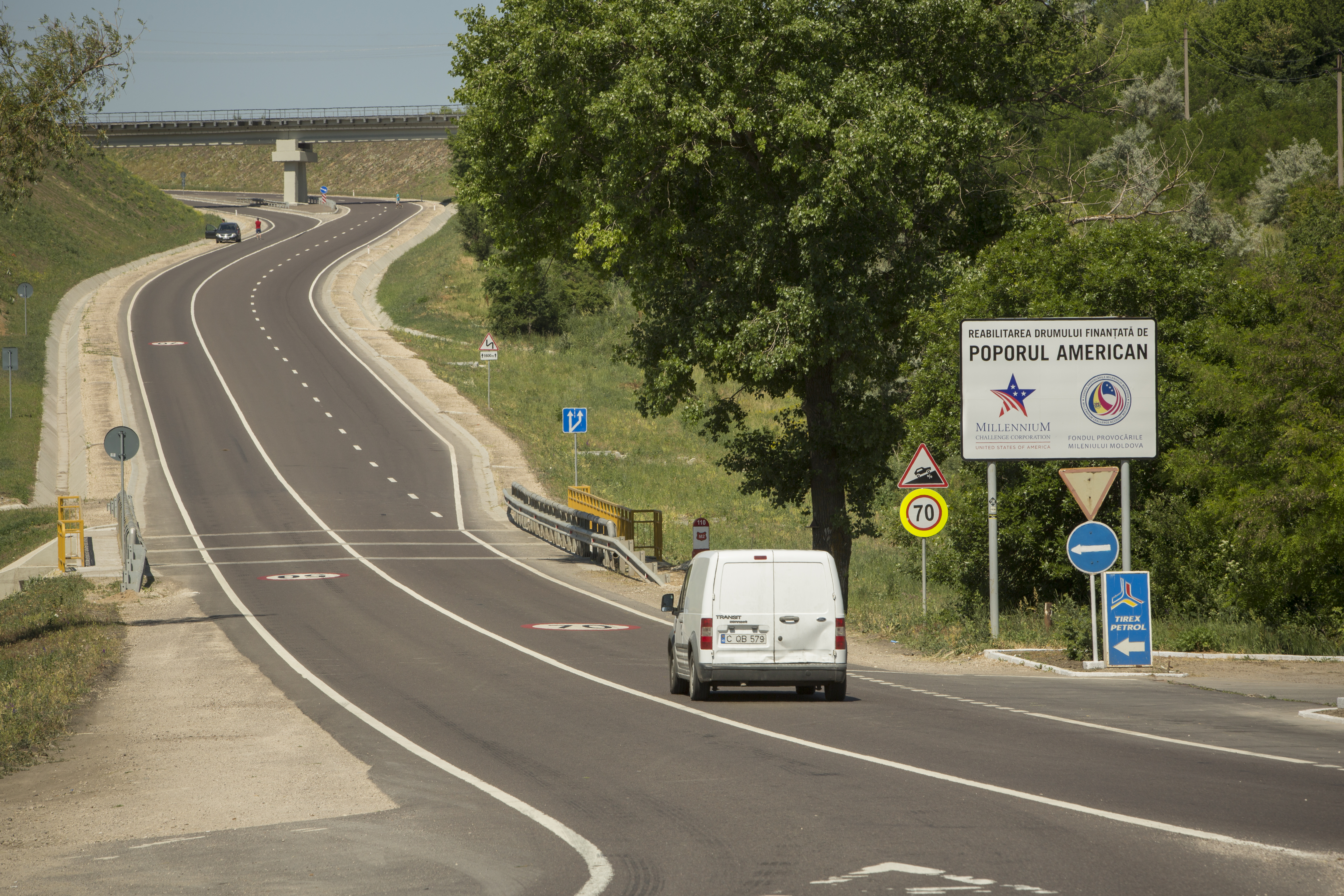 The north-south highway cuts through more than a dozen towns and villages, and residents report that speeding cars created dangerous situations. But a series of safety features in the newly rebuilt, MCC-funded highway are designed to ensure both the people who use the road and the people who live nearby remain safe.
MCC's investment funded the building of about 13 miles of sidewalks, illumination of 12 miles of roadway, and the installation of about 7 kilometers of iron guardrails and 2,113 road signs, according to MCA-Moldova.
In addition to these safety features, MCA-Moldova organized a series of safety awareness campaigns in the communities along the road, including outreach to more than 3,200 children. During town meetings and school assemblies, local officials repeatedly emphasized the importance of staying safe.
For many villagers, the safety features of the highway are just as important as the economic benefits, said Nina Popa, former mayor of the village of Codrul Nou.
"There were many accidents in recent years," she said. "People would walk in the road, and cars would drive by too fast. It was too dangerous. But now, now things are different."
From the plum-drying facility in the village that can now more efficiently move its products to market, to the hospital that is no longer surrounded by mud-filled streets, Popa said the road has already made a big improvement in people's quality of life.
"Now everything is just wonderful," she said. "It's too good to be true. We thank God and the people who helped us benefit from such good roads."
Beneficiaries of MCC investments routinely share stories of how their lives have changed for the better. After a compact is completed, MCC funds independent evaluations of project impact, which can be found in our evaluation catalog.