A Better Future through Poultry Production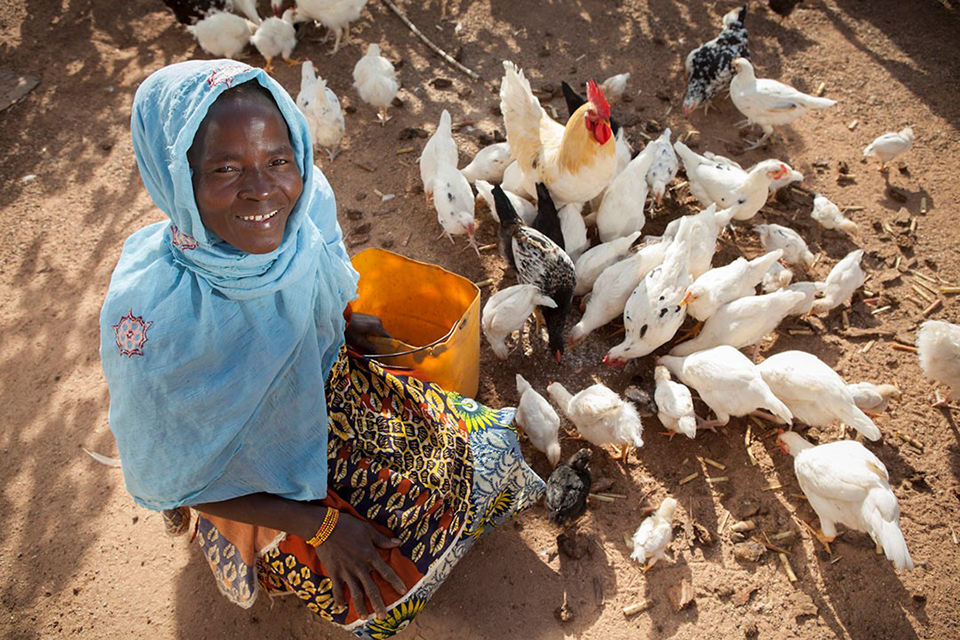 Each time Kauyao Soulama opens the door to her newly constructed henhouse, she dips her feet in a small, water-filled trench in front of the door to wash her shoes.
This small but important task helps prevent the spread of disease and breaks with decades of practice—but for Soulama, a woman from southwestern Burkina Faso who has been raising chickens for more than 30 years, this and other new practices are helping her grow her flock and earn more money for her family.
Poultry production is an important industry—especially for women—in Soulama's community in Comoé Province. In a country where almost half of the population lives on less than $1.25 per day, generating lasting economic growth in rural agricultural areas is a key goal of the Millennium Challenge Corporation's Agricultural Development Project, part of its five-year, $480 million compact with Burkina Faso.
The project is helping Burkinabé better manage irrigation and water resources, diversify agriculture and improve access to rural finance. Millennium Challenge Account-Burkina Faso, the organization implementing the compact, is working with poultry producers like Soulama to address the problem of high animal mortality rates stemming from poor hygiene, malnutrition and a lack of suitable poultry houses.
Since Soulama received MCC-funded training, her flock is thriving. In just one year, she almost quintupled the number of chickens she owns, from 30 to 146. She also has sold more 85 chickens, with some fetching as much as $7.
"Since the project started last year, far fewer chickens have died," she said. "I used to lose between 20 and 40 chickens per month. Now, I only lose maybe four or five."
She also vaccinates her chickens against Newcastle disease, a contagious and fatal virus that can wipe out entire chicken flocks before showing any signs of the illness. MCC subsidized the cost of vaccinations for all female poultry producers in Comoé Province and Sourou Valley.
By the time Burkina Faso's compact closes in July, MCC expects 862 female poultry producers in Comoé Province and Sourou Valley to receive kits that include henhouse construction materials and a rooster. The women will also receive training in improved livestock production, including proper animal housing, nutrition, hygiene, and safe transport from farm to market. Local agricultural extension agents visit the women several times a week to provide advice.
Another producer, Salimata Sagnon, said the training has been invaluable, especially the lessons on how to properly house her chickens.
Prior to the project, Sagnon said, "I was not feeding [my chickens] properly, the henhouse was not sufficiently ventilated and it had a straw roof covered with parasites."
The changes have allowed her to increase her flock, and she has already sold more than 160 chickens. She plans to invest in additional henhouses to expand production. She intends to use the revenue from poultry sales to pay for her children's school fees and further support her family of 12 with her husband, a vegetable and cereal grain farmer.
"Other women from the village have already come to see me and inquired about my experience," she said. "I am very grateful for the opportunity I have been given from MCC."