When Mohammed Bennani first heard about plans to move hundreds of fellow artisans from their cramped workspaces in the medina of Fez, Morocco, the coppersmith was skeptical.
After all, even though the workspaces were tiny and often unsafe, artisans had been working in the medina's Place Lalla Yeddouna for more than 900 years and local authorities had been trying unsuccessfully for decades to relocate artisans to more appropriate work spaces and revitalize the area. 
Three years later, Bennani operates from a spacious workspace in the new artisan complex at Aïn Nokbi—and he can hardly believe his fortune.
"At first, I thought it was just a dream. Nothing will happen," said Bennani, who is president of the 500-member Association of Traditional Copper Artisans. "But then they showed us the place and the construction that was happening. That's when we believed."
Their new location at Aïn Nokbi couldn't be more different.
Their previous location at Place Lalla Yeddouna is in the heart of the Fez medina, the old part of the city known for its narrow, labyrinthine pathways. The buildings contained hundreds of dark, poorly ventilated, cramped workspaces, some of which were below ground.
Aïn Nokbi has paved, lighted and landscaped streets, 23 new individual workshops and one new fondouk, a large building constructed around a central courtyard where artisans create and sell their wares. Whereas the architecture of Place Lalla Yeddouna had evolved over centuries and was ill-suited to the artisans' needs, Aïn Nokbi blends traditional and contemporary design to create spaces appropriate for the artisans' activities.
The resettlement was part of the Millennium Challenge Corporation's five-year, $698 million compact with Morocco. The compact's Artisan and Fez Medina Project centered on the country's artisan sector, tourism and the Fez medina's cultural, historic and architectural assets. The project is also designing and reconstructing four historic fondouks in the medina.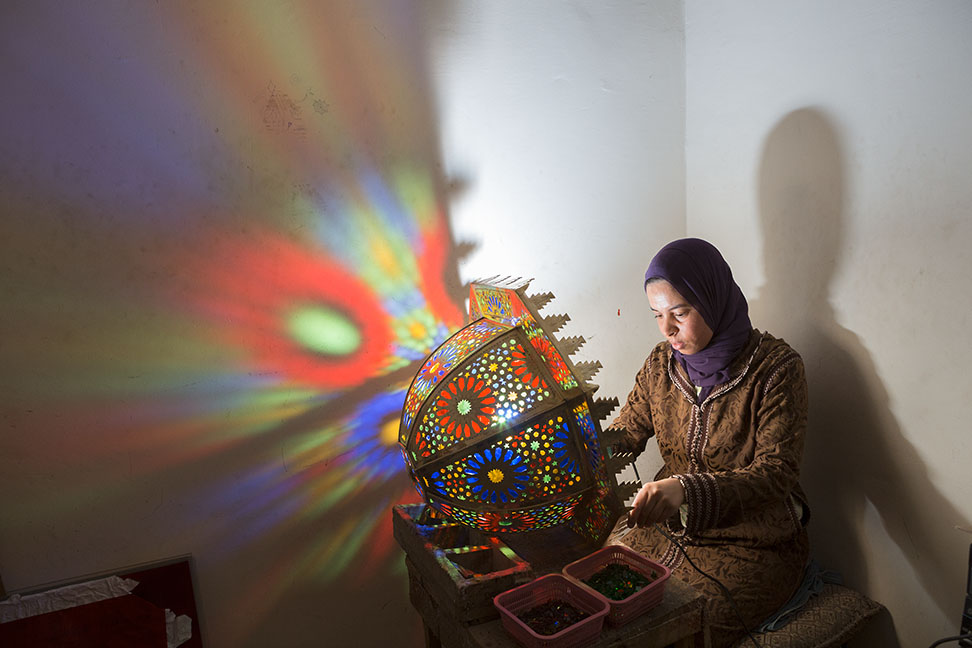 Many resettled workers like Mina Bounouader see only an upside to working in the new artisan spaces at Aïn Nokbi. For 10 years, she worked in Place Lalla Yeddouna—a place she calls "very, very cramped and very, very dirty."
The poor ventilation and use of various chemicals on the job would often lead to coughing fits and upper-respiratory infections. Not so in Aïn Nokbi.
"It's organized, it's open, and the air is fresher," she said.
Abdelkader El Makhloufi's company, Anwar Fez, now operates from one of the 23 new individual workshops. Customers enter through the showroom, where shelves display gleaming teapots, kettles, trays, and teacups. The work of molding, dipping and polishing the copperware takes place downstairs, where a modern ventilation system removes dangerous fumes. The company sells to wholesalers and tourists that visit the site, often as part of a package tour of Fez.
Anwar Fez moved into the building in March 2013; for El Makhloufi, it marked the end of 20 years in Place Lalla Yeddouna.
"When we received the keys, that's when my heart exploded with joy," he said. "My business can only get better from here. This is paradise."
In addition to the work done at Aïn Nokbi, Place Lalla Yeddouna will also be renovated. An international architectural competition was used to select an award-winning design for Place Lalla Yeddouna from among 178 entries representing 48 countries. Because of procurement and other delays, construction of the new site was delayed and is expected to begin in 2014. The Government of Morocco has assumed full financial responsibility for the activity and has committed to completing work at Place Lalla Yeddouna.