Burkinabé take possession of their land and their future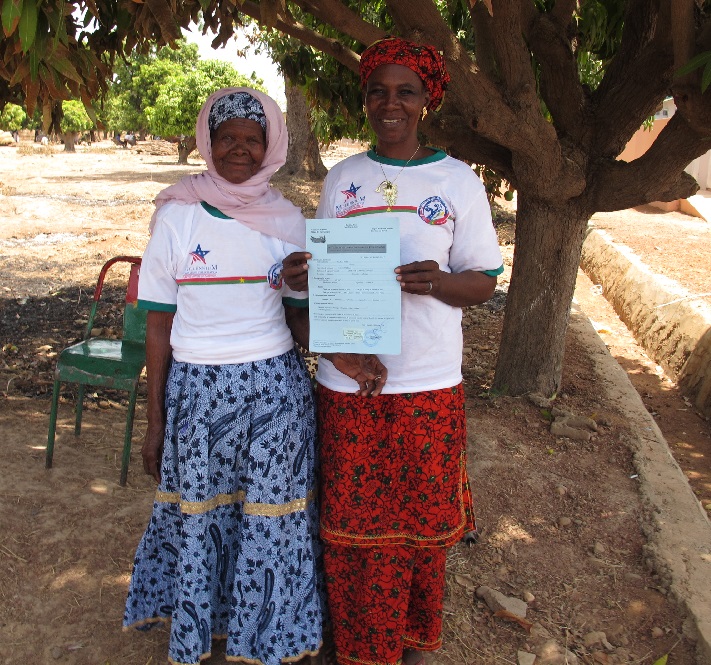 MCC's five-year compact with Burkina Faso ends on July 31. This story is part of a series of blogs and stories to be published during the month of June that highlights the accomplishments of this compact through the voices of the people who will benefit most from MCC's investments in Burkina Faso. Read the stories and learn more about the Burkina Faso compact.
Siaka Sanou has been working his 22-acre plot of land in western Burkina Faso for more than five decades, when he first joined his grandfather in the fields.
Since then, he has built a comfortable life for his family. He has 17 children and was elected mayor of his town. He's now retired, but still grows corn, millet, sesame and mangoes, cultivates acacia trees for timber, and raises dairy cows.
Even with such success, though, there was one issue that held him back from investing more on his land and it worried him to think about what would happen to it when he died. Like many rural residents, Sanou did not have registered land ownership.
"Because I didn't have the paper saying it was mine, other villagers and relatives claimed part of my land was theirs," he said. "I couldn't invest because someone might see me improve the land and try to claim it for himself."
It is a problem MCC and Burkina Faso are addressing as part of their five-year, $480.9 million compact. The $60 million Rural Land Governance Project aims to increase investment in land and rural productivity by working with the Government of Burkina Faso on improving laws, rules and regulations governing land tenure, establishing local institutions to prepare land certificates and mediate land conflicts, and helping the institutions start their practical work.
Sanou received his rural land possession certificate in late March, and already has begun the process of investing in his land. He ordered several water pumps to irrigate his land so he can farm during the dry and rainy seasons. And he is thinking of renting out his parcel to other farmers—without the risk of those renters trying to claim the land later.
"It's just better to farm with a [land possession certificate]," he said.
Another longtime resident of the region, Mama Sanou, grows groundnuts, millet, beans, and peas on a 17-acre plot. Her husband died several years ago and, at 76, Sanou is thinking about how to best pass the land to her children.
"Today, I am alive," she said. "Tomorrow, I might not be, but my children will now have the land."
She received her land certificate at a March event. In front of hundreds of her neighbors, the provincial high commissioner handed her the certificate. When she held it for the first time, she flashed a wide grin.
"Right now, there is nothing more important to me than this document," she said.