From all Angles: BRIGHT Schools Improve Girls' Education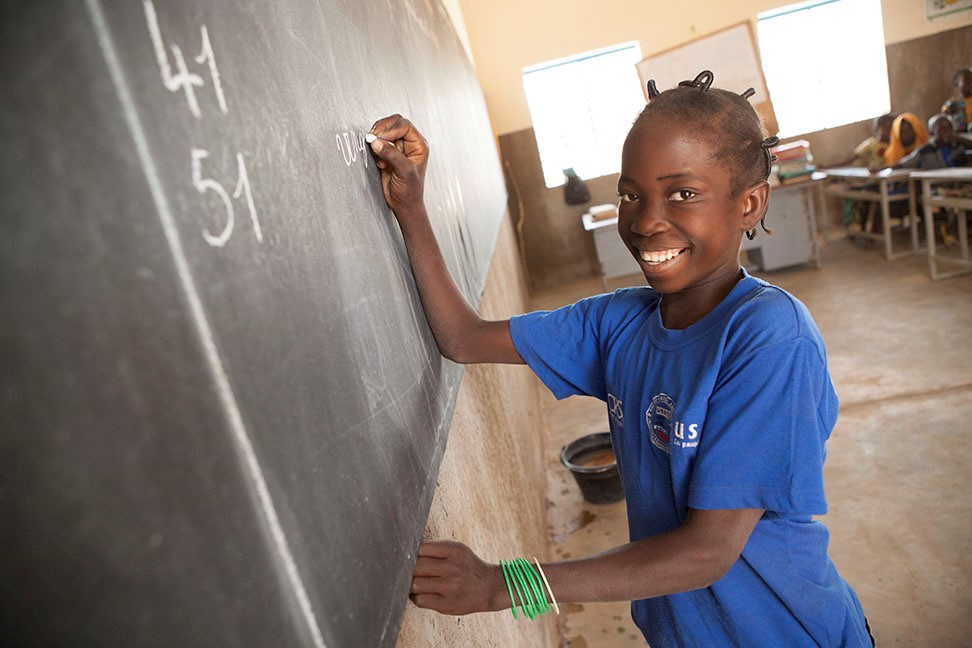 Just a decade ago, one could walk into a primary school classroom in Burkina Faso and see only a few girls sitting alongside 50 or 60 boys. Girls rarely attended middle school, let alone finished high school.
Through its five-year, $480.9 million compact with Burkina Faso, the Millennium Challenge Corporation, USAID and other partners are working together to find solutions to this problem.
The compact's $29 million BRIGHT II Schools Project increased primary school enrollment, attendance and completion rates for girls in 10 of the country's 45 provinces. Over a 20-year period, the BRIGHT II Schools Project is expected to benefit more than 272,000 students, parents and community leaders.
Building upon success
The compact builds upon the successes of the Burkina Faso Threshold Program's Burkinabé Response to Improve Girls' Chances to Succeed (BRIGHT) Project, which improved access to and quality of primary education in 10 provinces during its implementation from 2005 to 2008.
To choose the communities where BRIGHT schools would be built, the Government of Burkina Faso performed a nationwide analysis to identify where girls' education rates were lowest. MCC partnered with USAID to lead the BRIGHT implementation consortium, which included the Ministry of National Education and Literacy, the Ministry of Social Affairs and National Solidarity, Plan International, Catholic Relief Services, the Forum for African Women Educationalists, and the Tin Tua Association.
The project provided classrooms for first, second and third grades at 132 schools. Consortium representatives also discussed the project with beneficiary communities to solicit feedback on new school rooms and the teachers' and parents' capacity to be advocates for education.
Through the compact's subsequent BRIGHT II Project, classrooms for fourth, fifth and sixth grades were added to each of the original BRIGHT schools. Education successes at the BRIGHT schools were bolstered by social mobilization campaigns in adult literacy and technical skills necessary to better equip parents to support their children's academic aspirations.
And to better prepare young children for the leap into primary school where lessons are taught in French—a language not often spoken in their homes—the project also funded construction of 122 preschools in key communities. In June 2012, the 132 BRIGHT school complexes were officially handed over to the Burkinabé government and local communities.
Addressing multiple needs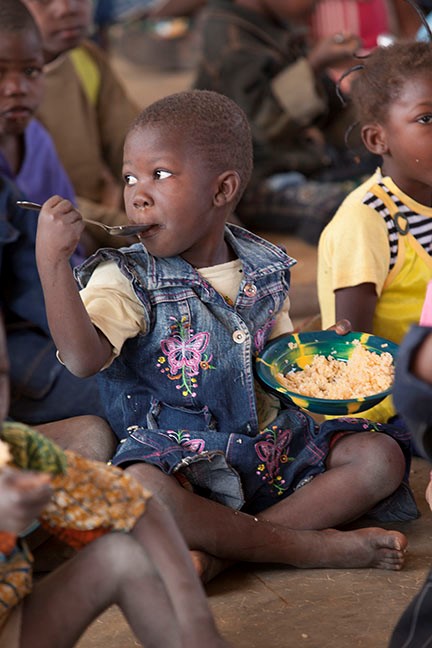 Many Burkinabé girls drop out to get married or work around the house; some stay away because their school lacks private restrooms. Boys often leave school to work in gold mines, and younger children miss school because of hunger or illness.
To address these serious problems, encourage attendance and ensure that students are physically capable of learning and retaining their lessons, MCC funded more than 185,000 sacks of dry rice for home consumption during the school year. The project also built 264 private latrines, dug 10 boreholes and rehabilitated another seven boreholes to ensure all students have access to safe drinking water and are learning in an environment where they can practice good hygiene. 
The project can already boast some big successes.
In 2012, girls enrolled in BRIGHT schools performed at least as well on the national primary school standardized test as girls throughout the country. The girls also scored nearly three percentage points above the average in the 10 BRIGHT provinces—a remarkable accomplishment, given that the BRIGHT schools were built in rural communities where girls historically have been least likely to attend school.
A recent analysis of the program published in the July 2013 issue of American Economic Journal: Applied Economics found the BRIGHT program increased enrollment by 19 percentage points and led to significant improvements in math and French scores in 2½ years.
The BRIGHT II Project also surpassed its goal of increasing attendance and completion rates for primary school students. Completion rates for girls increased from 21 percent in 2008 to more than 57 percent in 2012, while the completion rate for boys in BRIGHT schools jumped from 28.4 percent to more than 53 percent during the same time.
More boys and girls are enrolled in school. More are finishing their education. In many rural communities, that helps create a shared path out of poverty.