How Water and Sanitation Bring Dignity to Cabo Verdeans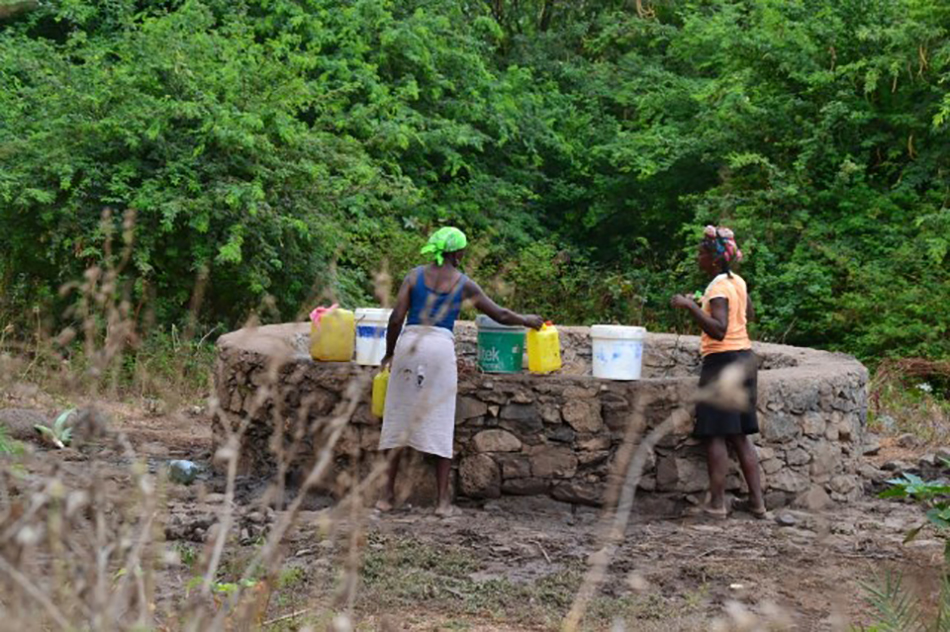 If Firmino Fernandes has a choice, the answer is easy.
"I prefer having running water and a toilet than electricity," said Fernandes, a father of five daughters in Cabo Verde. "A thousand times, I prefer this."
Each day, Fernandes walks with his 12- and 8-year-old daughters for 30 minutes to reach the nearest community fountain. Sometimes that tap is dry, so they continue onto the nearest neighborhood more than a mile away.
Access to water and sanitation is a problem throughout much of Cabo Verde, a water-poor island nation off the coast of West Africa. But through the Millennium Challenge Corporation's five-year, $66 million compact, thousands of people will soon have access to water and sanitation in their homes.
Clean, potable water is available through utility networks, but poor families often can't afford the hookup or operating costs. The compact's Social Access Fund helps these families by financing connection fees and contracts for water, as well as providing sanitation kits that include a toilet and associated equipment.
Without the fund, Cabo Verde's poorest households would be unable to benefit from new water and sanitation infrastructure being built through the compact's $41.1 million Water, Sanitation and Hygiene Project. The fund is expected to benefit about 13,000 poor families, many of which are headed by single mothers.
A dry country
About 50 percent of Cabo Verdeans do not have access to clean public water, and poor households are especially vulnerable; only about 9 percent of these households have access to the public water network.
More than half of poor households receive their water from community fountains, and the rest from expensive private tankers—meaning the poorest are often paying the highest prices for water.
Poor people—especially women—spend hours each week collecting and transporting water, limiting households' income-earning potential. Off-network water can be poor in quality and carry risks of illness.
Sanitation is another big problem among poor Cabo Verdean households. Only 40 percent of the country has access to improved sewerage systems such as sewer networks or septic tanks. In rural areas, fewer than 16 percent of households have access.
This has led to a high incidence of waterborne diseases in Cabo Verde, particularly infectious diarrheal diseases. It also makes the country less attractive for foreign investment, particularly in the tourism sector that has great potential to drive economic growth in Cabo Verde, a short flight away from Western Europe.
Bridging the gap
About 45 percent of all Cabo Verdean households are headed by women.
MCC and Millennium Challenge Account-Cabo Verde, the local organization implementing the compact, are working to ensure social and gender equality through the compact.
One single mother, 58-year-old Manuela Tavares, lives in one of the poorest areas in the capital city of Praia. She recently received a MCC-funded toilet, which she says is about much more than just convenience.
"Having a toilet has given me dignity that I did not have," said Tavares, who previously relieved herself outdoors.
Her next hope: to have water delivered to her home.
"I still do not have piped water but I have faith in God that with this fund, I will have piped water at home," she said.