MCC, Timor-Leste Partner to Fight Corruption
Corruption can destroy the integrity of a country's financial, political and economic systems and reputation. Fighting corruption requires a strong legal framework that complies with international standards; a cornerstone of this framework is legislation to combat money laundering, which provides an invaluable tool for identifying and recovering money lost to corruption.
The Millennium Challenge Corporation's $10.5 million threshold program with Timor-Leste invested in an array of activities to curb corruption in the Southeast Asian country, including conducting anti-corruption educational campaigns, reforming laws to strengthen anti-corruption efforts, bolstering the country's Anti-Corruption Commission, and improving procurement practices.
The threshold program, which also invested in improving access to childhood immunizations, ended in March.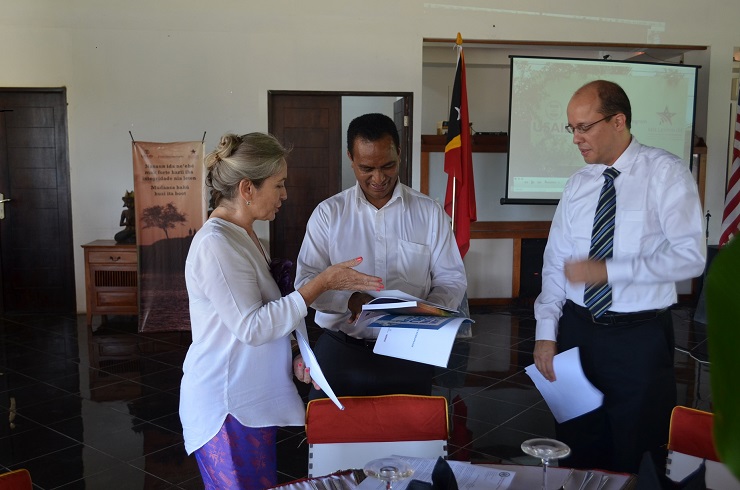 "There is perhaps no man-made scourge that is more universal, more deadening to hope and progress or harder to combat than corruption," said Scott Ticknor, the chargé d'affaires of the U.S. Embassy in Timor-Leste. "It takes political courage to take on vested interests. Leadership in Timor-Leste has shown courage in passing an anti-money laundering law, in supporting the [Anti-Corruption Commission] and in establishing transparent financial systems."
Combating money laundering
Now in its 11th year of national independence, Timor-Leste is in the initial stages of strengthening its anti-money laundering rules and regulations.
The country passed a key anti-money laundering law in December 2011, but reforms were needed to bring the legislation into compliance with international standards. The MCC-funded threshold program—implemented in partnership with USAID—tapped 25 parliamentarians and congressional advisors in June 2013 to discuss much-needed improvements to the laws.
Three discussion sessions—filled with intense conversations among advisors, government officials and civil society organizations—proved successful, and the country passed amendments to the law two months later.
The amendments expanded the tools to tackle money laundering to cover a greater number of criminal offenses, including corruption, embezzlement, drugs and arms trafficking, child pornography, and other crimes. A more effective procedure to suspend suspicious transactions was put in place along with new tools to collect evidence, such as telephone wiretaps, e-mail surveillance, controlled deliveries, and the use of undercover agents.
Timor-Leste's anti-money laundering law is now fully compliant with various international conventions, including those designed to address organized crime and corruption. These changes will have a direct impact in investigating and prosecuting money laundering and associated crimes.
Education at all levels
The threshold program's work also supported a grassroots approach to motivate the public and government to act against corruption.
In less than a year, the program made significant strides to raise awareness and understanding of the causes and consequences of corruption throughout the country. A nongovernmental organization, the Centre for Peace and Development Studies, discussed corruption with all levels of the Timorese government and well-respected community leaders. Outreach included radio and TV shows, a music CD, a YouTube channel, an illustrated storybook for children, and a guide written for the general public on how to recognize and report corruption.
Events were held across Timor-Leste to launch anti-corruption awareness campaigns. Each event attracted key community leaders and the general public, including clergy, school directors, district authorities, police officers, students, and members of civil society.
The Government of Timor-Leste promoted the campaign as well. Public schools nationwide, for example, will include the illustrated storybook in the fifth- and sixth-grade curriculums; the threshold program funded 64,000 copies of the book, which seeks to instill anti-corruption values among children and teenagers by making them think about the ethical dilemmas faced by the book's protagonists.
"Corruption is a social problem that needs to be tackled on many fronts," Vice Minister of Education Dulce de Jesus Soares said. "We in the education field also must do our part to help reduce this debilitating disease from our midst. One important step that we can do about this is to teach our children well. Good habits, tolerance, honesty, and caring are qualities that need to be instilled from an early age."