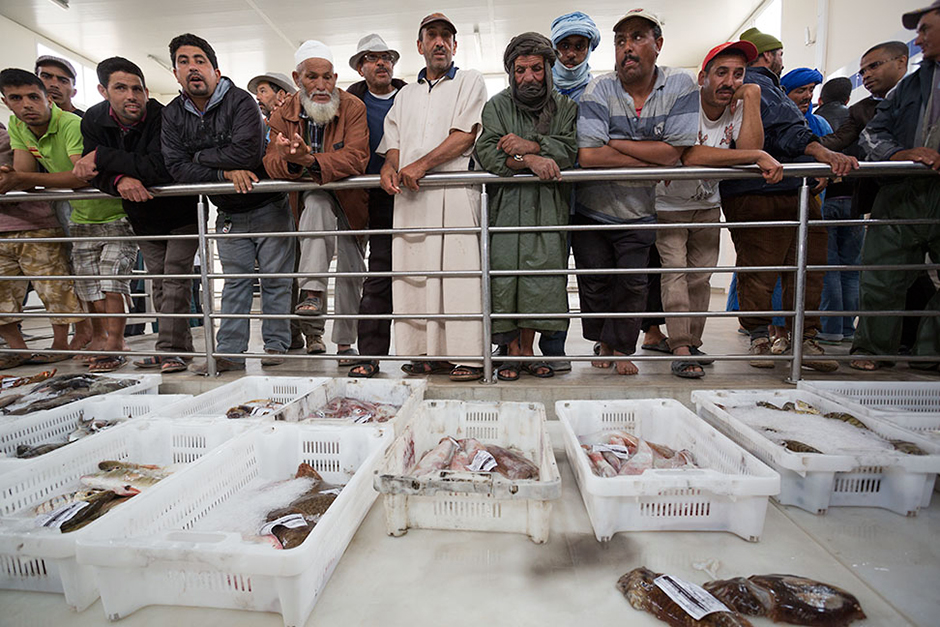 The day's hard work was over already, and Abdelhadi Zahraoui wanted to watch the action.
The 31-year-old Moroccan fisherman leaned against a metal railing in the auction hall of the new fish landing site in Tifnit. He watched as the auctioneer displayed the catch—sometimes crabs the size of a dinner platter, other times an exotic species large enough to feed a small family—to the crowd. The buyers started bidding. Nearby computer screens tracked the rising price—a price far higher than anything he and his crew previously had fetched.
Zahraoui smiled as he took it all in. Just months earlier, he had the same worries that many Moroccan fishermen face: few buyers offering low prices, hauling equipment before dawn and a spike in temperature ruining the day's catch.
"With this project, we have the means to make our lives better," he said. "And me, my life is definitely better now."
Along the Atlantic and Mediterranean coasts, the Millennium Challenge Corporation aims to improve the lives of fishermen like Zahraoui, typically some of the country's poorest residents. As part of MCC's five-year, $698 million compact with Morocco, the Small-Scale Fisheries Project aims to transform the small-scale fisheries sector by modernizing the means of catching, storing and marketing fish and thereby improving the quality of the catch, maintaining the value chain and increasing fishers' access to both local and export markets.
More than 125,000 people are expected to benefit from the Small-Scale Fisheries Project, and household income is expected to rise more than $273 million over 20 years.
Before the Tifnit improved fish landing site opened, fishermen typically woke up well before sunrise and hauled their equipment to sea. They caught what they could—and occasionally stayed out for days—and then sold their catch to whatever seller happened to be nearby at that time. Some would choose to wait for more sellers, but they often lacked ice or paid a high price for it, leading to spoilage.
And many sellers were often middlemen who would advance the money for nets and fuel to the fishermen in exchange for an agreement to purchase the catch at a below-market price.
Now, the MCC-funded improved landing sites like the one at Tifnit are changing how fishermen operate, from before they cast off to how they sell and store their fish upon returning. Storage lockers allow the crews to safely keep their equipment nearby and reduce the risk of theft. There are separate storage facilities for fuel. Ice machines allow the catch to remain as fresh as possible and fetch a higher price. The auction hall brings together many buyers bid for the fish. A cafeteria helps bring in revenue for the fishermen's cooperatives, also formed through the project.
After the MCC compact ends in September 2013, the Moroccan government's National Fisheries Office will continue to operate the auction hall, while the fishermen's cooperatives will operate and maintain the rest of the sites.
The Tifnit fish landing site is one of 11 being built through MCC-funded compact in Morocco. Small-scale fishermen also are benefitting from the project's efforts to rehabilitate and upgrade facilities at 10 ports that already have a functioning auction and in most cases ice-making equipment. The project is also constructing five wholesale fish markets to link wholesalers and distributors of the small-scale fishers' catch.
The sites are making a big difference in communities like Tifnit. Laarbi Houilet, who has fished the Atlantic off the coast of Tifnit for 25 years, said he often had little choice but to sell his catch to middlemen who would eventually resell his catch at a much-higher markup in Agadir, about 45 kilometers away.
"There was no bargaining," he said. "None whatsoever."
Even with a recent increase in the price of nets, Houilet is still bringing home an extra $6 each day.
"This," he said, "this is much better."
Rising tides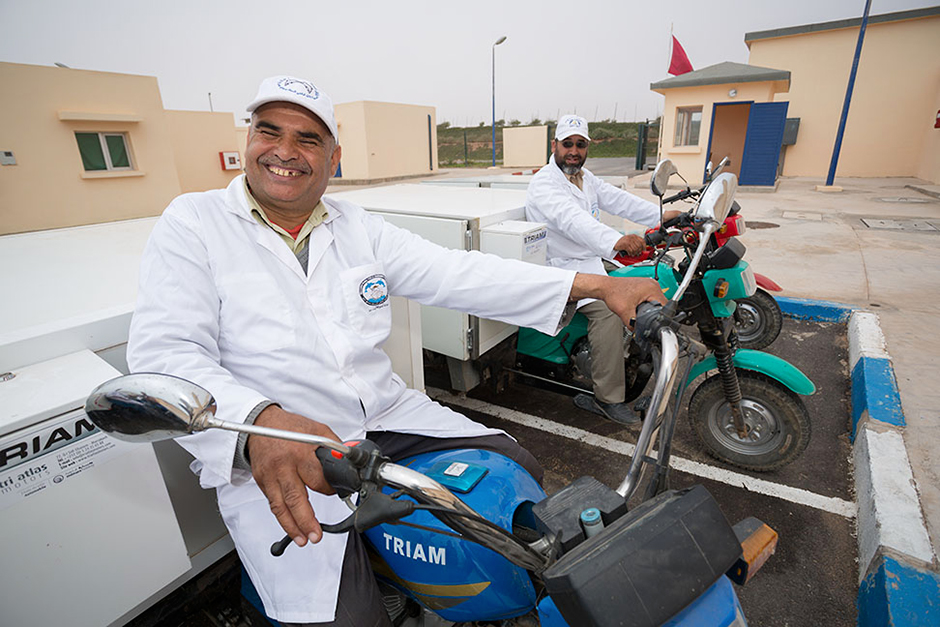 Mohamed Seghir's income has risen by about 25 percent since he joined the cooperative and the Tifnit site opened. Just as important to the 41-year-old Seghir is the health insurance coverage he now has because of the cooperative.
"We are selling legally, we are paying our taxes and we have insurance," he said. "This is important, because all of us have had at least one time where we have fallen ill and missed work and not been paid."
The compact also provides training to fishermen on the conservation of marine resources and management of marine-protected areas, more efficient navigation and fishing equipment, improved techniques to maintain hygiene and fish quality, and safety at sea.
Zahraoui too sees the potential of working with a cooperative. By planning, operating and selling together—along with the auctioning of his catch—he has earned enough extra money to break ground on a house for his wife and 3-year-old son.
And he only raised enough money because joining the cooperative allowed him to access commercial financing for the first time.
"This site has changed the lives of all the fishermen in the area," he said. "It will improve all of our ways of life. And this is just the beginning."
Progress on the move
Essaid Sadik traded in his boat for a motorcycle in 2001, shortly before he got married. He had been a fisherman since his teenage years, but the hours were long and he wanted to start a family.
Being a mobile fish vendor hasn't always been an easy job. On most days, he would arrive at a port shortly after the first fishing boats would arrive. He would buy what he could and then drive to nearby villages and start selling—usually sardines and other little fish.
As the day wore on and temperatures rose, the fish sometimes began to spoil. The smell attracted flies. The rotten fish would make him and his customers sick. Flies often followed him.
The compact helped change that.
Sadik, the president of the Saada Frâa Belfâa Cooperative, is one of about 600 mobile fish vendors to receive a new heavy-duty, three-wheeled motorcycle and training through the project. The new vehicle comes equipped with an insulated ice chest to help preserve fish quality and value. Training covered marketing, proper hygiene, product handling, quality preservation, small business management, access to financial services, and formation of associations and cooperatives.
The ice chests can keep fish fresh for up to 48 hours, Sadik said, helping the vendors maintain quality and sell at a higher price. His cooperative's uniforms, which include white coats, matching hats and gumboots, provide a look of professionalism.
"It's not just nice—it's really, really nice," said Sadik, a father of two. "We have a newfound dignity because of the project."
Najem El Bouichi has worked as a mobile fish vendor for more than 20 years, and the Small-Scale Fisheries Project has him more hopeful than any program in years.
El Bouichi, the president of the El Amal Cooperative, previously rode a bicycle with an ice chest strapped to the back. Spoilage was a daily occurrence, and he would occasionally hear from angry customers that the product he sold made them sick.
With the new equipment, he has almost doubled his income because he sells a fresher product. He has moved from sardines to higher-quality species, as well as some shellfish. He hasn't heard a complaint about a customer falling ill since receiving his motorbike.
A third mobile vendor group, the Taâoune Cooperative, also operates from Tifnit. Its president, Mustapha Chafai, went from selling only sardines in poor neighborhoods to selling myriad species of fish, both cheap and expensive.
He's spending the extra revenue on his children; he's especially proud of the new clothes he has been able to purchase them.
"Before training, we thought we knew everything about selling fish," he said. "But there was so much we didn't know. Now we do, and we are better off for it."