One Institute: Many Dreams
On almost any weekday, the classrooms at the Institut des Arts Traditionnels buzz with activity.
In one workshop, the students at this artisan school in Fez, Morocco, mold pottery with their hands and fire their creations in a gas-powered kiln. In a nearby classroom, aspiring designers create shoes in hopes of catching the eye of Morocco's fashionistas. And next door, students work looms the size of church organs to weave colorful, complex tapestries.
Many students attend vocational training in hopes of finding work in an in-demand field. And they are able to attend classes because of the Millennium Challenge Corporation's Artisan and Fez Medina Project, part of the five-year, $698 million compact with Morocco.
The school previously offered residencies to aspiring artisans; the project allowed the institute to add vocational training and literacy courses. About 2,100 people in Fez will attend vocational training classes because of the project, many of whom have enrolled because of job shortages in other sectors.
Across Morocco, the project is financing training at 15 residential training institutions and 23 other training centers in five artisan crafts: carpentry, ironwork, ceramics, leather, and textiles. Almost 23,000 people are expected to receive professional training in modern design and production techniques, workplace safety and marketing/commercialization skills, including 6,100 young apprentices and 2,600 residential students.
MCC also funded the development or Arabic translation of textbooks and other teaching resource materials, teacher training, equipment, and capacity building for vocational school management.
Handicrafts have a long, rich history in Fez, a city founded in the ninth century that is home to the oldest university in the world and a medina recognized as a UNESCO World Heritage Site. Through the compact, MCC is working with the Moroccan government to equip artisans with the tools to continue this millennia-old tradition while adapting to a modern economy. The Fez institute draws students of various interests and diverse backgrounds, but each is enrolled for the same reason: the promise of a more prosperous future.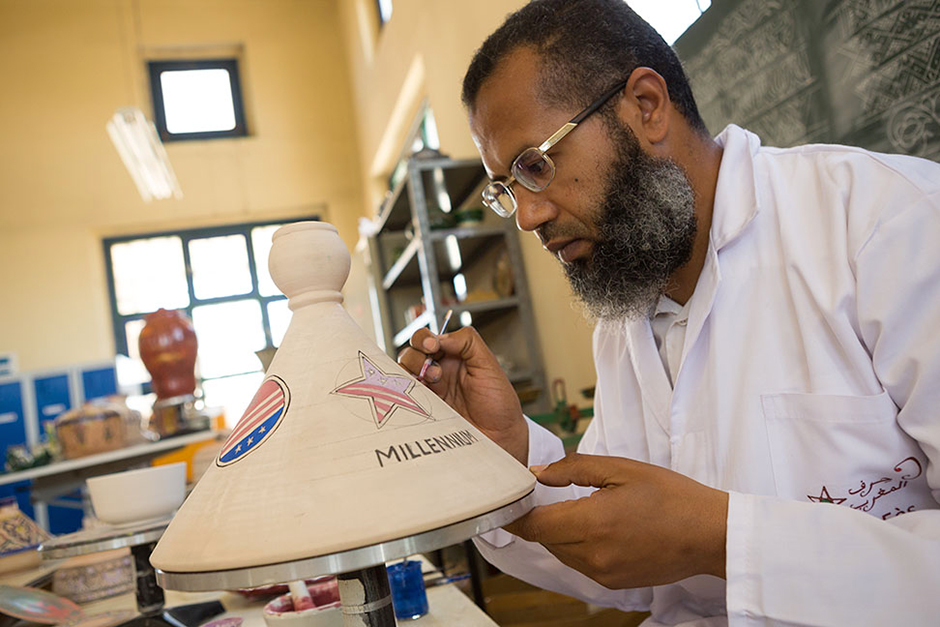 Driss Souani was using a fine-tipped paintbrush to put the finishing touches on the top of a clay tajine pot, the quintessential Moroccan dish used to cook spicy meat and vegetable stews. The 39-year-old already has a job as a painter in Fez, but he teaches beginner students at the institute—while using the classroom time to boost his own skills.
Souani, a father of 11, hopes he can use the newfound skills to increase his sales. He eventually hopes to open his own workshop in Fez and employ his own staff.
"I'll teach them what I learned here," he said.
When Azzedine Ouardi finished high school, the only work he could find was at a food and drink stall in his village in Taounate province. He wanted more out of life and when his son, Yusuf, was born, he wanted a higher income too.
Ouardi always had a knack for carving, so he moved to Fez and enrolled in the institute's woodworking program. He learns how to create a variety of products, like intricately carved picture frames.
When he finishes his studies in Fez, he wants to move to Casablanca and enroll in the national artisan academy. When he's finished there, he hopes to open his own shop and spend his days doing what he loves—woodworking.
"This is my dream," he said.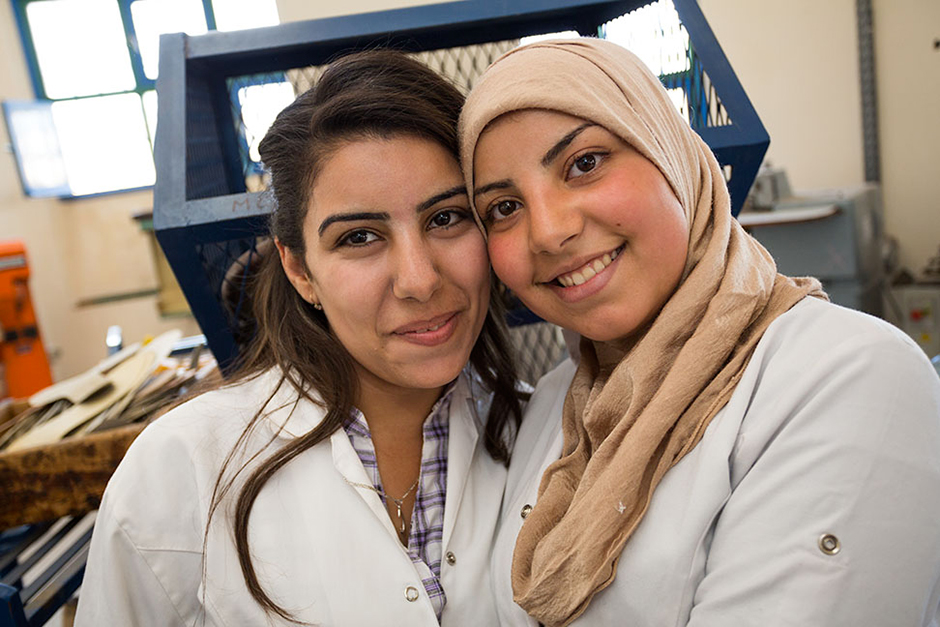 Chaimae and Nouhaila Salfi know shoes. Inspired by their favorite brand, Bata, the sisters want to make high-end shoes that men across the globe will want to spend big bucks on.
The sisters are first-year students in the leatherwork course. They learn how to strike a balance between comfort and fashion, and follow up with hours at the drafting board dreaming up the perfect footwear.
Chaimae, 20, wants to work at a big shoe firm, maybe start in design and work her way up to executive management. Nouhaila, 15, doesn't have plans as detailed as her sister, but she definitely wants to design men's shoes.
"Before he died, our father told us he wanted us to succeed," Chaimae said. "I want him to be proud of us."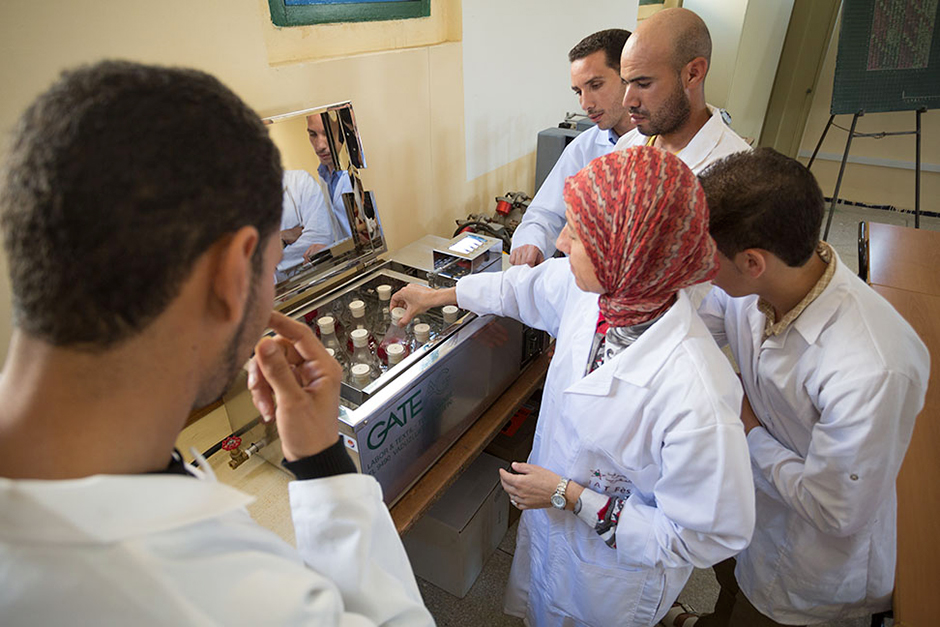 Mohcine Aribou needed the perfect color of red for his second-year textile class project. A generation ago, an artisan in that situation might mix different dyes and get close. Aribou didn't want close. He wanted precision.
The textile lab puts a modern-day spin on a millennia-old craft. Beakers, test tubes, pipettes, and cylinders of various shapes and sizes contain liquids reflecting a rainbow of colors. One mixing machine shook 12 flasks to provide a perfect mix of the dyes inside. A large poster displaying the periodic table of elements confirms the role science plays in the 21st century handicrafts sector.
The chemical lab is what drew Aribou, 27, to study at the institute. He previously studied law in college but didn't find a job. He landed a job at an industrial textiles firm in Meknes but wanted to learn more about the science of textiles.
"All the things I've been learning here, people use in their job there," said Aribou, who wants to become an engineer.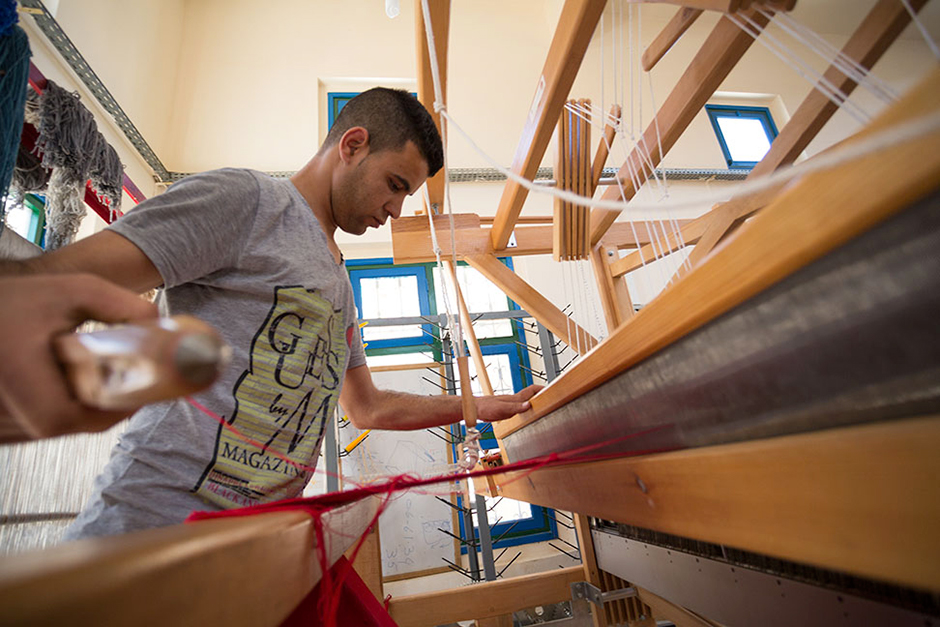 Mohamed Gonalay studied philosophy at a Moroccan university—Descartes is a favorite—but soon realized that deep thinking didn't pay the bills. The 22-year-old enrolled in the institute's two-year textile program in 2012 to learn a craft and has already proven proficient on the loom.
As he worked the loom's six foot pedals to guide the threads into the perfect position to create a women's wrap, Gonalay described his career goals: graduate from the institute, land a job in a big firm in the textile industry and spend his day weaving curtains and clothing.
"Learning a craft and having a career—that's important to me," he said. "I like this field. I want to work in this field. I want to excel in this field."