Prosperity Among the Trees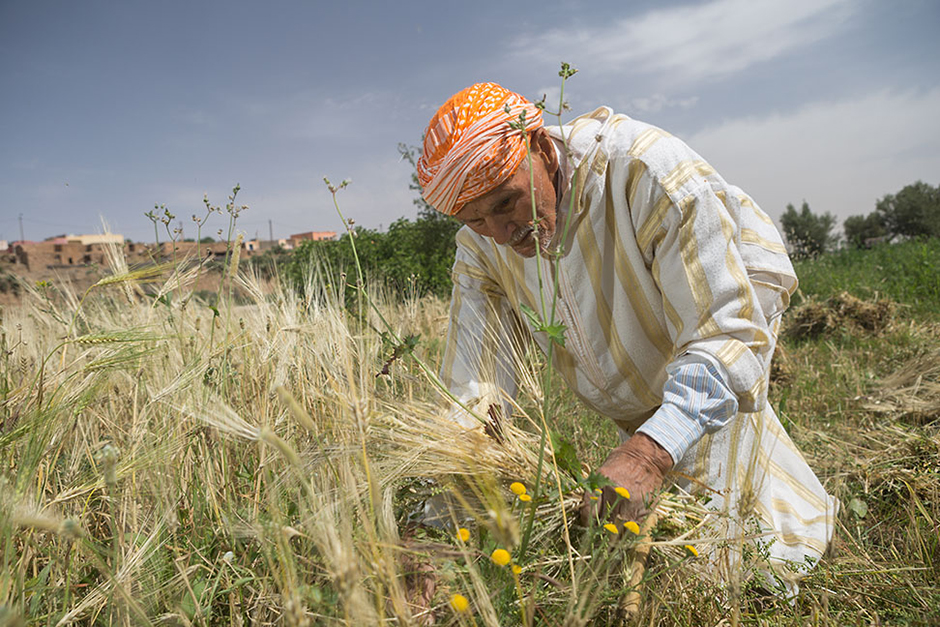 Brik Aït Ou Massoud had just started walking when he first followed his father into the valley below their home and helped tend to the family olive orchard.
The orchard in Douraine, a rural area in Morocco's Chichaoua province, has` been in Massoud's family for generations. Even as Morocco lost and regained its independence, as the world went to war twice and the coastal areas of the country experienced rapid development, the family's techniques for irrigating the lands, pruning the trees, collecting the fruit, and selling the harvest changed little.
Now 80, Massoud works almost each day on his four hectares of land in the valley, where he grows olives, almonds and barley. And because of the Millennium Challenge Corporation's Fruit Tree Productivity Project—which improved four irrigation canals feeding 1,700 hectares in the valley, where some of the trees are three centuries old—Massoud is more optimistic than ever about his community's future.
"This canal is life-changing for us," he said. "Before, people would spend their lives just walking back and forth to get water and carry it to their fields. Now it's all here."
The improvements to the Douraine perimeter included widening and lining almost 12 kilometers of previously earthen irrigation canals with concrete. This provides a critical boost to the economy of the poorest areas of Morocco.
Creating this economic growth in agricultural areas is the goal of the Fruit Tree Productivity Project, part of MCC's five-year, $698 million compact with Morocco. The $340 million project aims to grow the agricultural sector and reduce volatility in agricultural production and farm revenues by rehabilitating existing olive trees; expanding smallholder production of olive and almond trees; helping farmers move from high water-use, low-value cereal grains to low water-use, high-value and drought-resistant commercial fruit tree species; and increasing irrigation efficiency and productivity of olive and date trees.
Almost 580,000 people are expected to benefit from the project, and household income is estimated to rise by more than $505 million over 20 years because of MCC's investments. The project is rehabilitating 81,000 hectares of olives, 19,000 hectares of dates, 12,000 hectares of almonds, and 550 hectares of figs.
In Douraine, community members believe the irrigation has already improved yields and made life a bit easier in an area where people overwhelmingly rely on agriculture to survive. Nestled in the foothills of the Atlas Mountains, the village seems a world away from the cosmopolitan cities on the coast. The land is often little more than stones and dust, and people build simple homes from rock and use donkeys to haul their goods.
Massoud said his trees look healthier, sport greener leaves and produce 15 percent more olives—which, like most harvests in Morocco, are sold domestically as table olives or oil. The hours he saves not walking to faraway cisterns to fetch water when the earthen canal dries up have allowed him to spend more time pruning his trees and relaxing with his family.
Brahim Lekssays is now irrigating his two-hectare field—upon which he grows 60 olive trees and 60 almond trees—three or four times a week. Before, seepage from the unlined, shallow canal allowed him to water his fields only once a week.
"This is the first time the community has such a gift," said Lekssays, the vice president of the local olive growers' cooperative. "And we want to make the most of it."
Finding a niche
Abderrahime Mantourane wants to build a business off MCC's investments in Morocco's fruit tree sector. Yet the 29-year-old doesn't necessarily need to own any trees to accomplish that. Instead, he offers hard work, right timing, know-how, and results for his customers.
"Many people in this area continue to farm the traditional way," said Mantourane. "But through training, they can learn how to grow and harvest more efficiently. That's where we can provide services."
In August 2012, Mantourane helped form the Ourika Cooperative for the Advancement of Agriculture to provide on-farm training, harvesting and orchard rehabilitation services. The group now has 21 employees and markets to farmers in the fields fed by the Ourika River south of Marrakech.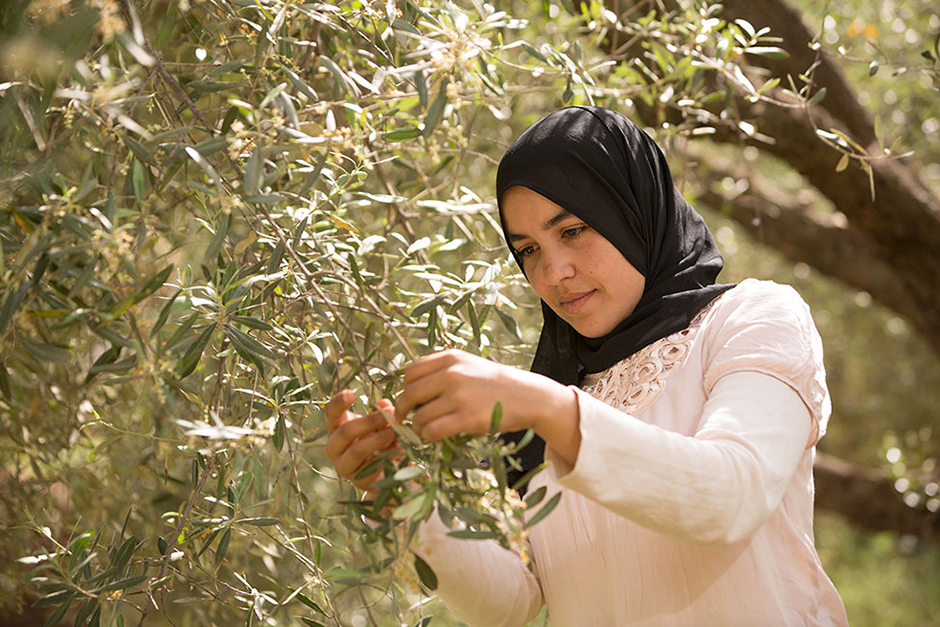 The group received field and classroom training on best agricultural practices like maintaining the soil, collecting olives in a way to maintain quality, protecting trees against diseases and insect pests, and pruning. They also learned marketing and business skills through the Fruit Tree Productivity Project.
The Ourika cooperative plans to sell olives, as well as make and sell olive oil, on behalf of the landowners and split the profits. Mantourane believes the group has found a niche because many farmers in the region do little to maintain their trees; many do not prune in a way to maximize sunlight on inner branches, resulting in smaller-than-possible harvests.
Another member of the cooperative, Hajiba Radi, joined as a first step toward her goal of moving out of her parents' house and becoming independent. She previously worked as a nanny; if all goes well, she wants to eventually open her own offices where she can sell olives and her own line of olive oils.
If things go really well, she said, she would love to walk into a supermarket one day and find a bottle of her olive oil on the shelf—"with a sticker with the price on the bottle."
She also hopes she can encourage other women to work in the agricultural sector. Seven of the cooperative's members are women.
"This is a region where agriculture is what people do—especially olives," she said. "All of the women I've talked to want to know about olives, because working with the trees can provide a good job."
Leaving a legacy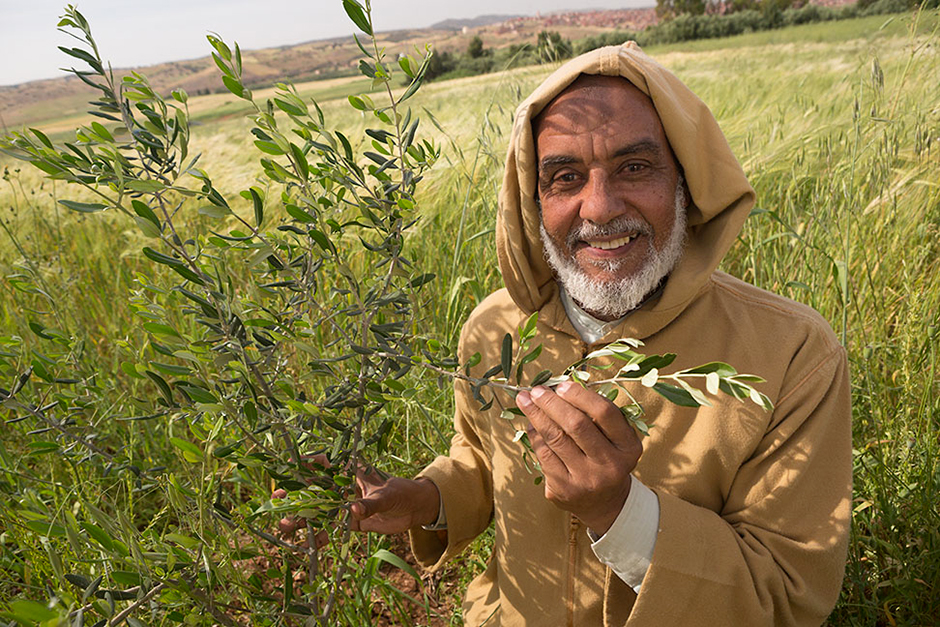 The new trees on Mohamed El Ouafi's farm stand about four feet high and have just begun to sprout tiny olives. It will be a few years before they are at full productivity, but he has already seen the trees' potential.
For years, El Ouafi grew barley and fava beans on his four-hectare plot in the Ben Khlil perimeter, between Khenifra and Beni Mellal. During lean times, he watched his neighbors harvest their olives and turn a profit. So when a local representative from the Ministry of Agriculture told El Ouafi about MCC's plans to expand the olive orchards in the area, he did not have to look farther than next door for affirmation.
"It worked for my neighbors," he said, "and if it worked for them, it could work for me."
MCC helped plant about 72,000 certified seedlings on about 715 hectares in the Ben Khlil perimeter. It also trained individual farmers and developed cooperatives.
Across Morocco, MCC is helping extend smallholder production on about 82,000 hectares, mostly olives but also almonds.
El Ouafi used MCC's investment as an opportunity to make other improvements to his farm. He dug a well and is building a reservoir to ensure a steadier, year-round supply of water to irrigate olives, barley and other crops.
He also sees the trees as his legacy. El Ouadi has two wives, but at age 63, he knows he does not have any children.
"The Prophet says to plant olive trees because it is a wise thing to do," he said. "My wives will one day have this land and these trees—and then I can go peacefully."