Staking a claim in Mozambique's future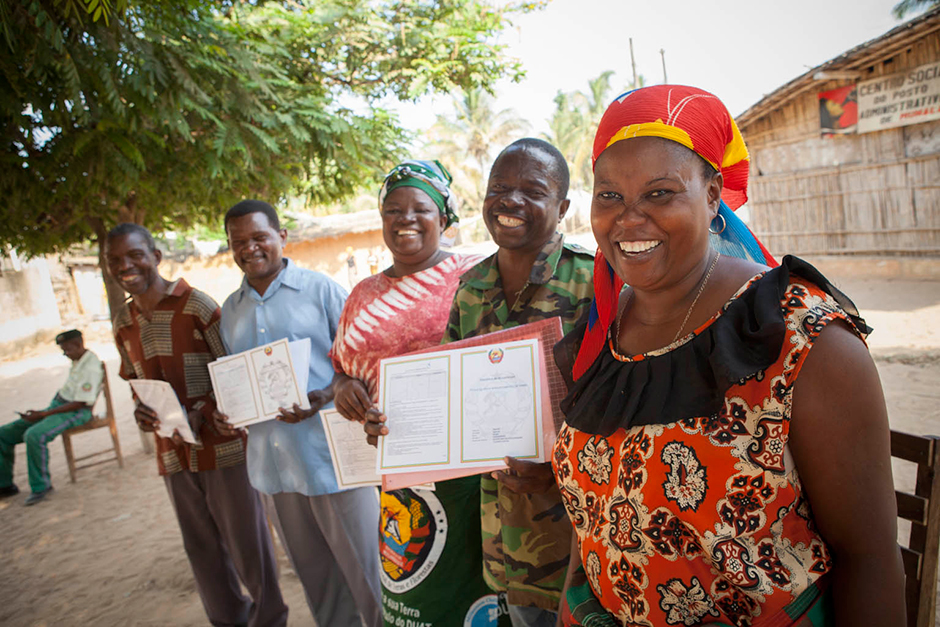 Alvaro Baptista Mochangane and his wife, Filomena Rafael, have created a lifetime of memories in a brick house built on a mountainside outside of Nampula, Mozambique.
The house represents decades of hard work and savings, including the years Mochangane spent as a soldier. It is where the couple raised their five daughters and two sons. And it's the house where the couple is spending retirement cultivating cassava, coconuts, mangoes, and avocados.
But until last year, the house stood on uncertain legal ground. The couple did not have a written land title to occupy the land, limiting their legal claims and the security of their occupancy.
In early 2012, a neighbor told Mochangane about a project funded by the Millennium Challenge Corporation that would allow the couple to apply for a land use title, known locally by its Portuguese acronym, DUAT. DUATs recognize individual or community rights to occupy and use land.
"I know the exact day I received my DUAT: October 20, 2012," Mochangane said. "This document ensures my place. Every investment I made on this place will stay with us."
Mochangane and Rafael's title was one of more than 170,000 urban and rural DUATs issued through August 2013 as part of the country's five-year, $506.9 million compact with the Millennium Challenge Corporation. In addition, the compact has supported the delivery of 333 community land titles, representing over 2 million hectares of land. The compact's Land Tenure Services Project aims to establish more efficient and secure access to land by improving the policy framework, upgrading land information systems and services and helping beneficiaries meet immediate needs for registered land rights and better access to land for investment.
More than 1.1 million people are expected to benefit from the project.
The project is also encouraging beneficiaries to jointly title their land, providing legal protection for families. As of August 2013, the project issued more than 18,000 joint titles. For Mochangane, there was never any doubt his wife's name should appear alongside his on the landuse title.
"This house, this property is something we both fought for and acquired freely," he said. "We have the same rights for that land. If I die, she will benefit from that land. If she dies, I will benefit from that land. This investment in our lives was done together, so we should share in this."
Mapping thousands of plots
In a building behind the Nampula Municipal Department of Urbanization, a dozen people sit crammed around tables. Some work on laptops, converting satellite imagery of neighborhoods into demarcated areas using a computer program to process geospatial information. Others are filling out records by hand. Large maps on the wall show swaths of neighborhood roofs where plots have already been demarcated.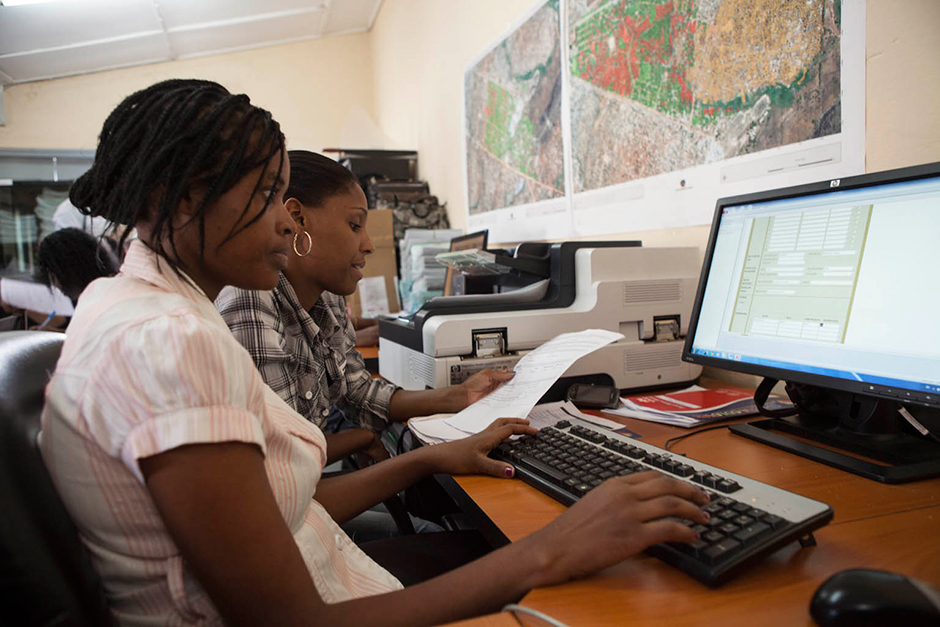 Offices like these hold the key to more efficient land use titling and better information about land rights throughout Mozambique. MCC is supporting nine municipalities and 12 district governments by providing capacity-building training and equipment, such as surveying equipment, computers and software. The expectation is that these institutions will more efficiently process requests for land use titles and that they will have more complete mapping information about land rights in their jurisdictions.
The project is already improving the systematic titling process: Before, some applicants waited years before they received their title. Through MCC's formalization efforts, households are receiving a DUAT in as little as six weeks after field work activities are completed, including all necessary administrative processes. Local land officials stress that new maps and land information will allow officials and communities to visualize land holdings and plan better.
MCC is also building the capacity of the National Directorate of Land and Forests and municipal governments to help them provide better services to the public. A computerized land information management system will help the national, provincial and municipal government institutions protect the land rights established by the new DUATs and issue future DUATs more quickly.
MCC also funded the construction of a dedicated dorm for women to train at INFATEC, Mozambique's training institute for surveying and land administration technicians. A new curriculum at INFATEC is designed to better support graduates in landing jobs in the fast-growing surveying and mapping industries.
'Everyone wants a DUAT'
The Namutequeliua neighborhood of Nampula is jammed with thousands of brick buildings separated by narrow dirt streets and sandy courtyards. For years, it was also the site of legal wrangling over ill-defined parcel boundaries.
"Some of these conflicts would drag on for years," said Jorge Menezes, a community leader who worked with the Nampula municipal government to help spread the message about land registration. "But now, some conflicts that started 10 years ago are being resolved. This is a tool to solve those problems."
Large wooden boards displayed outside the locality's administrative building show the progress being made in demarcating the neighborhood's land boundaries. Aerial maps show the boundaries of land parcels that people occupy, and spreadsheets list information on everyone who has applied for a DUAT. This creates an atmosphere of transparency and allows anyone who objects to any of the land rights claims to have their say.
Mariam Ija runs a business; the mother of five makes clothing from her home of 20 years. She is optimistic about the security a DUAT can provide. She also hopes joint titling will help women, because she has known women who become divorced or widowed and are left with nothing.
"If someone comes and says, 'This is my land,' I will have documentation to say, 'No, no, this is mine,'" she said.
Many people in the neighborhood have long wanted legal protection for their homes, said Brianno Momade, who has lived in the neighborhood for more than 37 years. But the cost and bureaucratic delays involved prevented most of his neighbors from seeking a title for the land their homes are built on.
He first heard about the project from the Nampula municipal government—but now everyone in Nameutequelua knows about it.
"Those who received a DUAT are now the biggest mobilizers because they call on others to register their land," he said. "Everyone wants a DUAT."