Creating a Market Mechanism to Keep the Lights on in Malawi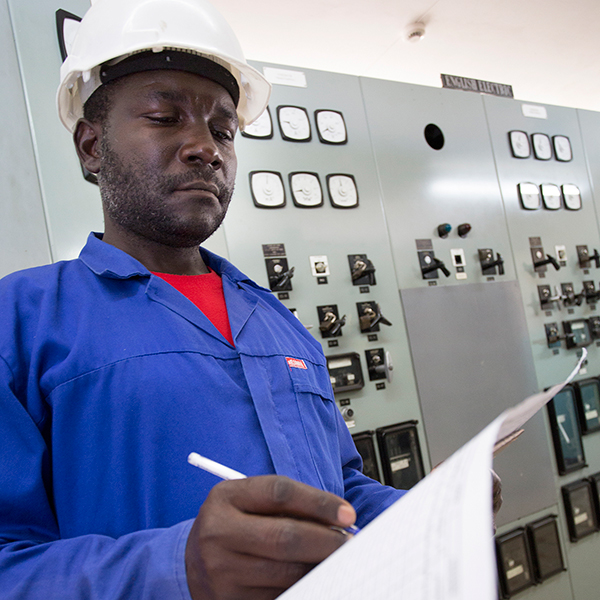 Existing generation capacity in Malawi provides electricity to only approximately 9 percent of the population, and demand continues to grow. Malawi relies predominantly on hydropower from dams along the Shire River to meet its electricity needs, but the three existing hydropower stations struggle with severe maintenance challenges due to outdated equipment, as well as siltation and invasive vegetation primarily due to unsustainable land-use and farming practices upstream in the watershed.
Malawi's current and future energy demands cannot be met unless the country simultaneously mitigates both short- and longer-term threats to the watershed. For this reason, MCC is working with the Government of Malawi, local electrical and water utilities, private sector entities, and others to develop a holistic approach to managing Malawi's water resources through the establishment of a trust to manage upstream watershed activities that will potentially be funded by a payment for ecosystem services (PES) mechanism.
Over one November 2013 weekend, the electricity across all of Malawi was shut off. Blackouts and brownouts are a common occurrence in this small southern African country wedged along the shore of Lake Malawi between Mozambique, Zambia and Tanzania. This blackout was notable in that it lasted the whole weekend and was done intentionally to scour the headpond at Nkula, one of three hydroelectric plants that collectively provide 98 percent of Malawi's power.
The purpose of the scouring was to flush the headpond of built-up sediment and remove weeds from the dam's intake pipes, which together cause many of the blackouts in Malawi. When the water was lowered, it confirmed what many already suspected: large islands of Malawian topsoil were just below the surface of the dam's intake pipes and occupied much of the headpond capacity needed for electrical generation, creating substantial operational risks and reducing generation capacity.
The national power utility, the Electrical Supply Corporation of Malawi Ltd. (ESCOM), estimates that it could dredge sediments for roughly 20 years and not keep up with the amount of soil being carried down from the hillsides after rains. In 2010, ESCOM estimated that it suffered 3,083 hours of shutdowns associated with the combined impact of weeds and sediment on hydropower dam operation. At a direct cost of $27,000 per day and costs to customers estimated at 10 times this amount, this is a significant loss. 1 It is a loss that ESCOM tried to eliminate by spending approximately $1 million on weed management and sediment control. Even after this expenditure, an MCC-funded study that same year projected that ESCOM would have to invest an additional $13.7 million in capital costs and incur an additional $470,000 in annual operating expenses to effectively manage the combined weed and sediment issues.
The sad reality is that the weed and sediment problem will only worsen with continued deforestation driven by agricultural expansion and charcoal production. Given Malawi's high population density and the proliferation of unsustainable land-use practices that make soil more susceptible to erosion, such as slash-and-burn agriculture, it is likely that more and more sediment will be flushed into the Shire River, creating additional challenges for these critical hydroelectric plants.
Simply dredging sediment at dam sites treats the symptom of excess soil erosion but does not directly address the long-term causes of the problem: land use changes driven by poverty. An effective intervention must address both immediate concerns, such as dredging at dam sites to allow for continued generation of hydropower, as well as long-term concerns, such as identifying interventions that reverse land degradation and improve livelihoods.
For this reason, MCC's support to Malawi's energy sector goes beyond providing infrastructure for improved electricity generation, transmission and distribution. It also includes upstream natural resource management activities in priority catchments to protect the sustainability of hydropower investments and reduce the sedimentation and erosion that are leading to costly electricity outages.
To that end, MCC is funding activities that will enable farmers to use land more sustainably and, in turn, reduce soil erosion and surface water runoff into the Shire River. A key to the success of these sustainable land management and ecosystem restoration efforts in the watershed is to create a mechanism for conjoining the interests of upstream and downstream populations in and beyond the watershed and to maintain these interventions after the compact is over.
The solution that MCC and the Government of Malawi are implementing is a market-based, payment for ecosystem services (PES) scheme that provides benefits for the government, private sector and upstream farmers. The PES scheme aligns the interests of downstream public and private stakeholders impacted by the weeds and sediments with those of the residents of the upstream catchments whose livelihoods depend on the natural resources available within the watershed. It does this by creating an opportunity for downstream water users to invest in projects that improve the land-use practices upstream.
Mitigating Pressure on Hydro Capacity
To deal with the immediate symptoms of the sediment and weeds, MCC is purchasing dredgers and weed harvesters to remove sediment and weeds, increase the capacity of the headponds, prevent damage to the dams' turbines, and reduce outages. While necessary, these investments are insufficient on their own and do not address the underlying cause of the sedimentation. For that, Malawi needs a longer-term vision of how to manage its natural resources by focusing on reducing unsustainable agricultural and land use practices further up in the watershed.
MCC, the World Bank and the Government of Malawi are working together to promote conservation agriculture, water conservation techniques, agroforestry, and community-based natural resource management in the Upper and Middle Shire River basins that will not only benefit farmers but also reduce sediment loading downstream. At approximately 462,000 and 849,500 hectares, respectively, the Upper and Middle Shire River basins are large areas where many farmers and communities could benefit from technical advice and assistance on how to engage in more sustainable and productive land use practices.
To prioritize those areas that are contributing most of the basin's sedimentation, MCC used soil erosion models like the Soil Loss Estimation Model for Southern Africa to identify the sub-catchments most susceptible to soil erosion and nutrient runoff. Once those key sub-catchments were identified, MCC carried out participatory socioeconomic studies with the local communities to identify the key drivers to land-use change and the economic forces that were driving much of the sediment production.
The goal of these analyses was to design interventions with communities that address those drivers and provide economically viable alternative land-use practices that enhance soil retention in target areas. MCC will be implementing these alternative land-use practices via grants to local NGOs and will use a rigorous monitoring and evaluation program to determine which interventions led to successful outcomes that can be scaled up throughout the Shire River Basin.
No matter how good the targeting or how innovative the work of these NGOs, changing land practices in target areas upstream of the hydroelectric plants will take more than the five-year intervention period allowed under MCC's compact and will exceed the financial resources that MCC has available. Fortunately, the health of the Shire River Basin is a shared concern for many other Malawian stakeholders, who have a longer-term interest that provides the opportunity to implement a PES scheme.
Corporate Partners
Sedimentation and invasive weeds impact not only ESCOM's hydroelectric plants but also the operations of the water utilities, the irrigation resources of the Ilovo Sugar Company and the water and electricity supply for the Carlsberg Brewery. As long-term stakeholders, these companies have significant economic incentives to ensure that the upstream watersheds are maintained.
All of these companies have high demand for electricity, and these companies must rely on costly back-up generation capacity when the power outages occur due to hydropower plan shutdowns from weeds and sediment. These particular companies were approached because they are not just dependent on electricity, but because they are also directly concerned with the quality and quantity of the river water itself.
Their motives are different, but the need for improving basin management is shared:
Ilovo Sugar is the country's largest electricity user. Moreover, its sugar fields depend on the Shire Basin's waters for irrigation. By their own admission, they spend a lot of money and effort to clear irrigation canals and replace damaged equipment.
Carlsberg is Malawi's largest brewer and distributor of soft drinks and juices, and, like Ilovo, water filtration is a heavy cost. Additionally, Carlsberg is investing more than $500,000 in storage tanks due to concerns about the quantity of water produced by the Shire Basin's watersheds throughout the year.
The two water utilities, Blantyre and Southern Region Water Boards, have operating challenges similar to ESCOM. They face significant ongoing costs to clean out their reservoirs to provide clean drinking water for much of southern Malawi.
Individually, all these stakeholders have tried to address sedimentation through tree planting and other environmental awareness efforts. Carlsberg even offered to plant a tree for every bottle cap returned to the distributor. On their own, however, these initial efforts do not begin to tackle the overall problems facing natural resource users in the Shire River Basin.
The Shire Basin PES Scheme
MCC is partnering with each of these stakeholders to unite their efforts and channel them through a trust that will fund and continue the work of the small grants programs in the local communities even after the MCC compact ends. For MCC, collaborating with those entities that have a long-term commitment to the health of the watershed will ensure that there is interest in continuing the efforts of the trust long after the end of MCC's investment. The goal of the trust is to continue to support ongoing ecosystem rehabilitation and conservation agriculture activities through market-based approaches.
Normally, under a PES approach, direct payments would go to landowners upstream to incentivize them to maintain their forests and lands to protect the watershed. New York City's arrangement with landowners in the Catskill Mountains is the classic example of a PES in which it was determined that investing in good watershed management saved New York City residents millions in new treatment plant investments.
However, in Malawi, the "services" provided by the ecosystem have been degraded through years of deforestation for firewood and charcoal and subsequent poor agricultural practices that created soil erosion. What is needed now is investment in projects that enable farmers to reduce soil erosion, slow deforestation or promote integrated forestry and agricultural practices. This can be provided through technical assistance by the NGOs working directly with communities. In effect, this is more a payment for ecosystem "restoration" to address the needs of downstream users.
In the Shire Basin PES scheme, the stakeholders are looking at innovative ways of building the costs of the PES into their operations, thus defraying the costs evenly across their clients, whether through the tariff that ESCOM charges or via social and corporate responsibility investments.
MCC has worked with ESCOM to build PES costs into their tariff structure. The next step will be to test different levels of contributions to the PES and determine what level will generate adequate resources to have an impact on upstream land use without causing the tariffs charged by ESCOM to rise unacceptably. The water utilities have also started to analyze appropriate levels for PES payments in their tariffs. For the corporate partners, there is the option of building the PES into their corporate social responsibility budgets.
Current implementation issues
A challenge being faced is how to avoid the free-rider problem where these early champions of the trust are paying costs and producing benefits for other downstream stakeholders who benefit but are not paying. Therefore, MCC is reaching out to additional businesses that benefit from a reliable energy and water source in an attempt to expand participation in the trust, which in turn would increase the number of grants that the trust can provide and contribute to the overall sustainability of this effort.
Additional questions must be addressed before this new institution is created and is operational, but based on the interest of potential members and support for the concept from the Government of Malawi and other donors, MCC believes that the combined trust/PES approach will reduce power outages, leverage private sector investment and improve the livelihoods of Shire River communities—which all collectively contribute to MCC's overarching goal of reducing poverty in Malawi.