Gender Equality: A Smart Proposition for Business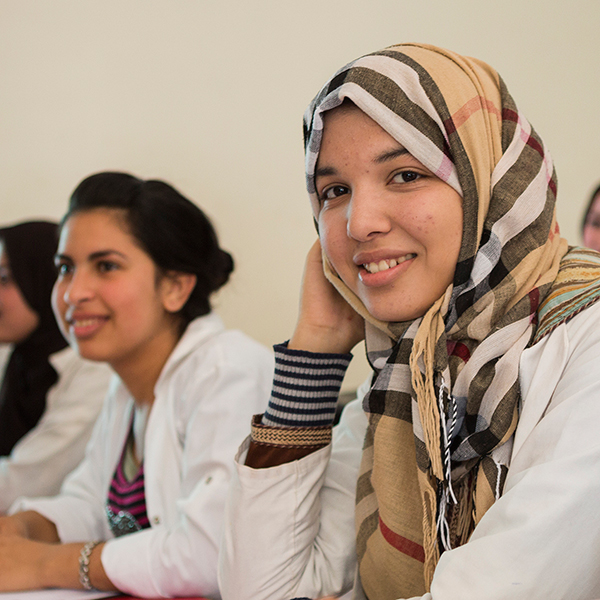 Abstract
The evidence shows that improving the status of women is critical to sustainable development. How business comes into the picture has been a more recent area of focus for the development and business communities. This article presents the business case for gender equality and discusses MCC's experience with this work, focusing on emerging lessons and upcoming opportunities.
Background
The Millennium Challenge Corporation's work is often propelled by strong women leaders—including a new female CEO and eight women who have led the local organizations responsible for implementing their country's compact. Supporting gender equality is a crucial component of MCC's mission to reduce poverty through economic growth. A solid body of evidence shows that improving the status of women is critical to sustainable development. When women are educated and earn and control income, infant mortality declines and child health and nutrition improve 1 Gender equality can also help boost economic growth, as greater female labor force participation and educational attainment may lead to higher productivity and gross domestic product growth. 2
How business comes into the picture has been an expanding area of focus for the development and business communities. The business case for gender equality is growing. As companies seek to tap into new growth markets and sources of revenue, they are realizing how lack of attention to gender issues can impact their bottom lines. Women are 40 percent of the global labor force, 43 percent of the world's agricultural labor and more than half the world's university students. 3 Failing to tap into their talents and productive potential has costs. Enabling women's productivity is important for firms looking for skilled workers and an improved talent pool, especially in sectors that employ large numbers of females, such as the garment sector. Gender considerations are also important for companies looking to expand their consumer base and tap into the women's market. Women tend to be the primary shoppers for their households and control as much as 70 percent of household purchases and $20 trillion in global consumer spending." 4 Ignoring this powerful consumer base can have steep negative consequences.
Moreover, evidence indicates that having more women in senior positions leads to better corporate performance. Studies show that companies with the highest percentages of women board directors outperform those with the least on return on invested capital by 26 percent and on return on sales by 16 percent. 5 According to the research group Catalyst, more diversity leads to more innovation, independence and good governance, all of which help improve profits. 6 Ensuring a diverse workforce and leadership is therefore a growing priority for many organizations. 7
And yet various barriers prevent women from reaching their full potential in business (see Box 1). Given the socio-cultural diversity of MCC partner countries, these challenges can play out in particularly complex ways in MCC's compacts.
More and more companies are finding ways to break these barriers and creatively address gender equity challenges (see Box 2). The United Nations Women's Empowerment Principles offer concrete guidance for firms to empower women in their workforce, communities and the marketplace. So far, over 800 organizations worldwide have signed on. The World Bank Group, through the International Finance Corporation, recently announced a new partnership called She Works, designed to boost job opportunities and labor market prospects for over 300,000 women over the next two years in collaboration with 10 companies. WeConnect International helps women-owned businesses succeed in global supply chains by certifiying women-owned businesses and connecting them with multinational buyers. They are working with public and private partners to increase corporate spending on women-owned businesses by US$1.5 million, and to implement supplier readiness initiatives targeting at least 15,000 women-owned businesses outside the United States by 2018. The scale and range of initiatives to maximize women's business potential keeps expanding.
MCC's experience with gender equality and business
Even as the number of MCC projects that integrate gender considerations has grown, few have in the past explicitly focused on both gender equality and business.
There have been positive examples. MCC-funded activities that are not explicitly focused on the private sector often still allow for the integration of gender objectives by requiring contractors or suppliers that build infrastructure projects, for example, to address gender issues in their labor or hiring practices. Such requirements are aligned with the ideas enshrined in the United Nations Women's Empowerment Principles. Reforms to the business environment that help streamline procedures often especially benefit women. The MCC-supported Secured Transactions Law in Honduras and the implementation of the moveable property registration system are reforms with particularly positive impacts for female enterprises. Access to credit is a barrier for women whose land ownership rates are generally lower than those of men. Implementing laws that lower barriers to accessing credit and allow the use of non-land assets as collateral is therefore particularly useful from a gender perspective.
While most early compacts that included private sector activities did not explicitly incorporate gender perspectives, MCC has been adjusting the design of projects to enable greater participation of women in cases where data or early results indicated an unequal distribution of benefits.
In Moldova, for example, the MCC-funded agricultural finance facility was designed to provide financing to agricultural enterprises in the post-harvest supply chains, with loans ranging between $50,000 and $600,000. Not many female enterprises are active in Moldova's agricultural sector. The capital requirements and minimum loan sizes were too high for many women-owned or small businesses. Among the first round of 23 loan beneficiaries from the finance facility, only two were female-owned businesses. After seeing these numbers, and in response to the bank's high collateral requirements, the minimum loan threshold was lowered from $50,000 to $20,000 to strengthen women's participation. The program is also improving outreach to female enterprises to better advertise opportunities, explain the credit details and encourage them to take advantage of available technical assistance, such as help for developing a business plan.
More recently, early engagement and attention to integrating gender and private sector objectives is showing positive results. In 2009, MCC's institutional priorities were updated to strengthen the focus on gender and private sector partnerships, which has catalyzed positive action.
In Cabo Verde, gender and private sector engagement opportunities were considered early on as part of the country's development process for a subsequent compact. This resulted in a partnership with The Coca-Cola Africa Foundation through the Replenish Africa Initiative to expand access to clean water as part of the compact's Water, Sanitation and Hygiene Project. The Coca-Cola Africa Foundation and MCC established a Social Access Fund to help up to 13,000 low-income households gain access to improved water and sanitation by pre-financing connection fees and contracts for water and sanitation kits. The project also supports water, sanitation and hygiene education. The Social Access Fund is expected to have a strong impact on women, since nearly 45 percent of Cabo Verdean households are female-headed, and these are more likely to be poor than male-headed households. "The overwhelming global lack of access to clean water is an issue that has a particularly negative impact on African women, who are often responsible for traveling long distances to fetch water for their families," says Dr. Susan Mboya-Kidero, Group Director, Women's Economic Empowerment at the Coca-Cola Eurasia & Africa Group and President of The Coca-Cola Africa Foundation (see Box 3). By providing water and sanitation, this project is eliminating the risk women face retrieving water, while providing education and increasing the amount of time that women have to engage in productive activities that could result in generating income for themselves and their families.
Looking forward
MCC is now emphasizing gender integration alongside private sector engagement early on in the compact development process through a set of complementary analytical tools. Partner governments are encouraged to proactively identify strategies to incorporate these twin priorities into their proposals. This new process presents opportunities for synergies that did not exist when the earlier compacts were designed and implemented. Going forward, this should help MCC identify meaningful interventions that marry MCC's dual priorities of gender equality and business.
The most significant opportunities are with investments that are still being developed or are in early stages of implementation. Indonesia is one such example. The Indonesia Compact includes a $332 million Green Prosperity Project to finance investments in renewable energy, natural resource management and agricultural projects. Ensuring access to women and vulnerable groups is one of the five key criteria to evaluate potential projects. Improving access to electricity, agricultural inputs and training, and natural resource management is likely to have strong positive impacts on women's economic empowerment. However, past lessons indicate that women may not automatically take full economic advantage unless specific provisions are in place to enable them to do so. 16 Potential partners are encouraged and given tools to strengthen gender equity in areas such as employing females in non-traditional construction jobs, engaging women in sustainable land practices or enabling female enterprises to take advantage of electricity.
MCC is also developing compacts in Benin, Lesotho, Liberia, Morocco, Niger, and Tanzania. As both gender and business have been emphasized early on, these compacts present a chance to support these dual objectives. The new compacts are likely to include investments in sectors such as energy, education, and transportation, and are supporting the Power Africa initiative, which seeks to increase access to power in Sub-Saharan Africa. MCC is looking for companies interested in partnering in these countries on a variety of energy and connectivity projects that also promote the active participation of women. The ultimate goal of these and other MCC efforts is to break barriers for women and create opportunities for them to succeed alongside men. MCC's goals are grounded in the knowledge that when women and men are afforded a level playing field, societies and economies benefit.