Leigh Sadleir
Managing Director, Public Affairs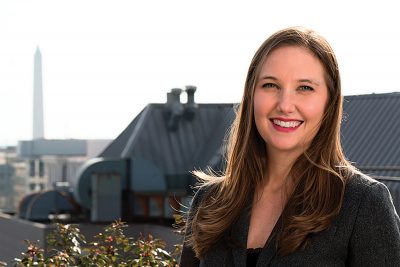 As Managing Director in the Millennium Challenge Corporation's Department of Congressional and Public Affairs, Leigh Sadleir provides leadership and expertise in the oversight and management of international and domestic public affairs, media relations, and activities engaging with MCCs domestic and international stakeholders. In her role, Mrs. Sadleir contributes to the development and advancement of agency and program priorities and impacts around the globe.
Mrs. Sadleir joined MCC in 2015 building on more than 15 years of experience in policy and event management in Washington, DC. Before joining MCC, she held a number of positions at the U.S. Chamber of Commerce including as the director of events for the Capital Markets Center. In this role she oversaw and executed more than 15 policy events each year focused on the financial services regulatory sector.
Mrs. Sadleir has a bachelor's degree in business from Lake Forest College and completed the American University Washington Semester program focused on international business, trade, and development. She resides in Washington, DC.
Topics
Aid Effectiveness
NGO Consultations