Sewing her way to a goal
January 7, 2014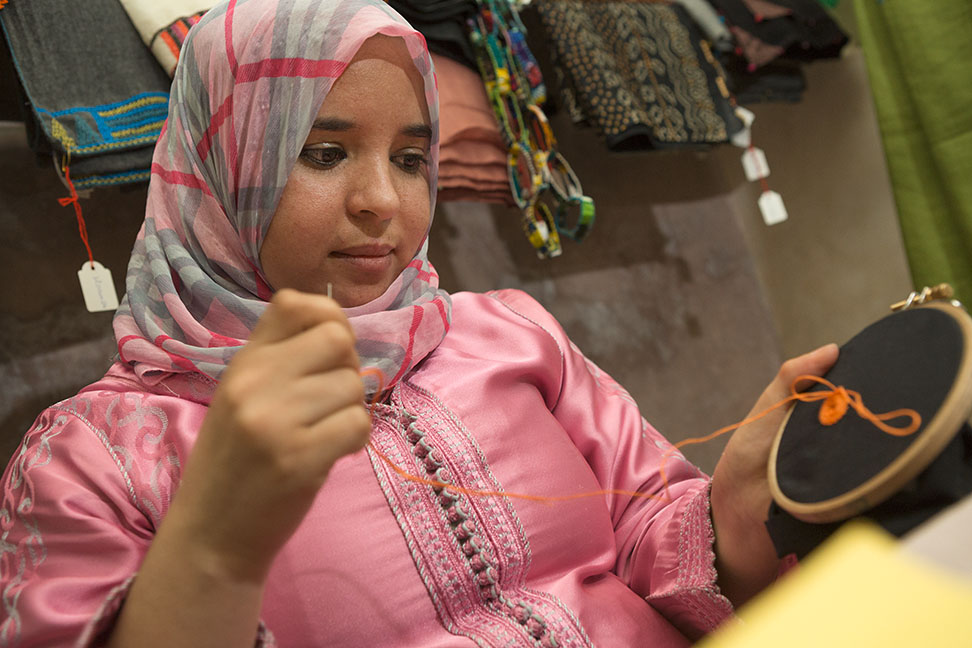 Need a new dress? Latifa Benammi can make that.
How about some embroidery to add flair to that new shirt? Benammi has that covered.
Want to show off to dinner guests with a patterned tablecloth? No problem.
"I can sew anything," the 28-year-old Moroccan said with a smile.
And Benammi is hoping that hours of needlework and some help from MCC will mean a better life.
Benammi is one of 22 members of the Association of Handicapped Women, an artisan cooperative that operates in the medina of Marrakech. Members of the cooperative have enrolled in several different training courses offered through MCC's $95.5 million Artisan and Fez Medina Project.
Benammi, who was born without toes and has difficulty walking, attended MCC-funded vocational training classes. There she learned how to better communicate with customers and more effectively market her services.
Moroccans who work in the medina of Marrakech are in a prime location to boost their incomes from the millions of people who visit the UNESCO World Heritage Site each year. But if these workers don't have the appropriate skills, they won't be able to take full advantage of their situation.
The classes are already helping Benammi sell more products to tourists, who are attracted to her shop by the MCC-funded artisan circuit. This path guides visitors along one of five routes designed to showcase the neighborhood's rich history and the diverse work of the medina's artisans. About 10 percent more tourists visit her shop, she said.
Thanks to the training, other cooperative members created websites to advertise their products and showcase their handicrafts at artisan fairs in Morocco and abroad. Others attended functional literacy classes, during which they learn how to read and write while mastering valuable skills for their profession.
Benammi is hoping the boost in income from the various trainings will help her move out of her family's home and into an apartment of her own. And maybe in a few years, she hopes, she can purchase a house.
"That's my goal," she said.