Sculpting MCC's lasting legacy
January 14, 2014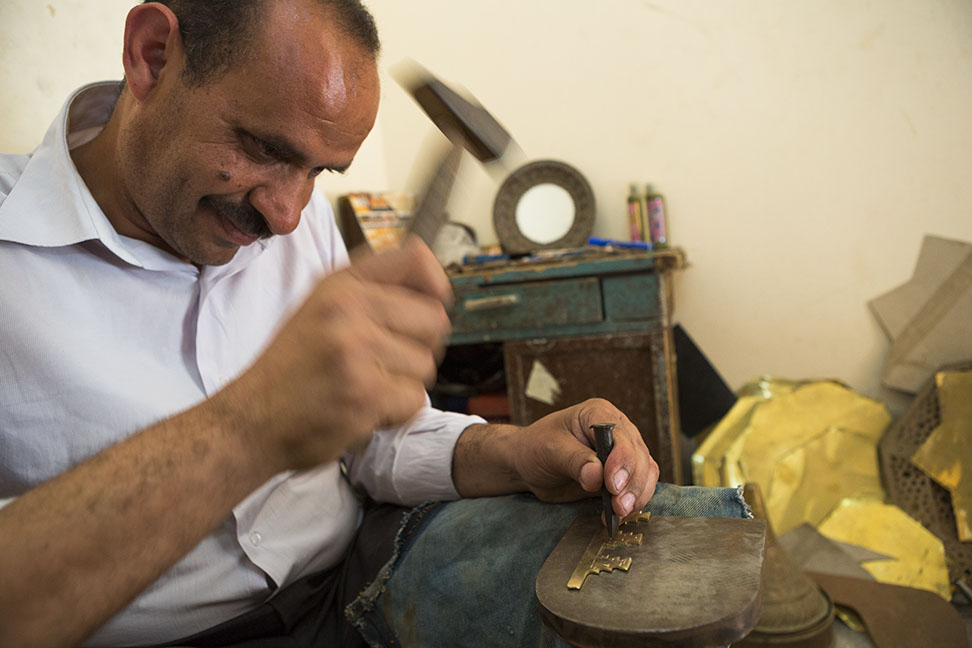 Abdelhak Krit learned the art of coppersmithing 30 years ago from his father, who learned the craft at the side of his father. Krit's son has followed him into the industry, and Krit hopes his son's son will carry on the family tradition.
This generational bond among Morocco's coppersmiths is as durable as the metal they sculpt. So when MCC resettled Krit and hundreds of his colleagues from their cramped, unsafe workspaces in the medina of Fez to a safer, modern building in nearby Ain Nokbi, he wanted to leave a lasting legacy to the agency that provided a more successful future.
When he and 300 others formed a copperworkers' association in February, they named it the Millennium Challenge Association.
"We want our children and our grandchildren to never forget what MCC has given us," Krit said.
The members of the association work together to develop their skills and collaborate on larger projects when possible, he said. Many of the associations' members previously operated from Place Lalla Yeddouna, which had been slated for renovation under MCC's $95.5 million Artisan and Fez Medina Project.
Place Lalla Yeddouna is in the heart of the medina of Fez, a UNESCO World Heritage site that dates back to the 9th century and features narrow, twisting roads that wind between tall buildings in which people create and sell everything from clothing to electronics to an on-the-spot meal.
Despite the picturesque settings, many workers in the medina struggle to get by. Many workshops are outdated and unsafe. Because of the project, the coppersmiths of the Millennium Challenge Association—along with artisans working with pottery, leather, metal, textiles, and wood—now have larger, safer and better ventilated space in Ain Nokbi. The building means improved health for the workers and easier access for wholesalers to purchase their products.
It's an improvement that should not be forgotten, Krit said.
"We are very, very pleased with what MCC has done for us," he said. "To translate this love, this passion we have for MCC, we chose a name that will be a legacy."