An example worth sharing
March 6, 2015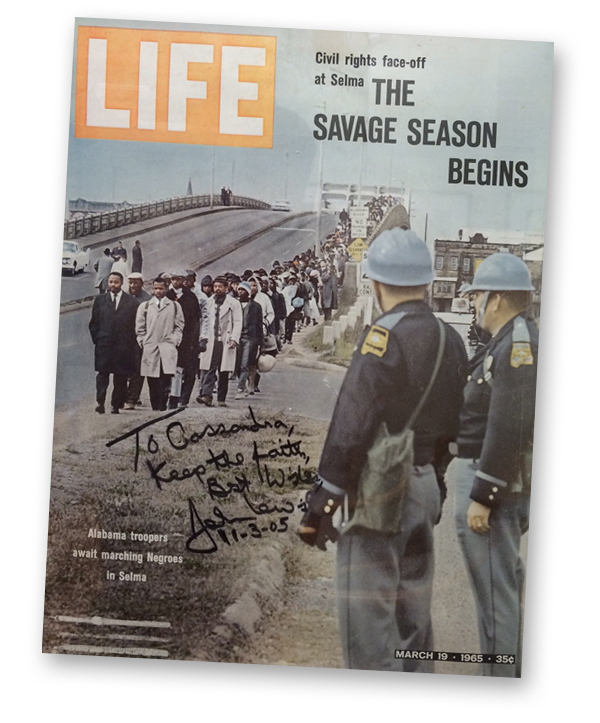 For the past 10 years I have kept a framed copy of the March 1965 LIFE Magazine cover image of the original Selma to Montgomery march in my office. Entitled The Savage Season Begins, it captures that moment of seeming calm just before the storm of confrontation as nonviolent protesters led by John Lewis and Hosea Williams crossed the Edmund Pettus Bridge into the paths of Alabama State troopers dressed in riot gear and armed to attack. The cover is signed by now Congressman John Lewis with a message: Keep the faith. Two years before receiving that image, I walked across the Edmund Pettus Bridge with Representative Lewis and a group of Congressional members organized by The Faith and Politics Institute in a memorable commemoration of the original march.
On this 50th anniversary of the original Selma to Montgomery march—also known as Bloody Sunday—that became the catalyst for the passage of the U.S. Voting Rights Act of 1965, I'm reminded that the image represents both the peril and the promise of democracy. It has always been an empowering image for me. It gives buoyancy to my faith in American democracy, the values underpinning it and the resilience that has lifted it from that moment 50 years ago in Selma to where we are today—the beneficiaries of tremendous progress yet still striving to perfect our union.
The image also serves as an important symbol for me in my work at MCC. It is a constant reminder that the policy reforms we require of partner countries in the areas of governance, economic freedom and investing in people are difficult to achieve and do not happen overnight. I've used the example of Selma and ongoing voting rights challenges we face in the United States as examples that democracy is always a work in progress. But the American example—the Selma example—is that putting in the hard work to achieve important policy reforms is absolutely necessary for a nation's sustained development and long-term growth. It is an example worth sharing with the world.