Part and parcel: women's access to land in Burkina Faso
March 31, 2014
Christopher S. Davis, MCC Deputy Resident Country Director, Benin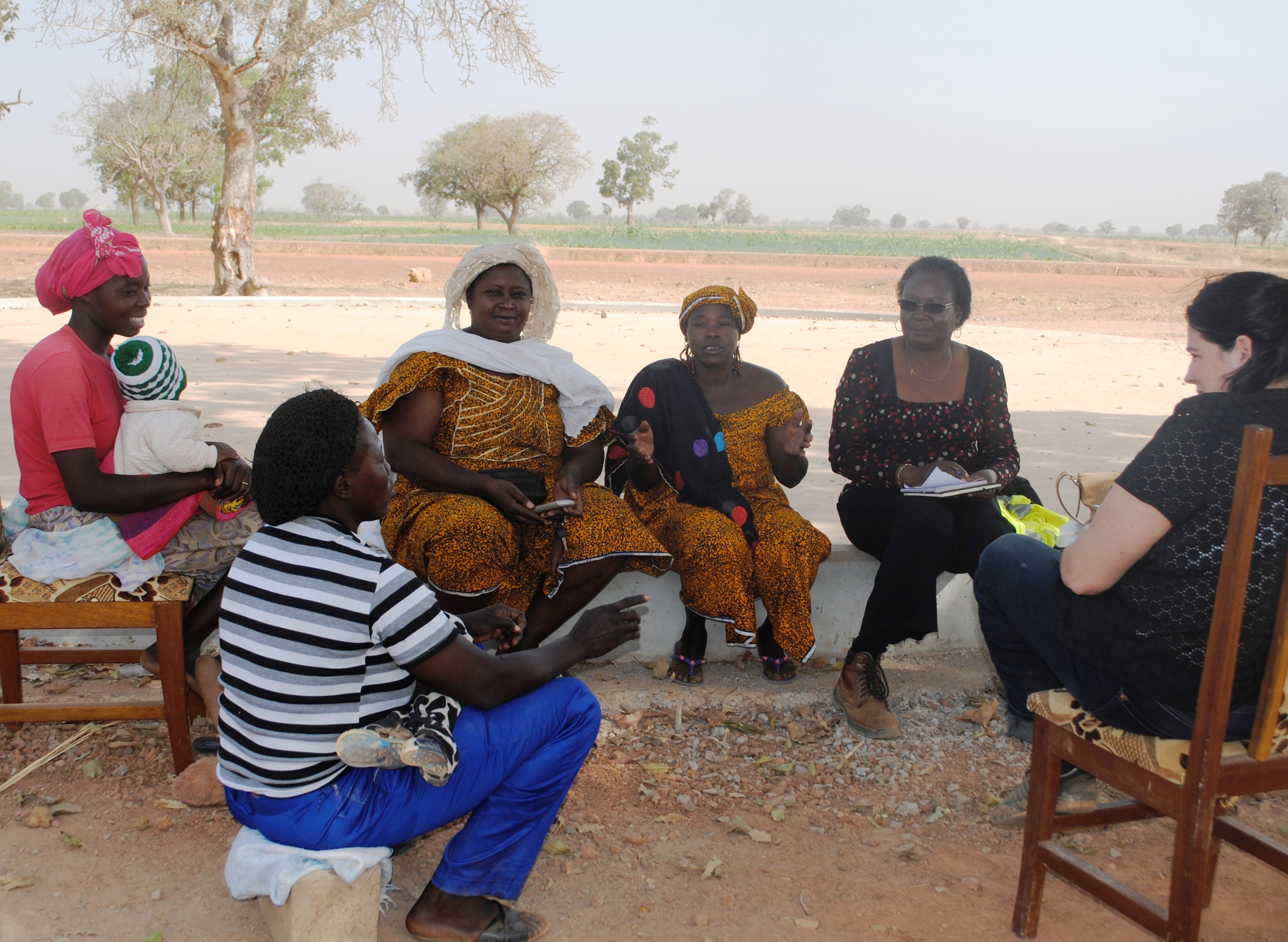 Scents of onions, tomatoes and damp earth permeated the morning air as we spoke with representatives of women's associations in the Dî Perimeter, one of the Millennium Challenge Corporation's principal investments in Burkina Faso. My colleagues and I were visiting the construction site to listen to community members who received their newly irrigated land last spring.
Located only a few miles from the country's border with Mali and near the convergence of the Sourou and Mouhoun rivers, the village of Dî and its namesake 5,535-acre perimeter provide the region's farmers with irrigation all year. In the past, most of these farmers could cultivate only during the rainy season. The women told us they were grateful to finally have the opportunity to farm land of their own.
"Before the MCC project, women [in this area] didn't have the right to cultivate on their own land unless they were widows," said Sayibata Ki, president of Association Benkadi No. 3. "We took care of the kids at home, prepared meals and had little work to do outside of market days. Now we can go out to farm our fields and make our own decisions about which part of our harvest we keep or sell."
MCC's five-year, $481 million compact with Burkina Faso contains four projects: agriculture, roads, rural land governance, and education. In addition to the irrigation of the Dî Perimeter, the compact's $141.9 million Agriculture Development Project is working with the Burkinabe to improve water management, diversified agriculture and access to rural finance.
An estimated 4,500 farmers and their families in Dî are expected to be working in the perimeter by the time the compact ends in July, and the trip gave us an opportunity to talk personally with some of them following their first growing season. Preliminary reports indicate that farmers harvested more than 1,800 acres of corn, soybeans and other legumes on the land on which construction had already been completed.
The project included a strong focus on ensuring benefits reach local women, who are often not recognized as landholders and are therefore last in line to receive land security. More than 130 agricultural associations are receiving land in the Dî Perimeter, composed entirely of women and youth from neighboring communities. Each cooperative member receives a plot of about one-tenth of an acre; last year, more than 2,000 individuals formed organizations to be eligible to receive the land.
Cooperative members are receiving kits containing tools, seeds and fertilizers. MCC is also funding trainings on how to plant and apply fertilizers to maximize yields, efficient irrigation methods and ways to increase soil fertility.
Most of the cooperative members are learning these techniques for the first time.
"We were taught how to make compost in our courtyards with things we can easily find around our village," Ki said. "I give my children a bit of money to go and search for the supplies and then I use the compost on my land. It is much cheaper than buying fertilizer."
The association members dug canals to deliver water directly to their parcels and learned that they would manage water resources that feed their canals.
"Mastering the irrigation schedule and working well together was very difficult in the beginning," said Elisabethe Tiama, a member of the Hérakaura cooperative. "[MCA-Burkina Faso contractors] helped us to get organized and we were able to set a five-day watering calendar based on the rotation of the village markets. They also showed us the best ways to grow our corn and onions."
All of the farmers we spoke with said they were pleased with their yields and looking forward to harvesting the lucrative dry-season cash crops they planted a couple of months ago. I was most impressed with the initiative and ingenuity some of these entrepreneurs exhibited, quickly solving problems and adapting to a more formal and communal irrigation schedule.
By April 2014, these businesswomen will be joined by their neighbors from throughout the region as the full 5,535 acres are delivered to beneficiaries. Additional plots of land will be distributed via a lottery before then.
Ki can't wait.
"My husband and I both put our names into the land lottery," she said. "We are ready for more farmland!"