Government of Liberia and MCC invite private sector input on Liberia compact development
April 7, 2014
Tamara Heimur, MCC Director, Finance, Investment and Trade
Each MCC compact is designed to create economic growth. Since the private sector is a key driver for sustainable growth, MCC's Finance, Investment and Trade team works with partner country colleagues to ensure that companies have input throughout the compact development process.
This work includes consultations with American, Liberian and international businesses to learn firsthand about the challenges they face when considering investment in our partner countries. We then work with our partner countries to design compact grants that address these challenges.
MCC, the Government of Liberia and The Corporate Council on Africa (CCA) recently hosted a roundtable meeting in Washington, DC for companies that are active in Liberia or are interested in investing.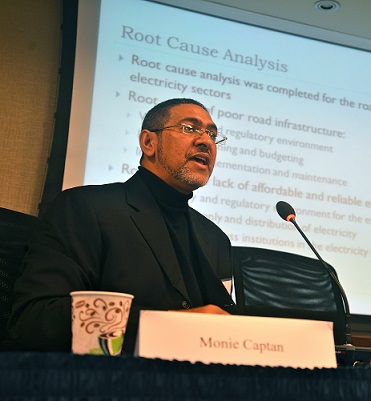 At the roundtable, the Government of Liberia (GoL) and MCC presented the Liberia Constraints Analysis, a report outlining the primary constraints to economic growth and investment in Liberia.
Every MCC partner country develops a constraints analysis, which takes an evidence-based approach to identifying the primary factors that limit investment. The analysis clarifies priorities among a country's many development needs and identifies potential areas of focus for an MCC compact. The Liberia Constraints Analysis identified the lack of roads and electricity as the primary constraints to growth.
After the presentation of the constraints analysis, the Liberian government delegation presented some initial concepts for potential projects in the roads and energy sectors. We invited feedback and questions from attendees, which helped start a conversation that will help the GoL to refine the proposed projects.
This event is part of a series of conversations that MCC and the GoL have hosted since Liberia qualified for MCC assistance in December 2012. In mid-2013, the GoL organized roundtables with businesses in Liberia to learn what is constraining the growth of local companies, and in late 2012, MCC, the GoL and CCA hosted another event for companies in Washington, DC to provide feedback on the proposed compact projects. We expect to continue the dialogue with companies through more events, webinars, email updates, and other forums as the GoL continues its compact development process. 
This type of private sector engagement is an important component of the MCC model. Together with our partners in the GoL, we are ensuring the private sector and other stakeholders provide input every step of the way.
We invite additional input and feedback from private sector firms; please contact the following individuals for more information:
Government of Liberia: 
Monie Captan, National Coordinator, National Millennium Challenge Compact Development, mcaptan@liftliberia.gov.lr.
Philip Pleiwon, Private Sector Lead, National Millennium Challenge Compact Development, ppleiwon@liftliberia.gov.lr.
Millennium Challenge Corporation: 
Evan Freund, Country Team Lead for Liberia, freunde@mcc.gov.
Tamara Heimur, Private Sector Lead for Liberia, heimurto@mcc.gov.